Hell on Heels
Those fabulously fashionable heels could be harming your health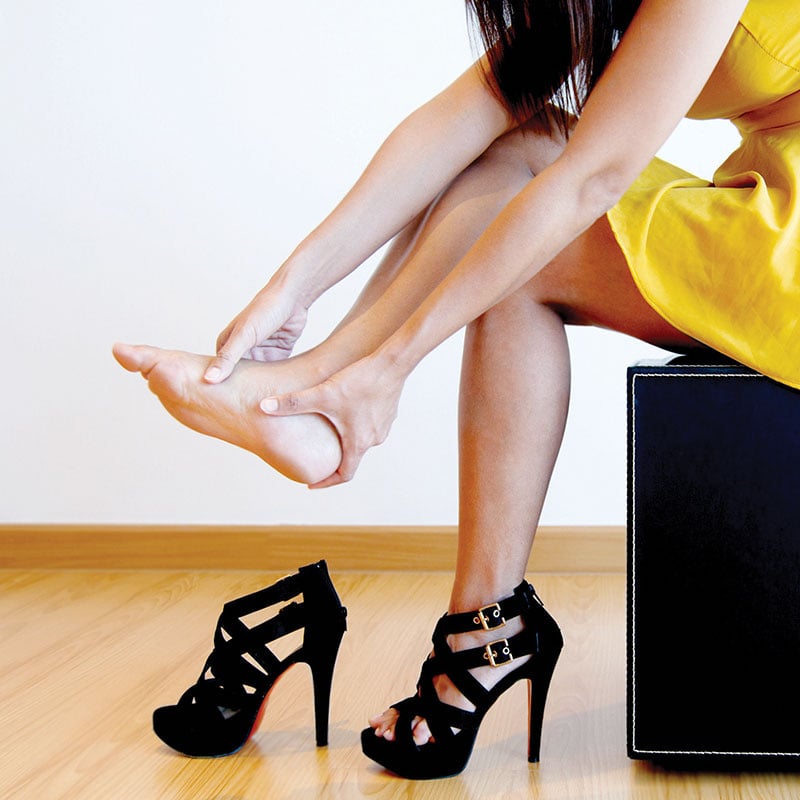 Cinderella had the right idea when ditching her heels. They are far less than ideal when running away at the clock's strike — and even walking in high heels has a down side. 
Those blisters that the coveted pair of stilettos you had been drooling over in the department store window have given you are obvious enough, but more serious issues may be developing below the surface.
"Heels put more pressure on the ball of the foot than it is designed for," said Dr. Eric M. Larsen of Brooks Foot & Ankle Associates. "This pressure can speed up the development of problems like bunions, hammertoes, neuromas and more. The best way to avoid these problems is to decrease the frequency that you wear heels and decrease the heel height." 
Kicking the heels habit, however, isn't easy. Formal events, corporate functions and the dictates of fashion mess up the best of such intentions. 
Before you purge your closet, know that there are ways to combat the hell caused by heels. Counteract the stresses by stretching the feet and legs both before and after wear. If this doesn't help or pain persists, you may consider consulting a podiatrist or chiropractor. 
"If you have to wear heels, I recommend having a pair of custom innersoles made to fit into your heels," said Dr. Shawna Hogan of Regatta Chiropractic & Laser Center Inc. who sees patients suffer with low back, hip and leg pain related to heel wearing. "In addition, wear your comfortable shoes to and from your venue and change into your heels upon arrival. Stretching before and after helps as do Epsom salt soaks and ice to help relax tired feet and reduce inflammation after wear." 
The most dependable form of heel is one with a shorter, wider base and a rounded toe, preferably in a high-quality material such as leather. Dr. Larsen even suggests wedges over stilettos because they provide better stability. 
It may be worth your while to take a few extra steps when shopping for heels. Have your gait analyzed and your foot measured in order to find the perfect fit, you know, just like Cinderella.