Gulf-front Dream Goes for Record $5.7M
A truly exceptional luxury residence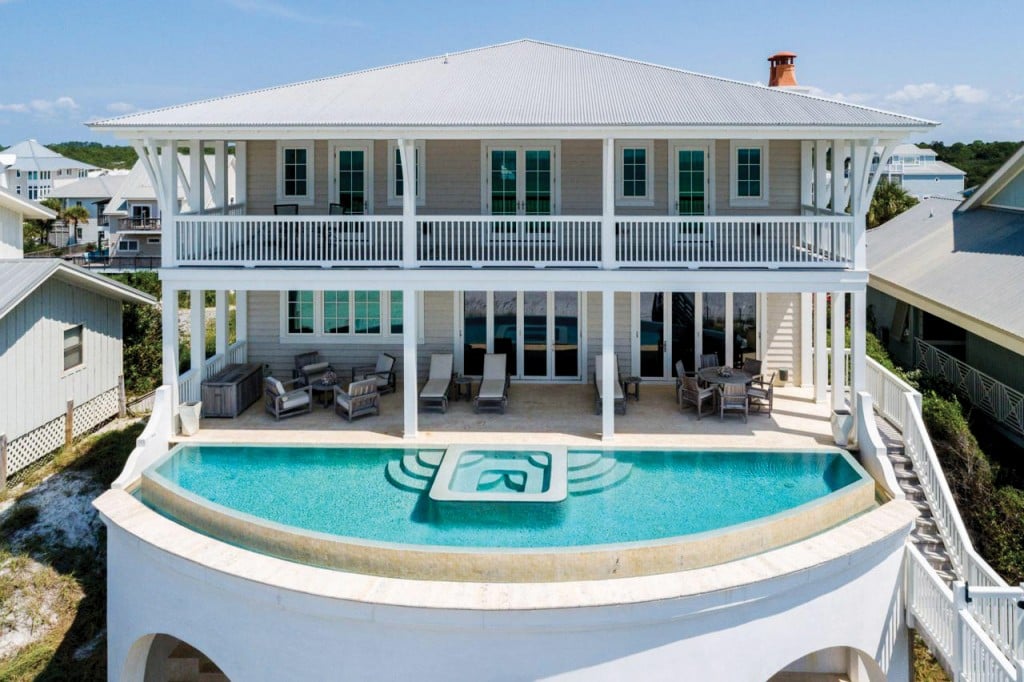 A truly exceptional luxury residence, this Gulf-front marvel exudes comfortable coastal charm. Occupying a 70-foot lot on the water, it is aptly named "Graytful." Its sale at $5.7 million was the largest ever in Grayton Beach, a community of neighbors that The New York Times has called "a Gulf retreat for the upscale but unfussy!" The residence was designed by renowned architect Chris Stoyles of Archiscapes and built by sought-after Allen Wright of Velvet Sun Builders.
Sold Price: $5,700,000
Address: 60 Auburn Drive, Santa Rosa Beach
Square Footage: 6,043
Bedrooms: 6
Bathrooms: 6
Year Built: 2014
Features: Dramatic arches open up to the Gulf. A negative edge pool spans the width of the house, complete with waterfall and catch basin. The first-level flooring is stained concrete that wears well when folks return from the beach to the indoor shower and changing room/locker room. For anyone wanting to relax in the shade, a queen-size swing bed that hangs in a covered area awaits. And, a 16-foot, custom-made dining table accommodates outdoor dining and parties. A first-floor "man cave" boasts a pool table and bar area with big-screen TV. Dual hurricane-rated garage doors open to the Gulf, which allows airflow through the first level.
Appeal: Look out every day from your kitchen, dining and living room windows to the emerald green waters of the Gulf of Mexico. This site is special with a large footprint and is one of only seven Gulf-front lots that extend all the way down to the mean high-tide line. Grayton Beach State Park borders the east and west sides of this small Gulf-front community that is as eclectic as it is bohemian. An exceptional first impression greets you as you drive through the gated, arched entry and enjoy a stunning view of the Gulf, seen through a corridor under the home.
Contact Information: Erin Oden, Broker Owner, Coastal Luxury – Real Estate for Luxury Living; (850) 502-1220; erin@coastalluxury.com