Florida's Historic Coast
Northeast Florida Offers Great Museums, History and Entertainment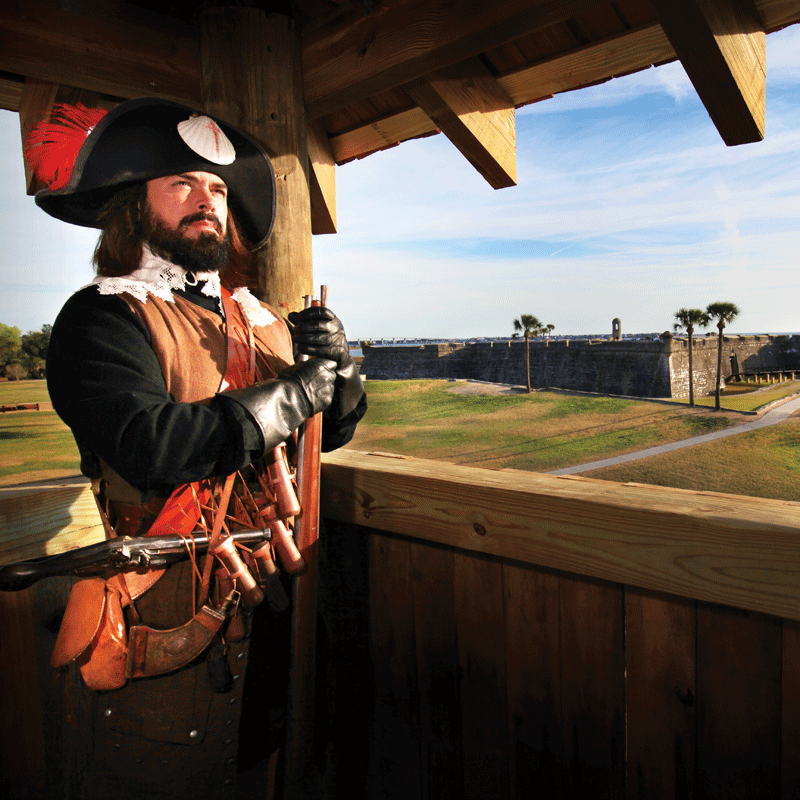 Museums, especially those geared toward young crowds, have changed dramatically in recent years and are no longer purely educational. "Edu-tainment" is the big thing now, and the interactive, entertaining museums of Jacksonville and St. Augustine are good examples of that philosophy.
For example, the Bryan Gooding Planetarium at the Museum of Science & History in Jacksonville isn't some dusty old optical projector that throws specks of light on a ceiling. It's now a computerized, digital and high-definition projection system that can put you in orbit around any planet in the solar system for an up-close look. Or, you can watch a movie about dinosaurs that really surrounds you with sight and sound.
Tuco, the father of new cub at the Jacksonville Zoo and Gardens.
And at the nearby Jacksonville Zoo and Gardens (which celebrates its 100th anniversary this year and is famous for its jaguars), it's not just exotic animals anymore. There's a butterfly garden, and kids will squeal with fear and delight at the newest attractions: a jungle trail of animatronic dinosaurs and a 4D "Ice Age" ride. Every Halloween there is a 10-day "Spooktacular" kid-friendly event, and at Christmas the entire park is lit up in holiday style.
Executive Director Tony Vecchio knows too well that museums like his have to be creative in order to survive.
"We have to generate our own revenue today," he said. "The old days of the city paying for the zoo are long gone."
Courtesy of Colonial Quarter, St. Augustine Pirate & Treasure Museum
Museum of Science & History (Planetarium)
Other fun activities include the Pirate and Treasure Museum (top) and thrilling shows at the Bryan Gooding Planetarium (bottom). 
Sometimes, though, a new museum comes along that has the backing of private, deep pockets. Such is the case of the new St. Augustine Pirate & Treasure Museum, which opened in 2010. Described by travel writers as "Disney meets the Smithsonian," the pirate museum is the brainchild of entrepreneur Pat Croce, former president of the Philadelphia 76ers and relic hunter supreme. Croce had a pirate museum in Key West for a few years before moving to St. Augustine, and his new museum stronghold boasts such treasures as the only known surviving example of a "pirate chest," as well as the prop sword Johnny Depp used in the "Pirates of the Caribbean" movies. 
Right next door is the new Colonial Quarter, a living history village where serious academic research rubs shoulders with actors and re-enactors to tell the story of St. Augustine's colonial days. Here you can explore four historical periods ranging from 16th-century Spanish settlement up to 18th-century British occupation. It's a very interactive experience; you can climb a watchtower, watch a blacksmith in action, see what's clicking at the gunsmith's shop and get schooled in the 18th-century musket drill or try your hand at leatherworking. Don't worry about standing in lines waiting for a linear time progression, because visitors can enter the village from four access points. And after touring the various centuries, a Spanish taberna and a British pub await your taste buds with appropriate noms and libations.
---
Getting There
Take Interstate 10 straight into Jacksonville; or, if you have your sights set on the Nation's Oldest City, take I-10 to I-295 and then hop on I-95 south for about 25 miles. 
Where to Stay and What to See
Jacksonville Zoo & Gardens 370 Zoo Parkway, Jacksonville, (904) 757-4463, jacksonvillezoo.org
Museum of Science & History 1025 Museum Circle, Jacksonville,(904) 396-6674, themosh.org
St. Augustine Pirate & Treasure Museum 12 S. Castillo Dr., St. Augustine, (877) 467-5863, thepiratemuseum.com
Colonial Quarter 33 St. George St., St. Augustine, (904) 342-2857, colonialquarter.com