ERA American Real Estate Believes in the American Dream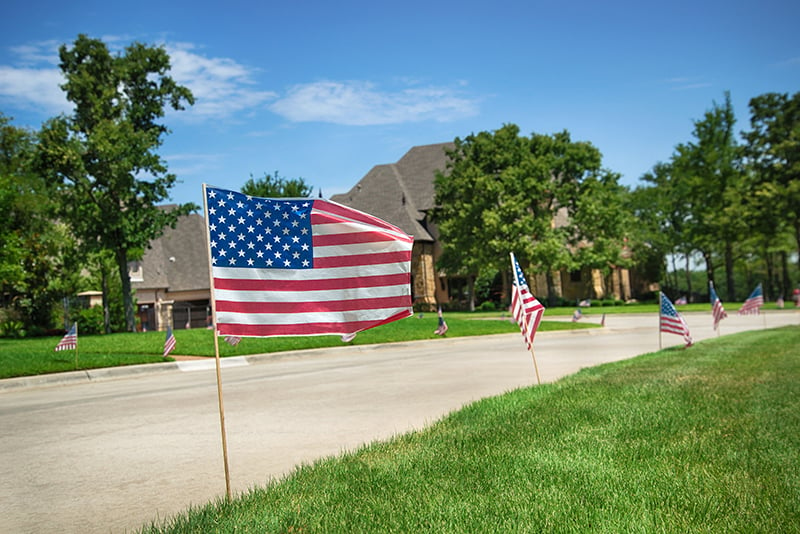 For the team at ERA American Real Estate, the American flag symbolizes the freedom and liberty that enable everyone to pursue and live their American Dream. With five offices and 145 real estate professionals, ERA American Real Estate is a leading real estate firm, an active community partner, and a stalwart promoter of the American flag.
In 1985, ERA American Real Estate's founder, Gloria Frazier, initiated a community outreach project whereby she and her agents and staff planted American flags in local neighborhoods to commemorate the Fourth of July. In the project's first year, ERA American Real Estate planted 5,000 American flags at the curbs of homes in Fort Walton Beach. Since then, the project has grown and expanded into neighboring counties and communities they serve. Today, the company distributes over 30,000 American flags annually from Highway 30A to Pensacola.
"This longstanding tradition of distributing the American flag has become synonymous with our company, and is a heartfelt way for us to connect with our community and honor our military neighbors and friends," said Linde Bowman, Vice President and Head of Brokerage.
In the weeks leading up to July 4, ERA American Real Estate agents and staff will volunteer to plant American flags in various neighborhoods. They will canvas streets, place large flag displays at the entrances of communities, convert their offices into American flag distribution centers, and hand out American flags at busy intersections.
Current ERA American Real Estate Realtor and United States Air Force Col. (Ret'd) Paula Sherman has been part of the company's American flag tradition for decades. Sherman remarks, "We strive to support our community's growth and development through our work as real estate professionals while also honoring the American Spirit through this longstanding tradition." ERA American Real Estate President/CEO Tony Lombardo notes that the company will surpass a historic milestone in 2023 as they distribute their millionth American flag in the company's history.
---