Entrepreneurs in Black Sheep's Clothing
Smooth operators are bending tequila's story toward cool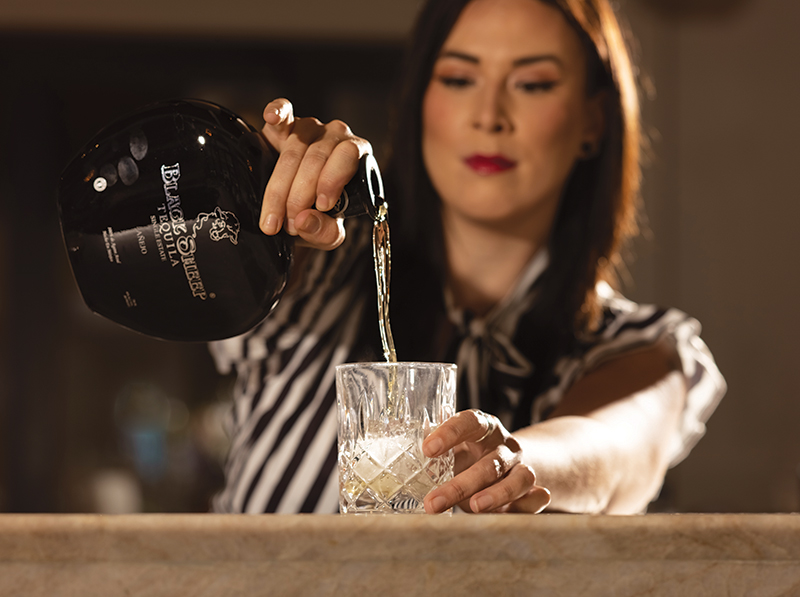 Until now, tequila's zeitgeist was typified by an Eastwood-type character walking into a frontier saloon, growling impatiently as the barkeep pours him a shot of "cactus juice" — Salude! — and then permitting his face to shrink into a steely squint that says it all.
In 1974, amid growing national appreciation of its place as an international asset, "tequila" became Mexico's intellectual property. The mountainous state of Jalisco was established as the only source in the world for true tequila. Anything made from blue agave grown in any place other than Jalisco should be called Mezcal. (The French had already made such claims stick for champagne.)
The makers of Black Sheep, a new tequila on the fashion runway, aim to make their product an affluent asset, that is, a status symbol appealing to dewy-eyed maidens in floppy sun hats and gossamer, flowing beachwear, dogged by fun-in-the-sun beaus all living Club Med style.
The way Mark Bailey, the affable CEO at Black Sheep Tequila tells it, gentrifying tequila has been an entrepreneurial obsession for all concerned, interspersed with rewards like its debut with Emeril Lagasse in 2020.
Back in Y2K, Bailey and some American buddies vacationing in Arandas, Mexico, came to the shared realization that they were a company of black sheep. Under the circumstances, what guy doesn't fancy himself one of the Wild Bunch? Right?
But they were incorrigible, and three of the caballeros — Mark Bailey, Jason Charles and a Mexican associate — banded together and resolved to create a tequila in their own image. They'd call it Black Sheep Tequila!
Within a couple of years, the Black Sheep had established a 1,600-acre blue agave farm in the Jalisco highlands. A local grower was engaged to cultivate the agave and see to the harvesting of the 7- to 10-year-old plants. Doing so involves removing spiky leaves, revealing a watermelon-sized, pineapple-like pinya. The pinyas go to a distillery to be cooked, mashed, fermented and distilled, often in old-timey pot stills. Black Sheep styles itself as a single-estate operation — farm to bottle.
Bailey must have a gray hair or two, but his buzz cut is so short it's hard to tell. He regards himself as an up-by-the-boot-straps man and is a North Carolina Tar Heel, long assimilated in the Panhandle as his Miramar mansion attests. In a recent meeting, he introduced his colleague, partner/owner Blake Svoboda, a "Show Me State" boy with a wary manner. He holds a business degree from Mizzou, but when he visited Northwest Florida, he decided not to go back.
"There's no hangover with tequila," Bailey said. "Ours is the purest tequila in the world. Our anejo (aged) class won best in show and class at the 2022 San Francisco World Spirits Competition." He pauses, then, clinches it, like a nail: "It tastes good. It's organic."
Coincidentally, around 2000, sales of traditional spirits like bourbon and cognac were slumping. Venture connoisseurs homed in on hitherto party shots and Sergio Leone-ish tequila. Over the past decade, that once humble libation has grown to be the darling of celebrity entrepreneurs like George Clooney, Toby Keith and native Jaliscano Carlos Santana.
By the looks of it, the Black Sheep boys are making a franchise of it. Along with recruiting members to an exclusive Black Sheep Club and selling brand merchandise, it produces six grades of Black Sheep tequila from Blanco, basically an agave aquavit, clear and un-aged, all the way up to 15-year-old anejos, aged in American charred-oak whiskey barrels. The latter is said to put the anejo in the flavor realm of a smooth bourbon and will run you about $8.50 a shot — at home.
As spokesmen for the brand, both Bailey and Svoboda express the company's commitment to following traditional techniques — except for maybe the whiskey barrels, which Black Sheep advertisements justify as an "Old World approach." It may be that Black Sheep is following the very steps that made Jose Cuervo the "Tequila Patrone" in 1795.
If one wants to get really anejo about it, there were the Spanish monks with their homemade stills, and before that, the Aztec tale of maguey and Quetzalcoatl, which holds that agave (and pulque beer) came into the world out of a failed romance. A mythic boy loses a mythic girl, so the legend goes, and mourns inconsolably until, in pity, other gods give him agave and fermented agave nectar to comfort him in his loss.
This writer's consideration of Black Sheep Tequila, LLC, isn't meant to be a nose and palate piece, but more a consideration of what's cool and who we want to be as we slug down, or sip up, our tequila. Is Black Sheep good tequila? I would suppose it is. Look at all the awards! But to be truthful, nobody's ever invited the writer out for a drink. Maybe they were afraid he'd growl!
---
Where To Buy?
Black Sheep Tequila is available at retailers including Sunset Liquors in Crestview, Fusion Fine Wine & Spirits in Gulf Breeze, Bottoms Up Wine & Liquor in Miramar Beach and Kwicker Liquor in Panama City Beach.
---