Emerald Coast Theatre Company Presents Three Heartwarming Productions in December
Save the Dates for 'The Snow Queen," Dec. 3, 4, 10 & 11; 'Miracle on 34th Street,' Dec, 9-19 and Christmas Cabaret on the Boulevard, Dec. 14, 15 & 18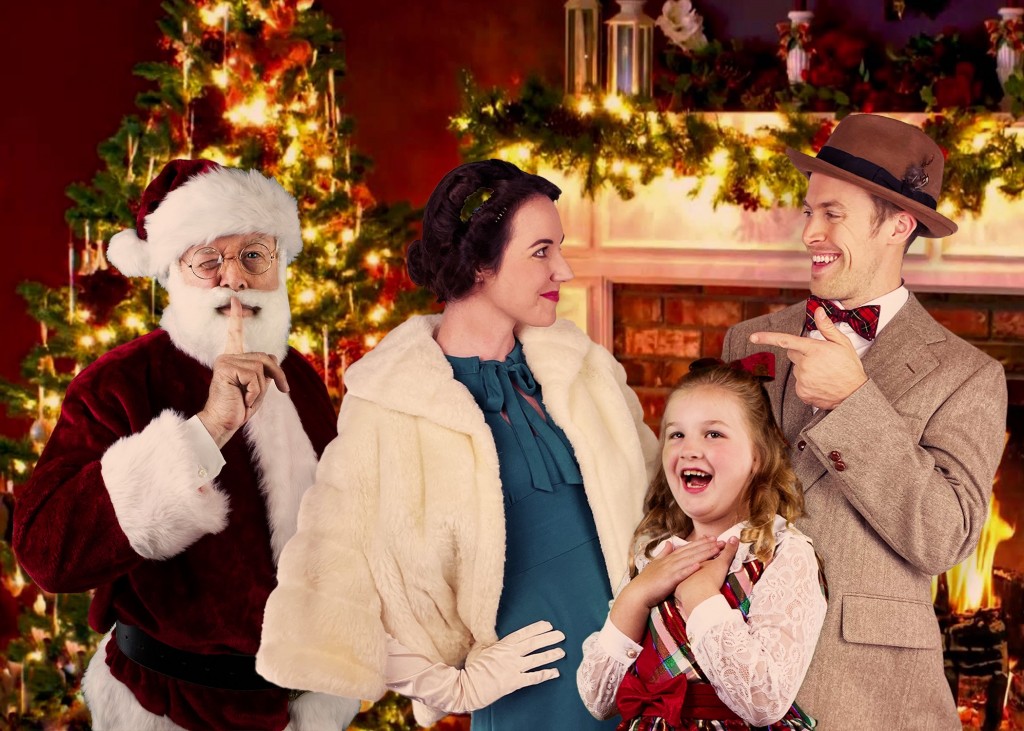 Emerald Coast Theatre Company (ECTC) continues its 9th mainstage season with three inspired December offerings sure to chase those winter blues and put your entire family in the spirit this holiday season.
All performances are staged at ECTC's performance space located at 560 Grand Boulevard (upstairs) in Grand Boulevard Town Center in Miramar Beach.
"The Snow Queen" (Theatre for Young Audiences)
ECTC'S Junior Company to perform four performances of "The Snow Queen" two consecutive weekends on Fridays and Saturdays at 9 a.m. (Dec. 3, 4 and 10 and 11).
Be spirited away by this new musical adaptation of Hans Christian Andersen's fantastical coming-of-age adventure that inspired the Disney hit movie Frozen. Join Gerda on a dangerous and whimsical quest to save her best friend, Kai, before he is trapped forever in the Snow Queen's palace.
With an original pop-rock score, alluring ballads, urban steampunk flair, the enigmatic "Snow Queen," is not your average bedtime story.
This Theatre of Young Audiences production is designed for young audiences from age 6 and up is performed on ECTC's Second Stage.
Tickets are $20 for adults, $18 for seniors/military and $14 for students (with ID).
"Miracle on 34th Street"
Do you believe? Emerald Coast Theatre Company (ECTC) continues its 9th mainstage season with one of most beloved holiday classics of all time with, "Miracle on 34th Street."
The show opens Friday, Dec. 9, and runs three weekends through Sunday, Dec. 19. Performances are Thursday, Friday, Saturday, and Sunday at 7:30 p.m. with 2:30 p.m. Sunday matinees Dec. 12 and 19.
In this classic heartwarming story, a department store Santa claims he's the real Kris Kringle and his case goes all the way to the Supreme Court. Audiences watch the miracle unfold as the belief of a little girl (Susan) makes all the difference in many ways.
Adapted from the 1947 Lux Radio Hour Broadcast this entertaining version of Lance Arthur Smith's play is staged with live Foley effects and a score of holiday carols.
This production is directed by guest director Marci Duncan. Tallahassee-born, Duncan is an accomplished stage, screen, and film actress (last season she starred in ECTC's one-woman show, "Florida Girls"), director (for ECTC she staged "The Wind in the Willows" (2019) and "A Midsummer Night's Dream" (2021)) and professor (she teaches acting at University of West Florida).
"I'm thinking retro classic late 1940s/early 1950s," Duncan says her dark eyes dancing. "It's one of my favorite periods for fashion. So, picture beautiful clothes, imagine a warm cup of cocoa and a plate of fresh-baked Christmas cookies and the scent of pine in the air. That sets the mental stage with a nostalgic Christmas story that everybody should be in the mood for right now."
For Duncan, the message of this classic show is perfect timing:
"If we keep our eyes on what we see currently, we rob ourselves of the possibility of a better tomorrow. One of the play's messages is that it doesn't matter where you start. There's always an opportunity to accept the light, the brighter side, and let it in. That child-like ability to look hope for the magic of another brighter, more beautiful day is just a wonderful sentiment that I plan on bringing home."
The cast features Bruce Collier (Kris Kringle), Hillary Marshall (Doris Walker), Zoe Fisher (Susan Walker), Truman Griffin (Fred Gailey), Vincent Pellegrino (Foley Artist/Male Character Actor), and Abigail Huhtala (Female Character Actor).
Lighting and set design are by Rebeca Lake. Costume and prop design is by Anna Fisher. Sound design and stage management is by Phillip Padgett.
A part of the Professional Theatre Mainstage series, "Miracle on 34th Street" will be staged in ECTC's performance space located on the second floor of 560 Grand Boulevard in Grand Boulevard Town Center in Miramar Beach.
Arrive at the theater early to enjoy the display of original artwork in the ECTC Lobby Gallery sponsored by the Cultural Arts Alliance of Walton County. The exhibit features artwork by local artists. All of the artwork is available for purchase. Proceeds benefit ECTC and its theater education programs.
Tickets to "Miracle on 34th Street" are $36 per person for adults, $34 for seniors (55 years old and up)/military and $30 for students (must show ID). Purchase tickets online at www.emeraldcoasttheatre.org.
Christmas Cabaret on the Boulevard
ECTC adds even more spirit to the season with Christmas Cabaret on the Boulevard set for December 14 and 15 at 7:30 p.m. and December 18 at 2:30 p.m.
Cast members of "Miracle" will perform holiday-inspired songs and Christmas carols in a cabaret-style revue. Mix and mingle with the performers, enjoy a warm beverage or drink from the cash bar, and enjoy a festive, family-friendly evening out filled with live entertainment.
Tickets to Cabaret are $25 for adults, $23 for seniors/military and $20 for students (with ID).
ECTC is implementing its Safety Protocol Plan to ensure our patrons can enjoy all offerings in a safe environment. Patrons can find the detailed plan on ECTC's website.
For information on sponsoring ECTC, call Nathanael Fisher at (850) 684-0323 or visit emeraldcoasttheatre.org/sponsorship.
To make a tax-deductible donation, volunteer or learn more about Emerald Coast Theatre Company, find them on Facebook, call (850) 684-0323 and visit www.emeraldcoasttheatre.org.