Emerald Coast Theatre Company Presents 4th Annual StoryTeller Series
Performances are on Tuesdays at 7:30 p.m. January 11, February 8 and March 1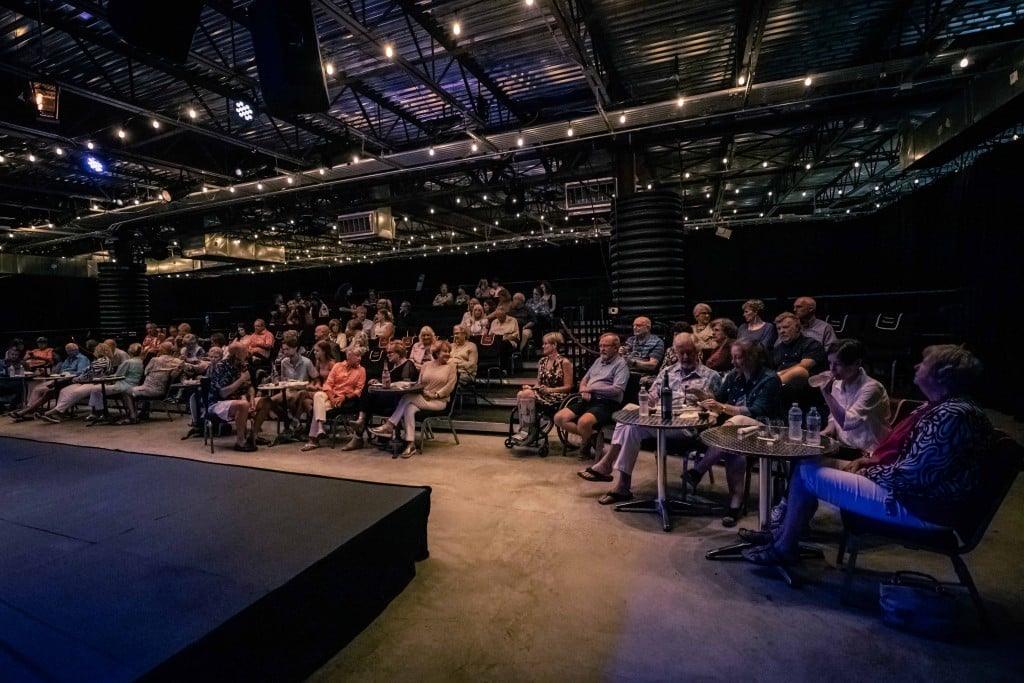 Emerald Coast Theatre Company continues its 9th season with the return of the popular StoryTeller series, featuring professional actors and authors presenting compelling stories and dramatic works.
There are three StoryTeller presentations on Tuesday, January 11, February 8 and March 1 at 7:30 p.m. staged at ECTC's performance space located at 560 Grand Boulevard (upstairs) in Grand Boulevard at Sandestin, located in Miramar Beach, Florida.
January 11 – The Fall of April (Stalin and Churchill)
The series begins on January 11 with The Fall of April (Stalin and Churchill) a one-man show written and performed by DeFuniak Springs actor, writer, editor and former public defender Bruce Collier. The Fall of April is the third play in Collier's trilogy about World War II's "big three:" Josef Stalin, Winston Churchill and Franklin Roosevelt. Tickets range from $20 to $25 per person.
A native of Ohio, Collier has a Bachelor of Fine Arts degree in Theatre from Wright State University, and a Juris Doctor degree from Tulane Law School in New Orleans. He worked for four years as a public defender in New Orleans. In addition to college and non-professional productions, he has performed professionally in summer stock in Ohio, at the Alabama Shakespeare Festival, the Courtyard Playhouse in New York City, New Horizons Theatre in Michigan, The REP at Seaside, and Emerald Coast Theatre Company. His original Restoration comedy Tarts was staged in New York at the Courtyard. He has also performed with The REP at Seaside, including The Homecoming, Who's Afraid of Virginia Woolf? and Picasso at the Lapin Agile. At Emerald Coast Theatre Company, he has appeared in Miracle on 34th Street, A Christmas Carol, Bakersfield Mist, A Wrinkle in Time, It's a Wonderful Life, Around the World in 80 Days, and The Fantasticks. His one-man shows, Winston Churchill: Through the Storm and Three Palaces at Yalta both were performed on ECTC's stage. He currently is editor of the DeFuniak Springs Herald ­– Beach Breeze.
Give 'em Hell Harry! – February 8
Give 'em Hell Harry! on February 8 features Alan Tuttle in Samuel Gallu's one-man play. "Give 'em Hell Harry!" A faithful and often humorous portrayal of President Harry S. Truman's life and presidency what spans from his childhood to his years in the U.S. Senate and his momentous two terms as President. Tickets range from $28 to $30 per person.
Alan Tuttle has been involved in theater for nearly six decades. He has appeared most recently in several productions of Fort Walton Beach's community theater, Stage Crafters, as a member of the ensemble in Sound of Music, Music Man, and Damn Yankees; as Manolo in Odd Couple (the Female Version), in Bad Seed playing Leroy, and as several favorite characters in Spamalot! He assisted the director of Lakebottom Proper, stage-managed Steel Magnolias, produced Noises Off, and directed Neil Simon's Rumors. Alan's U.S. Air Force career spans more than 30 years, first as aircrew and now as a civilian, teaching air operations strategy to joint and multinational military members.
Shirley Simpson as Katharine Hepburn – March 1
The series concludes on March 1 with Shirley Simpson as Katharine Hepburn. An unforgettable one-night-only event, Simpson embodies wit, charm, and fierce grit as Katharine Hepburn and gives a humorous and touching portrayal of the fiery and independent Hepburn throughout her career and the events and people who shaped her life. Tickets range from $25 to $30 per person.
Shirley Simpson most recently appeared on ECTC's stage as Shirley Valentine. She has appeared as Hannah in the musical The Spitfire Grill at New Stage Theatre in Jackson, Miss. Also at New Stage, she played Grace in Grace & Glorie, the title role of Shirley Valentine, Kendall Kingsley in Impossible Marriage, and Vada Love in The Exact Center of the Universe. At The LSU Colonnade Theatre in Baton Rouge, she played Shirley Valentine and directed and played the role of Elaine in Neil Simon's Last of the Red Hot Lovers. Other stage roles in Baton Rouge include Maggie in Tribute, Fonsia Dorsey in The Gin Game, Queen Eleanor in The Lion in Winter, and Kate in both Brighton Beach Memoirs and Broadway Bound. She starred as Laurette Taylor in an off-Broadway production based on the opening night of Tennessee Williams' The Glass Menagerie among many others. A former producer, writer, and performer in the New York Madison Avenue television market, her TV series The Vital Link was nominated for and won the ACE Award.
"Stories are the heart and soul of theater," said ECTC co-founder and producing artistic director Nathanael Fisher. "The StoryTeller series is about sharing some stories from local talent. We are thrilled to have these three actors take the stage at ECTC again. Each Storyteller performance is full of character, intrigue and history. We invite everyone to join us for an interesting and entertaining glimpse into the lives of Churchill, Stalin, Truman and Hepburn."
ECTC Lobby Gallery Exhibit Features Local Artists
Theater patrons are encouraged to come early (doors open at 6:30 p.m.) to browse artwork by local artists showcased in the ECTC Lobby Gallery. This special exhibit is curated by the Cultural Arts Alliance of Walton County in partnership with The Foster Gallery. A portion of proceeds from each sale benefits ECTC and its education outreach and scholarship programs.
ECTC is implementing a Safety Protocol Plan to ensure patrons can enjoy all offerings in a safe environment. For the latest updates, visit emeraldcoasttheatre.org.
Purchase tickets online at emeraldcoastheatre.org/tickets or call (850) 684-0323.