Emerald Coast Theatre Company Launches 7th Season at Membership Party
Followed by a Shakespeare performance under the stars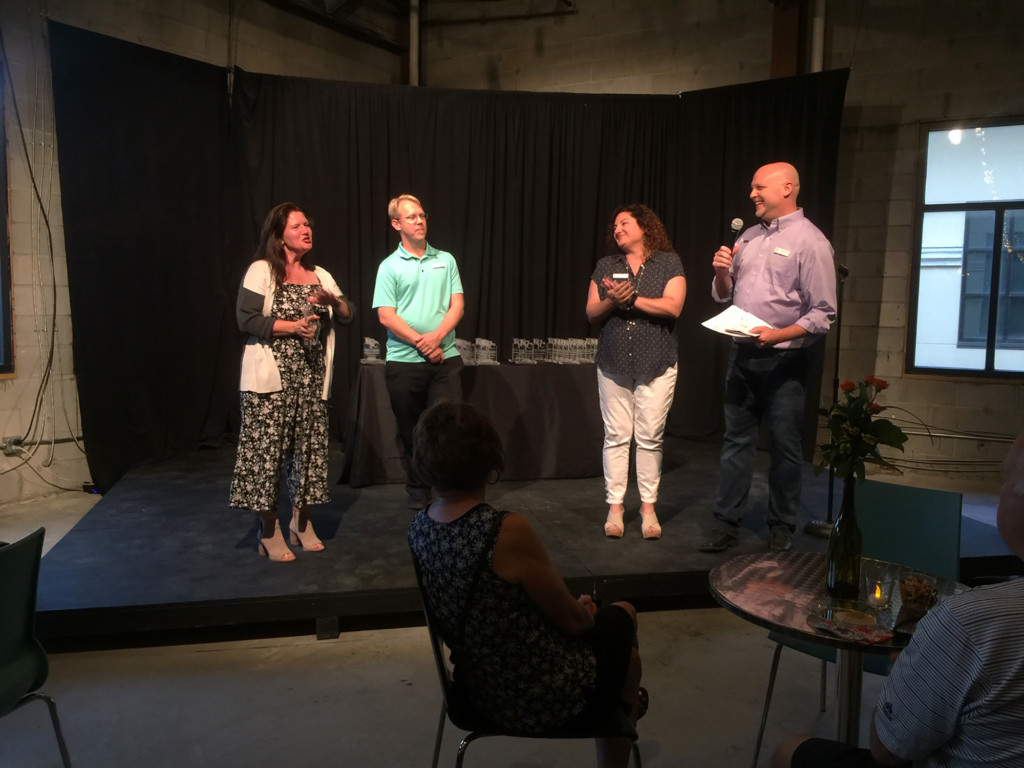 Hundreds of local theater lovers eagerly gathered upstairs at 560 Grand Boulevard in Miramar Beach at a reception featuring light bites and an open wine bar in anticipation of Emerald Coast Theatre Company's (ECTC) news. ECTC board president Jason Hedden — who also is a local actor, director, playwright and comic — warmly welcomed the crowd with a few jokes before introducing the nonprofit professional theater company's co-founders, Nathanael Fisher, the producing artistic director and Anna Fisher, the associate director.
Before sharing the seventh annual season lineup, the creative couple talked about the growth of ECTC. "More than 1,900 children have participated in our educational programs, and over 17,500 students and families have experience ECTC's Theatre for Young Audiences productions," Nathanael Fisher said from the stage. To date, Nathanael estimates nearly 15,000 people have attended one of the theater's professional mainstage productions.
Nathanael said ECTC's growth is due in part to the local support of individual donors and business sponsors. He, and his wife, Anna, took turns thanking their supporters. Those present took to the stage to accept an engraved glass award and a personal handshake.
With a drumroll of fingers on cabaret tables, Nathanael and Anna announced the mainstage season lineup would include "The Fantasticks" in September, "Miss Bennet: Christmas at Pemberley" in December, "Buyer & Cellar in January and the "Maytag Virgin" in February. The StoryTeller series returns with three offerings on consecutive Thursdays in January, which will include the restaging of "Winston Churchill: Through the Strom" starring Bruce Collier, as well as "Resurrecting Van Gogh," an original play authored by Hedden. A third performance is yet to be announced.
Performances for The Theater for Young Audiences (TYA) series — adult actors performing for children audiences — will be "Pinkalicious The Musical" in October and "Treasure Island" in May. The educational programs include "Elf Jr.: The Musical" in November and "Disney's High School Musical 2 Jr." in April.
Guests were invited to become VIP members (levels start from $300 per person) in order to subscribe to the full 2019-2020 season.
After the announcements, guests strolled to the lawn in Grand Park (located between Cantina Laredo and Tommy Bahama Restaurant) and spread out blankets and unfolded beach chairs to take in the opening night of William Shakespeare's "Much Ado About Nothing," the first performance of Theatre Thursdays, a summer series staged by ECTC sponsored by Grand Boulevard.
Adapted by Gillette Elvgreen, this hilarious comedy is about misunderstandings, love and deception. The players showed families gathered on the lawn that the "course of true love never did run smooth." To add to the fun, Abrakadoodle Art Education and Parties — Northwest Florida offers a themed kids' craft pre-show also in Grand Park from 7–8 p.m. The pre-show craft and "Much Ado" performance are both free of charge and open to the public. The production runs through Aug. 1.
In the event of rain, the performance will move to the ECTC theatre upstairs at 560 Grand Boulevard.
"ECTC is honored to return for a fifth summer of Theatre Thursdays at Grand Boulevard," said Nathanael. "This adaptation of 'Much Ado About Nothing' is a hilarious way to spend a summer evening with your family. The physical comedy and comedia' style appeals to all ages, and there is just something special about watching Shakespeare under the stars."
For more information on ECTC's upcoming season or how to donate or volunteer, visit EmeraldCoastTheatre.org.