Dave Rauschkolb is The Champion for Community Activism
Champions Among Us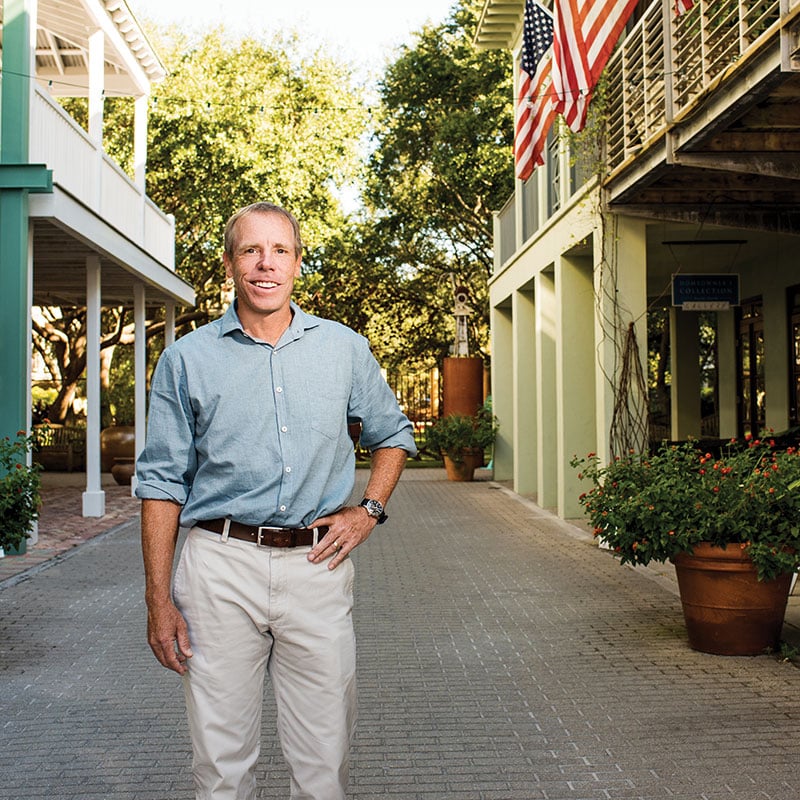 Dave Rauschkolb
Champion for Community Activism
Holly Gardner
From the Confederate flag and offshore drilling to scenic signage and growth management, Dave Rauschkolb is not afraid to tackle the big issues affecting south Walton County — a community he has loved and strived to protect since he opened Bud & Alley's Waterfront Restaurant in Seaside in 1986. Today, 30 years later, it remains South Walton's longest established restaurant.
From the beginning, Rauschkolb knew he was a part of something special on 30A. "To be able to be involved in the pioneer phase of a community is an immense opportunity for a 24-year-old kid," says Rauschkolb. "When you start to do things at that age that already start to make a difference in a community, it gives you confidence." 
That confidence and Rauschkolb's creative thinking and problem solving naturally led to his involvement in game-changing community initiatives including the Scenic 30A Business Association, the Scenic Pride Initiative, Hands Across the Sand and his most recent undertaking — A Better South Walton.
"I was pretty adamant that we needed to be an activist organization that was going to keep the high-rise condos out and enhance the natural beauty of 30A," says Rauschkolb of the Scenic 30A Business Association. "We needed sign laws and a bike path." Consistent, appealing signage was also on the agenda. The goals of this trailblazing group created the 30A experience as it is known today.
With his eyes on Florida's most precious resource — the beach — Rauschkolb founded Hands Across the Sand, Floridians standing together against offshore drilling. The Deepwater Horizon oil spill occurred two months later, launching Rauschkolb into the national limelight. 
This past year, Rauschkolb carefully confronted the sensitive issue of the Confederate flag. "The only flags that should be flying in public spaces are the flags that represent all of us," he shares. "The United States flag represents all of us. The Florida flag represents all of us. The seal of Walton County represents all of us. Any other symbol really should not be in the mix in a public space."
Always looking ahead, Rauschkolb has become involved with A Better South Walton, an initiative to investigate the possibility of incorporating South Walton. The goal is to give full-time South Walton residents the opportunity to determine what the future of South Walton will be. 
"People who join hands change the world," says Rauschkolb. He has proven this to be true using his consensus-building style, positive attitude, desire to empower people, and sense of fairness to positively affect his community and more.
---
This ongoing series shines a spotlight on individuals making a difference. These social champions from all walks and stages of life are equally zealous about the community causes to which they have dedicated their lives. For more champions, visit the archive on our website.