Dan Tederous
Executive Chef, Hilton Sandestin Beach Golf Resort & Spa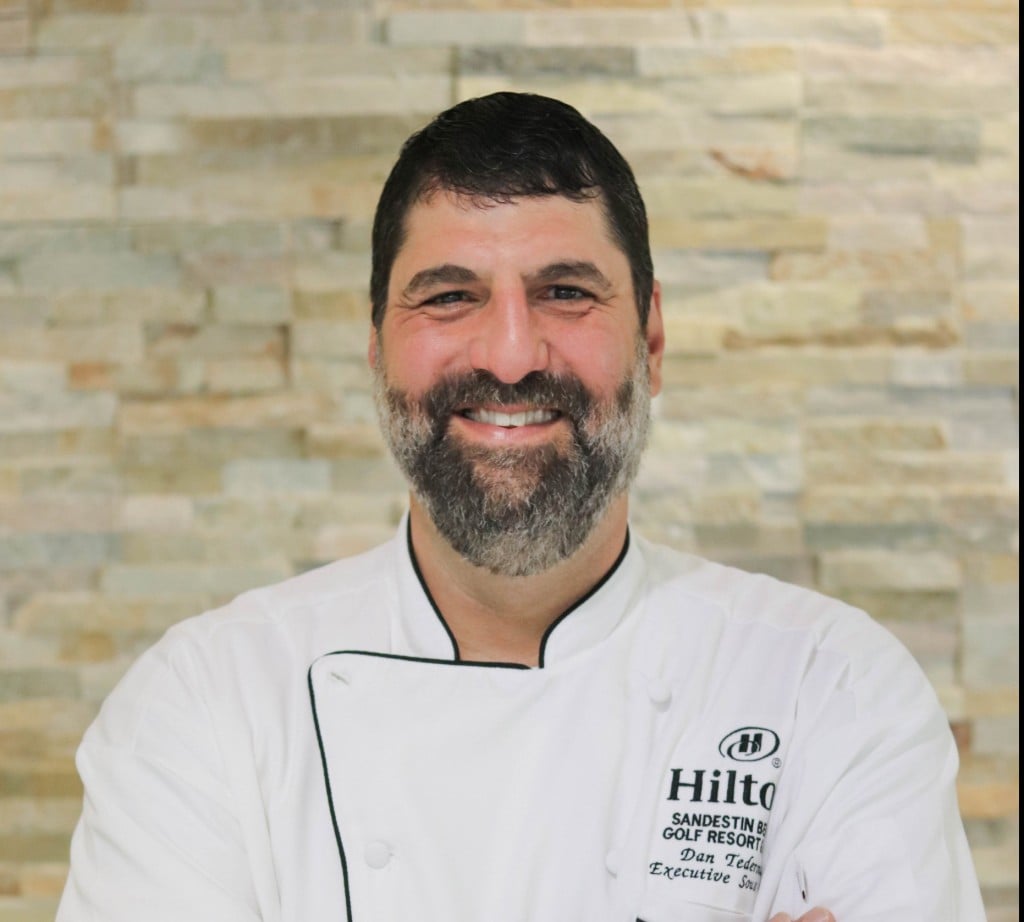 Dan Tederous, Hilton Sandestin Beach's new executive chef, comes to the kitchen with a cornucopia of experience. He began his tenure as the Hilton Sandestin Beach's executive sous chef and quickly worked his way to his current position, where he provides culinary direction to the property's chefs, creates new menus and oversees all food, beverage and catering decisions.
With more than 20 years of culinary experience, Tederous most recently was chef de cuisine at Delmonico Steakhouse of Las Vegas. Tederous also held positions as executive sous chef at Mauna Kea Resort in Waimea, Hawaii, and banquet chef at Four Seasons Hualalai in Kailua-Kona, Hawaii.
What sets the Hilton Sandestin Beach's dining options apart? The location right on the beach provides beautiful views, and the nearby water provides super fresh ingredients. The chefs here are phenomenal, they love to create and are very passionate about what they do. We constantly strive to evolve and provide the best.
What do you hope diners experience from dining at Hilton Sandestin Beach? More local Florida cuisine and fresh seafood. The wonderful variety of options, from fine dining at our four-diamond steakhouse Seagar's, to our over-the-top breakfast at Sandcastles, to laid-back but delicious food at Barefoot's by the beach and pool.
What ingredients do you most enjoy cooking with? Fresh fish. When I moved to Hawaii, I really became obsessed with cooking fresh fish in a variety of ways. Now, being right on the Gulf, there are so many species of fish in my backyard to work with.
What are the most important items to have in a kitchen? Garlic, kosher salt, fresh cracked black pepper and butter, I love cooking with it — especially butter.
I know it's not the healthiest, but it's a staple.
What's your favorite dish to cook and eat? To eat? Ramen. To cook? Anything I get to cook when
I am with my girlfriend and daughters. 
What do you love most about your job? I enjoy the people I work with a lot and the guests I get to meet working at such a big resort. It's fun getting to talk with guests about the food we create here and capture their feedback.
Hilton Sandestin Beach Golf Resort & Spa
4000 Sandestin Blvd. S., Miramar Beach   |   (850) 267-9500   |  HiltonSandestinBeach.com