Creative Ingenuity Gives New Life to Old Cast-Offs
To everything a (renewed) purpose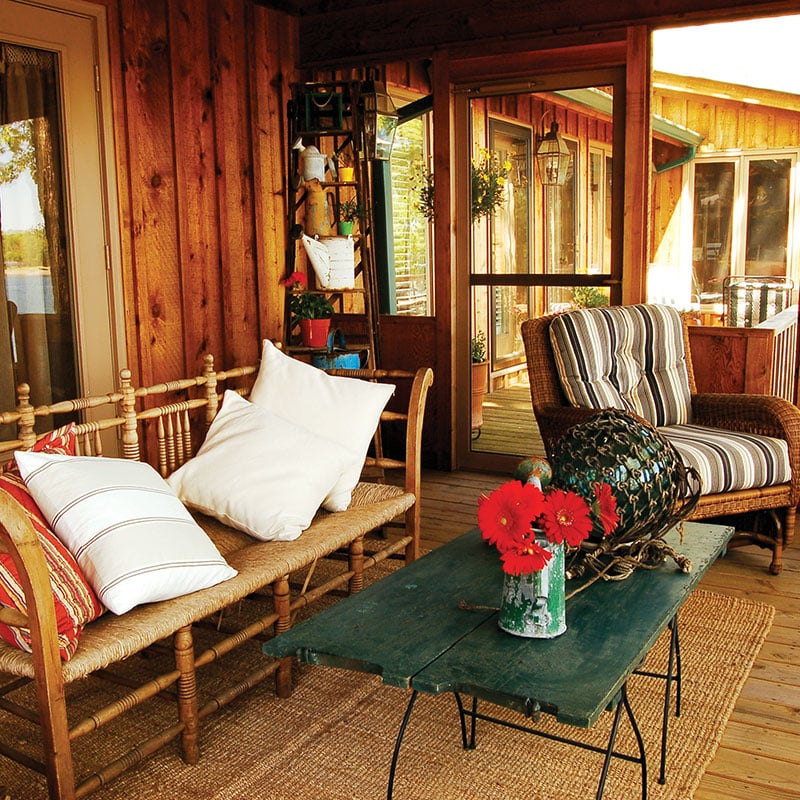 If you're a home fashionista, try stopping in at a junkyard. There you might encounter such delicious finds as a sheet of rusty corrugated tin, a dented locker or a one-wheeled lawn mower.
Shaking your head in disbelief? Then you haven't seen the "Picker Sisters," the new hit show on Lifetime. Here, two top designers take a trailer truck to the hinterlands, rummaging through salvage yards for stuff to become high-priced home furnishings back at their studio.
Nor have you encountered Debbie Weant-Lane, the owner of 30-A Art & Junk Gallery in Santa Rosa Beach. She loves repurposing cast-offs, including items so decrepit that most of us would hurry past them. With irrepressible humor and imagination, she turns old pieces of wood, tin, rope and what-nots into angels, mermaids and signs while unlikely finds like funnels, birdcages, metallic dress forms and cake pans become lamps or chandeliers.
One of her most recent projects was a cast-off sink, complete with a Formica surround. She turned it into a fountain. Another was a 1960s store display with metal clips for hanging magazines. In its new life, it's a lamp with magazine pages working as a shade.
Currently she's contemplating the possibilities of a huge car fender. "It reminds me of a whale," she says. "Perhaps it'll become a sculpture."
Industrial Antiques
The most prized repurposed items often come from old factories and warehouses, so they've become known as industrial antiques. It's a category that Antiques Weekly, a trade publication for dealers, calls "strong and especially exciting to younger collectors." But the magazine acknowledges that the category is subject to strong regional differences. That's true of the Emerald Coast, according to Cathy Abrams of Abrams Antiques in Destin.
"Since we aren't known for factories, things from places like old stores, farms, hotels, boats and fisheries become our 'industrials,'" she explains.
She's a strong believer in repurposing, calls it "a very green thing to do," and tells about old furniture surviving hurricanes and floods in New Orleans and Mobile.
"It brought back to me how well-made old things are," she says. "Plus they are beautiful, affordable and save rooms from boredom and sterility. I try to instill in my customers' psyche that they should put something old in a room to make it 'pop.' In my own house in Niceville, an old coat and hat rack now holds towels in the bathroom and a cabinet from a dentist's office holds my jewelry."
Found Objects
At Antiques on Holiday in Destin, industrials are often architectural salvage. Co-owner Ann Hopkins finds a lot of call for iron gates and old doors, but she doesn't shy away from offering more unusual items. She tells of a sewage grate that became a patio table; a vintage casket cart turned into a coffee table; and pieces of a late 1800s carousel reworked as a bed.
"Then there's the restaurant using iron potato baskets as light fixtures," she says. "And we sold a confessional to a vintage clothing shop where it became a dressing room."
In her own home, she uses an old smokehouse door on top of two filing cabinets as her desk, an antique spiral staircase works as a bookcase, a birdhouse is a light fixture and her dining table is created from reclaimed wood with large architectural fragments acting as legs.
"When you put on your creative goggles, almost any found object can be repurposed," she says. "Besides, this'll link us to the past. That's a good thing."
A Trend Is Born
As antiques go, oddball found objects are a new phenomenon. It began in the late 1900s when living in vintage industrial or commercial spaces became the height of chic in big cities. Those large spaces called for over-sized, gritty-style furnishings, and what could be better than the pieces that made them function in the first place? Stainless steel worktables and giant work lights moved in and were immediately declared gorgeous by home magazines.
Soon the high-ceilinged rooms and large windows characteristic of urban lofts became popular in new housing everywhere, and stainless steel, commercial-grade appliances became kings of kitchens. Some industrial items, such as wheeled foundry trolleys and tripod lamps, have even gone so mainstream that they're being reproduced by companies like Restoration Hardware and Pottery Barn.
Since those early days of the loft revolution, the world of industrial antiques has undergone a huge expansion. It now also encompasses furnishings, fixtures, building elements, equipment and tools from virtually any commercial establishment or institution.
Current favorites include shelving, anything with wheels and gears, Singer sewing tables and stools, carts from the days preceding the conveyor belt, dipping baskets, pallets and lockers.
Other categories of industrials are: molds and patterns for cast iron parts;
architectural salvage, such as cast iron columns; institutional lighting; gates and fencing; and stone statues, planters and benches.
There's a myriad of additional specialties. "If it's old and graphically striking, it becomes an artifact," says Hopkins.
Designers' Darlings
This eccentric coat rack/lamp from Antiques on Holiday in Miramar Beach is a great example of how to reinvent home décor.
Interior designers have adopted the trend, too. Paula Ford of Santa Rosa Beach, for example, says that she routinely creates rooms that incorporate found objects.
"Even when I design a new kitchen, I like to make room for vintage elements," she tells. "It might be an old buffet, a plate holder, a hutch. For one client, I made a chandelier out of tractor parts, and the seat of the tractor became a bar stool."
"It's the most comfortable seat in the house," comments the client. "In our kitchen, Paula also covered the fridge with weathered barn wood. Often visitors ask how we can live without a refrigerator. They don't realize something so rustic can be an appliance."
Corrugated tin, wall sconces, benches from old churches and old iron railings are items that Ford snaps up whenever she sees them. Shades of the Picker Sisters? What do you do with rusty tin? Well, Ford likes it as backing for bookcases. And who said that a bench always has to be for seating? This designer has been known to hang it on the wall and call it a bookcase.
As Is or Not
Some dealers offer industrials pretty much the way they found them, just cleaning off the worst grime and letting collectors decide their use. Other dealers present them in repurposed form.
But where do dealers and designers go for their finds? Yes, they go to auctions and estate sales and keep up with buildings headed for demolition, but many actually go through curbside trash or trawl junk and salvage yards.
Paula Ford, for one, doesn't mind getting her hands dirty. She loves digging through attics, basements, farmyards and trash by the road. "I can't resist items that wear their history on their ragged sleeves," she comments.
But is all this a fad? Will industrials go the way of so many collectibles that were hot for a few years, then dropped off the radar screen?
Hopkins and Ford don't think it's a fad. Lots of vintage objects are classics, they say. Besides, the field is so wide that nobody will ever have a chance to tire of it.
"A tractor, old airplane parts, that sort of thing, reminds us of the inventiveness and energy that made us the engine of the world," says Ford. "Yes, I think people will remain interested, but the key is to give those gritty items a softer edge, mix them with other things."