Coyote Ugly Packs Them in at HarborWalk Village
Hunting for New Nightlife Fun?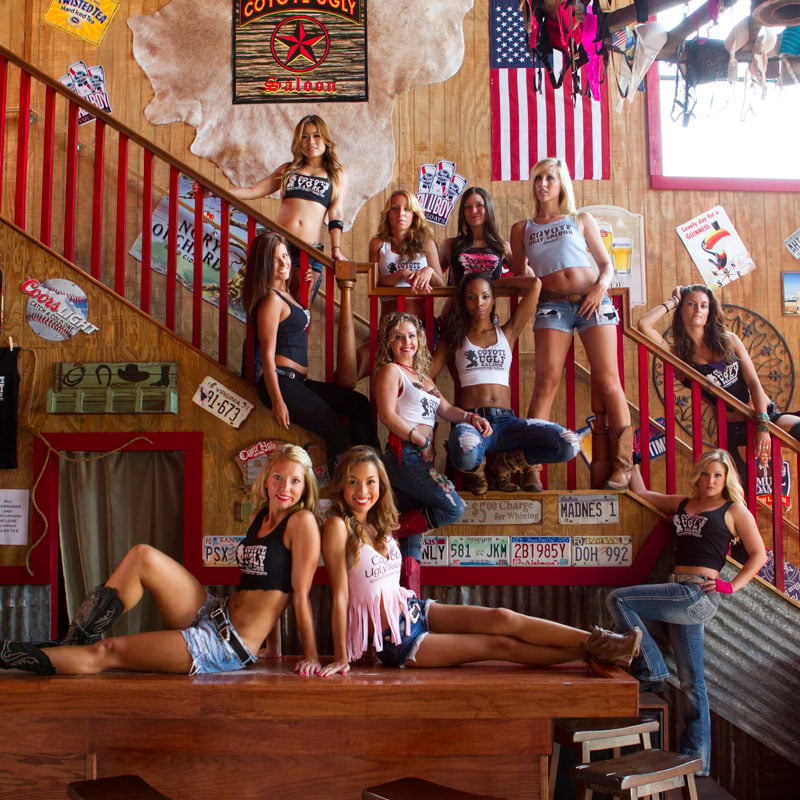 Born in Brooklyn and raised just outside Atlanta, Joanna Olsen heard the message early and often: "You can be anything you want to be."
Now a 30-something successful business owner, Olsen is passing that belief along to a rising generation of young women who work for her at Coyote Ugly Saloons. 
Newest among these is the Destin location, which opened just in time for Spring Break earlier this year. Olsen has owned a Coyote Ugly in Tampa for 10 years and another in Panama City Beach for the past nine.
"Everything came together," was how Olsen capsulized four months and about $500,000 worth of intense transformation involving a two-story former restaurant location on the eastern end of HarborWalk Village, just off the Marler Bridge that spans the East Pass in Destin.
Billy Caine and Todd Leverette are Olsen's business partners, with Caine acting as the on-site manager. The trio operates under a license granted by Lil Lovell, who opened the first Coyote Ugly in New York City in 1993. Lovell's concept gained national attention with the 2000 release of the movie "Coyote Ugly."
More than a dozen years later, many people still say "just like the movie" when making reference to the saloon. 
"It's a good fit because having such a well-known establishment such as Coyote Ugly adds additional fun, friendly, nightlife entertainment to HarborWalk," said John Hall, general manager of the venue belonging to Legendary Realty Inc. "They have a great reputation for exciting, interactive, boot-stompin' fun." 
And even though the brand has gone international, Olsen wants to emphasize her local connections. "Coyote Ugly is the most famous bar on the planet, but I think people have the idea that we're a franchise or chain and that's not correct," she said of her new location. "It's owned by me and my partners, who live here in Destin. Our success will depend on keeping the Coyote experience alive, and we're very focused on catering to local customers."
Forty young women auditioned to become Coyotes at a special outdoor HarborWalk Village event attended by about 1,000 boisterous people. The 40 females showed off their dancing skills and answered questions designed to measure professional experience and just how feisty their personalities might be.
Twenty-five made the first cut, and that number was pared down to 18. 
"They're in charge of the bar, and they have fun interacting with the customers," Olsen said. "The girls are in control. As we like to say, 'Tonight we're calling the shots.'" 
Free shots are part of the reward for female patrons brave enough to dance freestyle on the bar along with Coyotes. Bourbon and Coke was reported as the favorite cocktail of male patrons, who also take advantage of specials on longneck beer. When ladies order, they often ask for "Sex on the Beach."
Coyotes come from different backgrounds, and each tackles her nightly role with energy and personality. 
Candace Winston-Grays, 26, came to the area because her husband, Francisco Grays, is stationed just outside Crestview with the Army's 7th Special Forces.
"We work together as a team," she said. "Everybody takes on a piece of everything. It's more than what I expected, because the people who run it take a personal interest in you. I'm a family person, so I really like to go to a place where it's a family, not just a job. Coming to work here makes me smile."
Danza Locke, 22, commutes from Gulf  Shores, Ala., to work in Destin, a drive that can take two hours during tourist season. But Locke insists it's "worth it."
"Being an entertainer is fun, and the job is a lot better than what I expected," she said. "I've been teaching dance at a local studio, and I didn't know what I was getting into at first, but I actually want to come to work every day. I've made good friends here."
Mae McDonnell, 26, is a graduate of Bruner Middle School and Fort Walton Beach High School. "I've been dancing ever since I could walk," McDonnell said. "The whole atmosphere here allows for people to let loose and let their wild side show. But I totally feel safe. We have rules, we have security and customers understand that. I've never had any issues."
Since Coyote Ugly's hours are 4 p.m. to 4 a.m. daily, shifts can run long and the Coyotes are in constant motion.
"This place isn't about being half-assed," McDonald said. "We're all on fire 100 percent of the time. "It's long hours and it's physically challenging, but I've given up my YMCA membership, because this job keeps me in such good shape." 
Music in the saloon gets cranked up somewhere past "loud," and the whole place can feel the bass line reverberate. Around midnight on a recent evening, after four Coyotes performed to "The Devil Went Down to Georgia" by Charlie Daniels, the main bar top took on an additional six to eight dancing female customers with everyone working her best shimmy to "Save A Horse (Ride A Cowboy)" by Big & Rich.
Cathy Forgue was among those showing off her moves as many in the crowd sang along in full voice with "Save A Horse's" catchy refrain. 
"It's fun, they get the customers involved and they know what works — good music and fast service," said Forgue, 39, a U.S. Air Force master sergeant. "I've been here before, and I'm meeting some friends here tonight. Especially if you've never been, you've just got to go to Coyote Ugly. You just have to."
J.W. Hyde, 48, from Atlanta, was sporting a spiffy black straw cowboy hat. He was part of a group of men enjoying an annual global reunion.
"I've been here 35 or 40 minutes, and it's climbing the charts," Hyde said. "There's a lot of good energy, a lot of attractive women and people seem to be having a good time." 
Onie Tomlin, 32, from Gurley, Ala., just could not stay atop one of the spinning mechanical bulls out back for more than a few seconds. 
"It looked like fun," she offered with an undaunted smile.
And was it? 
"Hell, yeah!" was the cheerful reply. "I've always wanted to come here. It's awesome."
In addition to the "dueling bulls," Coyote Ugly has a DJ out back on weekends and offers a "Coyote Food Truck" seven days a week.
Mark Jackson, 28, an Air Force Airman First Class, was the first successful brassiere flinger among five young men who made attempts at landing a Coyote bra on an overhead chandelier made from a replica of a wagon wheel.
"This is my first time here," Jackson said. "I've been to the one in Vegas, and this one's way better. The girls are better looking, and there's a better atmosphere. It's more active."
And while patrons are encouraged to loosen up from the time they walk in the door,  no one seemed eager to push things too far.
"It's always interesting," Caine said. "There's a bit of excitement in the air when the crowd gets going. And if you're helping somebody have a great night, that means something."