Commemorating the 70th Anniversary of D-Day, Sinfonia Gulf Coast Presents: 'Brothers in Arts'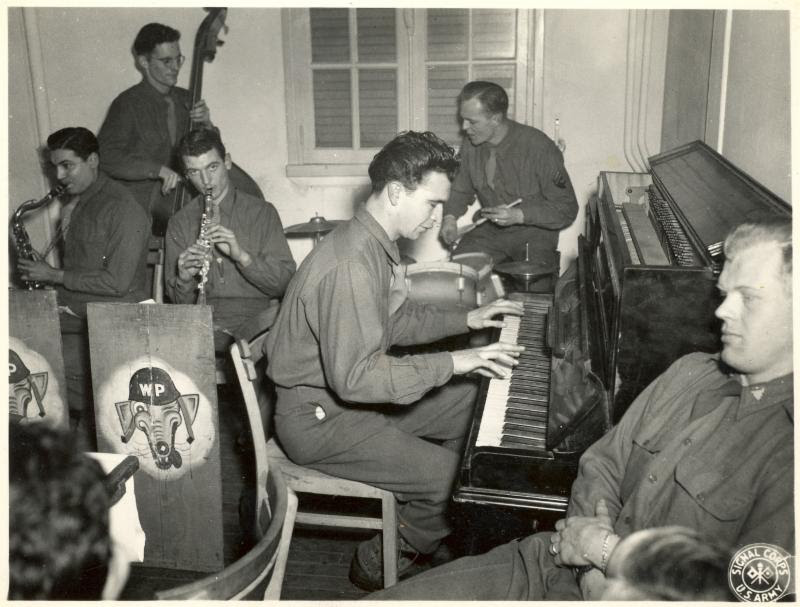 Co-composed by American Chris Brubeck and Frenchman Guillaume Saint-James, the piece brings together two continents and the worlds of jazz and symphonic music and will feature guest artists Chris Brubeck and the French Jazzarium with Sinfonia.
History and music create a cultural crescendo on Nov. 1, as Sinfonia Gulf Coast presents the U.S. premiere of "Brothers in Arts: 70 Years of Liberty," a piece created by acclaimed composers Chris Brubeck and Guillaume Saint-James to commemorate the 70th anniversary of D-Day.
"Brothers in Arts" will feature a mixed-medium entertainment experience with jazz and orchestral music performed by Sinfonia Gulf Coast, the region's only fully professional symphony, with moving and iconic images from World War II displayed on a large screen above the orchestra, prefacing each movement.
The composition was born from a chance meeting, which inspired two acquaintances to commemorate a chapter in the world's history that was pivotal to the struggle for freedom. Their piece also reflects a deeply personal connection for the composers.
Brubeck, an American, and Saint-James, a Frenchman, met in 2012 while performing in Rennes, France. They quickly learned their fathers, both also musicians, experienced firsthand the tragic events that lead to the invasion of Normandy on June 6, 1944.
Seven decades have passed since that storied day, which brought with it the epic step in a tireless journey toward peace for a battered and embattled world. Yet, today, "Brother's in Arts" builds a bridge across time with a moving score that is now being celebrated in worldwide performances and now for the first time in America by Sinfonia.
"The performance of any new work is exciting, but the ability to premiere a composition, co-composed by two brilliant musicians is extraordinary," said Demetrius Fuller, Sinfonia music and artistic director. "'Brothers in Arts' is a true testament to a monumental era in history and honors those who served their countries and the many among them who paid the ultimate price with their lives. Therefore, it is a great privilege that Chris Brubeck invited Sinfonia Gulf Coast to perform the premiere in our country."
Following the premiere performance in France in June, Brubeck said, "Our piece touched the soul of the French who lived through the occupation, and their families who had heard the stories about those difficult days. Since this is the story of two fathers, American and French, we wanted U.S. orchestras to join us in this international partnership and help us tell the story to an American audience." He added, "Sinfonia Gulf Coast, led by their dynamic and talented conductor, Demetrius Fuller, came to my mind as the kind of innovative American orchestra that would do a splendid job of presenting the American premiere of this inspirational orchestral work."
The piece was commissioned by France's Orchestre Symphonique of Bretagne, with additional support from the French Ministry of Culture, the U.S. State Department, along with co-commissions by Sinfonia Gulf Coast and the Oakland East Bay Symphony in California.
Sinfonia's performance of "Brothers in Arts", to be presented at the Emerald Coast Convention Center in Fort Walton Beach, was underwritten by a grant from the Dugas Family Foundation. It is the first concert of Sinfonia's ninth season, titled Seeing is Believing. Presenting Sponsor for the season is Merrill Lynch Wealth Management and Presenting Concerts Sponsor is La Florida Real Estate.
Tickets for the performance, which will begin at 7:30 p.m., can be purchased as part of a season package, or individually starting at $29.50 at SinfoniaGulfCoast.org or by calling 850-269-7129.
For Sinfonia Gulf Coast's "Brothers in Arts" press kit, go to http://bit.ly/1ywKiPE. To download related high-resolution images, go to http://bit.ly/1pupHC1, and use password SGC. For Chris Brubeck's personal account of the creation of "Brothers in Arts: 70 Years of Liberty," go to bit.ly/1wS4UhD .
Sinfonia is entering its ninth season as the only fully professional symphony orchestra along the Emerald Coast. Season tickets for the 2014-2015 Season entitled "Seeing is Believeing," include the U.S. premiere of Chris Brubeck's "Brothers in Arts: 70 Years of Liberty," the world premiere of Nico Muhly's "Seeing is Believing" for electric violin and orchestra and "Disney Pixar in Concert," are on sale now.
For more information or to purchase tickets, please visit
www.SinfoniaGulfCoast.org or call (850) 269-7129.
---
About Sinfonia Gulf Coast:
Sinfonia Gulf Coast was founded in 2005 on Florida's Northwest Gulf Coast with the mission of redefining the symphony experience. Under the guidance of Music Director and Founder Demetrius Fuller and a dedicated board of directors, the nonprofit orchestra is entering its ninth season of innovative musical programming, designed to entertain, educate and inspire the community. Notable guest artists have included: Broadway legends Bernadette Peters and Patti LuPone, R&B icon Roberta Flack, Mary Wilson of the Supremes, Chris Brubeck, the Sao Paulo String Quartet, classical-crossover sensation Time for Three, Manhattan Piano Trio, Epic recording artist Morgan James, Tony Award-winning vocalists Gary Mauer and Debbie Gravitte, Grammy-nominated violinist Caroline Goulding, Grammy-Award winners John Pizzarelli, Howard Levy, the Parker Quartet, New York Voices and iconic big band Pink Martini. Since it's founding, Sinfonia Gulf Coast has presented more than 400 concerts and events, has collaborated with numerous nonprofits and businesses throughout the community and has reached more than 47,000 children through its Sinfonia Guest Artists in the Schools program/music education outreach initiatives. More than 800 families have benefited from Sinfonia's Students4FREE program, which provides complimentary tickets to live orchestral performances and musical events. Sinfonia also supports a sixty member youth orchestra program, led by Music Director Liz Aylor and maintains a partnership with Carnegie Hall's Weill Institute of Music with the Link Up program for third through fifths graders. Sinfonia Gulf Coast is also a proud collaborator throughout the Northwest Florida community and continues its partnership with Sacred Heart Hospital along the Emerald Coast in their Arts in Medicine program.