Comfort or Couture? Here's How to Say Yes to Both
Ring in a Red Hot New Year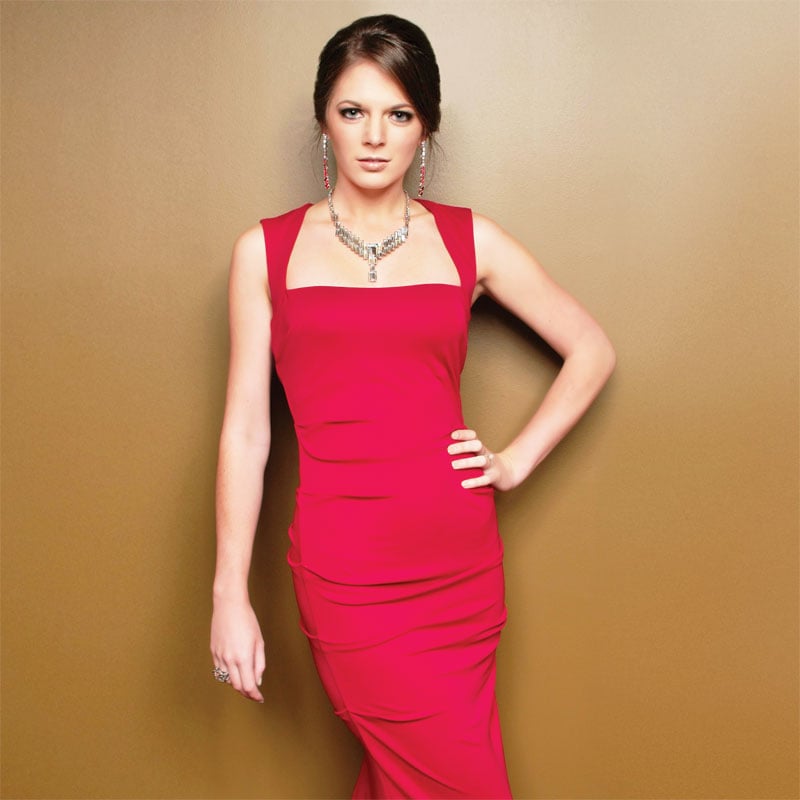 Life is better played outside of your comfort zone, with one exception: fashion. No matter the season, when building your wardrobe collection the most important fundamental rule you should follow is to "find your comfort." When you are comfortable in your own skin — swathed in fab fashions, of course — the real you will shine on all year long. During the holiday season with a little due diligence, you can have your couture and wear it well, too.
"Confidence equals beauty," explained Cole Couture owner Carrie McNeill. "We focus on providing the latest in holiday trends while paying precise attention to what makes each woman feel most comfortable — so she will be confident in her look."
The first ever South Walton Fashion Week staged in the fall at Grand Boulevard at Sandestin showed everyone that the Emerald Coast is simply bursting at the seams with dozens of established and emerging designer boutiques. At this time of year, they are chock full of fabulous frocks and fashion finds just in time for the season. Take time to carefully shop their stock to ensure you find just what you're looking for and don't fall victim to the aftermath of an impulse buy.
Keep an eye out for rich jewel tones, which align themselves perfectly to the Christmas season. Look for playful patterned and textured prints in your favorite shade of red, white, gold and black in shapely silhouettes that are sure to flatter your unique figure. To complement holiday gatherings of all persuasions, try to establish a go-to piece that will work for any occasion, and reinvent it by accessorizing with bold statement pieces true to your personal style.
Universal Truth #1
Too much isn't always a good thing. This rule applies equally to anything that is too snug, too loose, too short or too dated.
Dixie Leigh Folsom looks fierce in this red Nicole Miller dress, ($420, Narcissus, Tallahassee). Decked out in Swarovski jewelry — including the Prime Time Necklace ($450), Siam Earrings, ($150) and the Swain Ring ($185, all from the Swarvoski Store at Silver Sands Premium Outlets in Miramar Beach) — Dixie is ready for even the most formal black tie events.
Photo by Marcus Duval
Universal Truth #2
Pretty is as pretty does. If you're grimacing over your steadily swelling feet in those five-inch stilettos, you're not Presenting the best you.
Dixie shows just how to shine as the toast of the cocktail party scene in Silver Sand's BCBG's Lillie Strapless Dress ($338). Its coastal-inspired coral hue is elegant and a little unexpected while the textured fabric brings dimension to a classic silhouette. Pair with statement jewelry, such as Silver Sand's Swarovski's Chic Ring Multi Red ($270) and Sensation Earrings ($160), for an ensemble worth celebrating.
PHOTO BY MARCUS DUVAL
Universal Truth #3
A Lovely LBD is always a good choice, but … not the only option. Ditch the safe bet and dare to pump up your fun factor.
Terra Palmer is ready to race into the New Year like a little red corvette in this cranberry BCBG dress from Silver Sands that hugs all the right curves. As the quintessential holiday wardrobe centerpiece, this little number is as versatile as that lovely Swarovski Shelia Ring ($170) she's wearing. Pair with a black fitted blazer for chilly winter nights on the town or sparkling pumps for your annual New Year's Eve party.
PHOTO BY MARCUS DUVAL
Hair: Jessica Roque, Haute Headz; Make-up: Beautifully Brushed Airbrushed Makeup, LLC. Fashions and Accessories: Silver Sands Premium Outlets