Combat Zones to Kitchens
Joseph Victor Stefanchik has seen much of the world through a viewfinder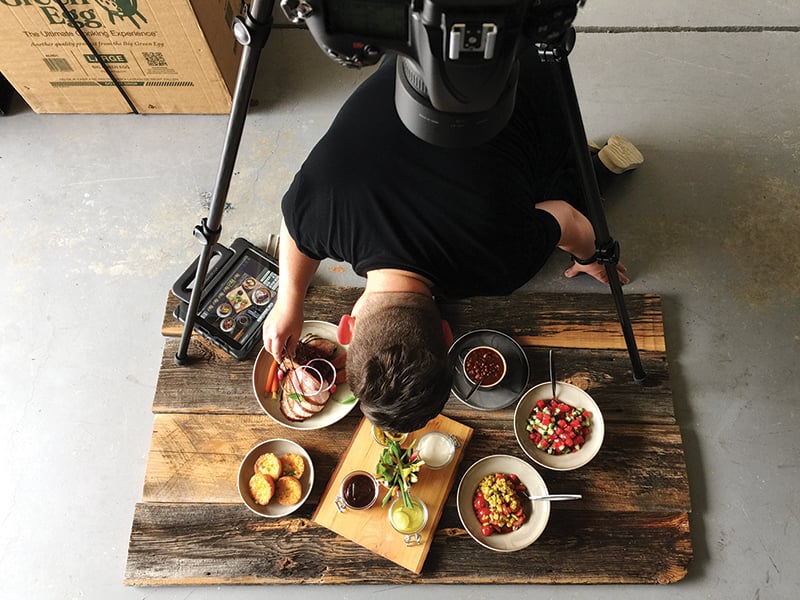 As a photographer with the Dallas Morning News, Joseph Victor Stefanchik had it going on. He'd photographed the results of civil war and the collateral damage of landmines in Angola in Africa. He'd "frozen his butt off" at the Nagano Winter Olympics and traversed the Panama Canal on a Panamax ship built specifically to fit through the canal locks.
From the first, he'd set out to shoot "impact" pictures. In photojournalism, it was something that often led to hospital rooms in ravaged countries. And in the midst of all that anxiety-promoting fun, he ended up getting a Robert F. Kennedy Award for International Photojournalism, and in 1997, he was a top-three finalist for a Pulitzer Prize.
So the question is, after the exciting, sometimes hazardous life of a photojournalist, how did he come to choose the relatively tame life of squeaking around our sugar-sand beaches? Did he change course after some trauma encountered in the course of his adventurous photojournalistic pursuits?
Stefanchik thought about that and concluded there was no one triggering incident.
"With photojournalism, I was jumping on planes sometimes 200 days out of the year," he said. "After a while, making that miserable and lonely way up the Pulitzer Prize ladder, I realized there's no top to it. There was always another rung, and I just wanted to work on happier subjects. Now I've got a home and business on the Emerald Coast with my girlfriend and business partner, who shoots great portraits, and a daughter that I'm crazy about. There's nothing I can think of that would suck me away again to some dangerous situation where there are bullets flying."
Stefanchik was born a Hoosier from Connersville, Indiana, with a Czech surname. Early on, his family moved to Princeton, New Jersey. As a high school kid, skateboarding was his jam, and it was on the half-pipe and the rails that his love affair with photography and his fascination with its "off-camera" lighting grew — perhaps also his currently eschewed penchant for risky undertakings.
As a journeyman photo-grapher, Stefanchik followed a path that took him briefly to the School of Visual Arts in New York City and then to Western Kentucky University. The latter was a bit of a culture shock for a Jersey boy "but ended up being some of the best times of my life," he said, implying there's nothing like a shock to open one's eyes.
His final internship while a student at Western Kentucky was at the Dallas Morning News, which later hired him as a full-time employee.
"There's no way to forget the day I started that job," Stefanchik said, "the day of the Oklahoma City bombing."
Though he feels that his skill at sensing the exact moment to capture an image is innate, over the years, he evolved a style he describes as "clean." That, of course, would seem to imply a sharp focus on an uncluttered subject, but it involves contrasts between light and shadow and an intensity that somehow wavers between two and three dimensions.
Stefanchik's portrait of Robert Plant of Led Zeppelin offers an intense, steady, sculpted gaze that one could never politely sustain up close. Likewise, his portraits of Oliver Stone, jazz organist Jackie Hairston and the ethereal "lady in white gossamer," a Stefanchik Galadriel.
Today, in Inlet Beach on Highway 30A's east end, Stefanchik and his girlfriend, Candice, own and operate a photo studio, Modernmade Photography. Online, Stefanchik offers his services as an "editorial and advertising photographer." He was a regular contributor to The Washington Post's Sunday magazine, which was published for the last time on Dec. 25, 2022, but his raison d'être is food photography. He's currently working on creating a library of images for 30Avenue, an upscale shopping center in Inlet Beach.
In a 2021 online interview with Stefanchik, accomplished photographer Tony Corbell profoundly opined, "Food-stuff (photography) is stellar, but it's not as easy as you would think!"
"Getting the camera in the right place is the key for food," Stefanchik said.
Based on the seductive "chow shots" he's done, Stefanchik certainly seems to know that place.
It's where a viewer imagines the taste of cherry-red or lime-green gelato; burgers wider than a human mouth, dripping with beef and bacon fat, cheesy, with a flounce of romaine; the brown and black of mushroom and sausage focaccia singed just right in an earthen oven; fusion creations with alfalfa sprigs and squiggles of brown sauce, like a bento box special. It's where that viewer experiences synesthetic visions of crunch, of smooth, of sweet or savory, that make one want to bite the picture.
So, despite Stefanchik's swearing off of life's risky paths, he doesn't seem to be able to kick the habit. Now there's a big risk of complimentary meals, rich food carrying the threat of busting one's belt or, heaven forbid, the gout! Yep, he still has it going on, he's still on the risky path, only with those happier, safer things.
---
FINALIST
Joseph Victor Stefanchik was a Pulitzer Prize finalist in feature photography in 1998. A jury chaired by Hal Buell, a retired Associated Press executive photo editor, cited Stefanchik, then with the Dallas Morning News, for his "gripping photographs depicting the effects of war and landmines in Angola."
---
---