Chris Alvarado Makes Music that May Last for Generations
The Color of Sound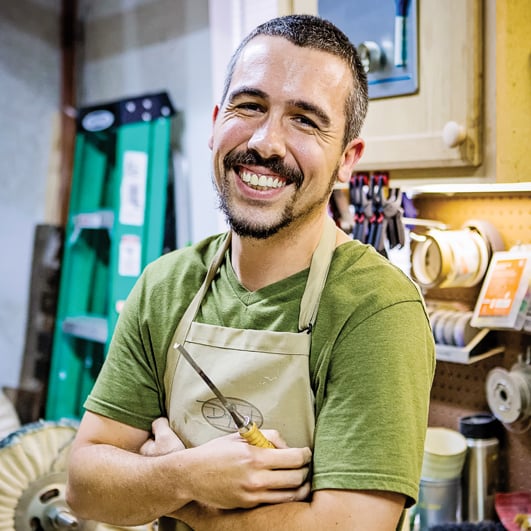 Chris Alvarado makes music — literally. He makes it out of wood and strings and shellac, and on recording equipment in his studio and at live music venues all around the Emerald Coast.
Long popular as a local live act and songwriter, Alvarado began designing and building acoustic guitars several years ago as a hobby, posting pictures of the instruments on his Facebook page for friends to see. It didn't take long for people to start offering him money.
SHELLY SWANGER
Chris Alvarado builds custom guitars out of a climate controlled two-car garage at his home in Freeport
Now, from his Driftwood Guitars workshop in Freeport, Alvarado works closely with clients — some well-known professional musicians and some dedicated amateurs — to design and build the guitar of their dreams. His wife, Naomi, works with him, managing the business side of his ventures, and together they take turns watching and playing with their 2-year-old son, Hayden.
Alvarado, a Crestview native, joined the Air Force after the terrorist attacks of Sept. 11, 2001. His father had retired from the Air Force and, after the attacks, Chris Alvarado felt a need to serve his country, too. He stayed in for seven years and left the military when he got stationed back in the Emerald Coast. He decided then, one way or another, to make music his life.
"I tell everyone that I'm glad that I'm out," Alvarado said, "but I'm also glad that I did it. If I hadn't have done my time in the military, then I wouldn't realize how fortunate I am to be able to wake up every morning and live my life on my terms."
At first, he focused on singing and songwriting — and he still does quite a bit of both. Then he added producing to his repertoire and built a full recording studio in his home, where he helps other artists produce their songs. Finally, he discovered instrument making, which he sees as a natural extension of the creative process.
Shelly Swanger
Alvarado uses a Gobar Deck to apply clamping pressure in key places in order to glue the top onto the sides of an "Antebellum" model guitar that he built for Duke Bardwell, a local musician that played bass guitar for Elvis Presley for several years. 
Every detail of each guitar is carefully chosen by Alvarado and the client in order to yield the look and sound best suited to each musician.
"I familiarize myself with the style of music they play," Alvarado said. "Then I ask them about their favorite guitar and what it is they like about it. Then I talk about sound — I ask them, 'What color sound are you looking for?'"
That's right. Color. Where most of us only hear sounds, Alvarado sees them — in tones ranging from shimmery metallics to deep chocolatey browns, with an array of shades in between.
"I'm not just hearing six notes," Alvarado said. "Some weave into others. The wood contributes notes to the strings, dark versus light sounds. It's like tasting wine. There's a lot more happening than just the notes being played."
During the guitar-building process, he talks to clients about the shape of the instrument, their selection of wood and how the different bracing styles for construction will affect the sound. Together, they discuss the trim work, the wood and pearl inlays on the body, the fingerboards and the sides. On average, it takes him four months to build each guitar, and he normally talks to clients twice each week during the process. It's important to him, he says, that the client leaves with more than just a beautiful instrument. He says that many of his clients describe the building process as an emotional experience because they participate so closely.
His goal is to make six to eight guitars each year, and he also dabbles with making one-of-a-kind instruments, like an upright guitar that is played with a bow, like a cello. For Alvarado, it's just one more way to leave a mark on the music world.
"I want to be known as an artist," Alvarado said. I just want to make something that lives longer than I do. I'm going to die someday, and these guitars are going to live on, and that means I'll get to keep making music long after I'm gone."