Bloody Work if You Can Find It
Novel relives Ted Bundy's terrifying grip on Florida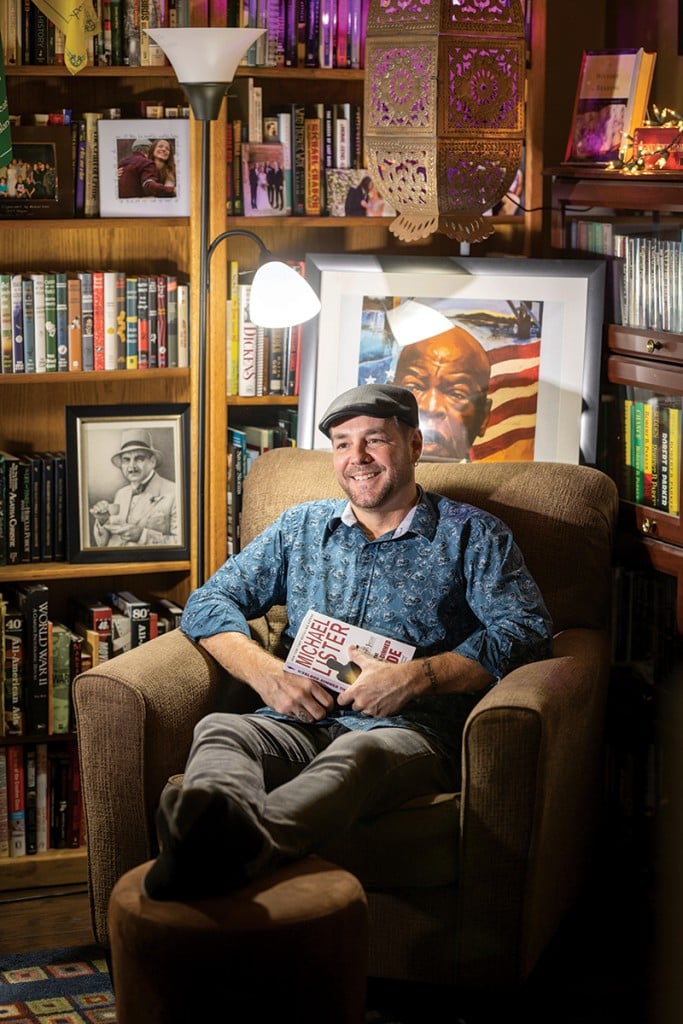 Michael Lister is not just a writer; he's an enterprise! This Wewahitchka boy's milieu, as a mystery-crime novelist in Northwest Florida, features the folks next door, characters from beach to bayou to piney woods.
Over the past 25 years, Lister has created two series of crime novels and recently has undertaken a third.
But wait, there's more: a "Meanings" series of his own reflections on life, plus — fingers crossed — Lister has optioned the film script for his book Double Exposure to writer-director Jason Hreno. Lister also heads Michael Lister Charities and, if one cares to look, can be viewed performing original songs on YouTube.
Lister was born in Tallahassee in 1968 to a mom who taught grade school and a dad who was part entrepreneur and part hardware store owner. He grew up playing Little League baseball, but in high school switched to basketball.
"I'm only 6 feet tall, but I still get down on the court with my kids and grandkids," he said. "I've got a killer mid-range jump shot!"
After high school, Lister earned two degrees in theology, instinctively specializing in myth and narrative, and served for a decade as a prison chaplain. Then, in 2000, Lister departed ministering and took up writing.
If Michael Lister books were films, they'd lean toward docudrama. His "Blood" series of 28 novels (Power in the Blood, Blood of the Lamb, et al) seems to reflect Michael's sojourn spent spiritualizing with inmates at three different state prisons.
Whether Lister's fascination with dark tales from the American criminal justice system was induced by those 10 clerical years or his fascination with the works of Dashiell Hammett and Raymond Chandler, cold cases and serial killers inhabit his "Blood" fiction world, presented through the eyes of John Jordon, a kind of Gulf Coast "Father Brown."
Blood Work, the 12th book in the "Blood" series, opens with a prologue that traces serial killer Ted Bundy's rampage through Florida from 1978 until 1989 when he was executed in Florida's electric chair.
In Blood Work, some 40 years after Bundy's murder spree, the reader encounters John Jordon, the chaplain for the Gulf Correctional Institution and consultant-investigator for the Gulf County Sheriff's Department, in bed with Anna, his lady love.
A phone call interrupts the couple's precious spiritual rites with a plea from a local publican — one to which Jordon reluctantly responds and which takes him to a local watering hole where he removes his drunken brother Jake from the premises.
Out of work since his father "Sheriff Jack" lost re-election, Jake has become his dad's keeper-in-misery. Jack is haunted by the disappearance, on "his watch," of a local high-school belle, Janet Leigh Lester, who'd gone missing on her prom night. No body was found, only blood scattered on the inside of her car. At the time, because of a contemporary string of murders from Tallahassee to Pensacola and the girl's victim profile, John Jordon's old man, Sheriff Jack, had concluded that Janet Leigh Lester had met with foul play at the hands of one Ted Bundy.
Years later, the unresolved case still hangs like a dark cloud over the whole community, while protagonist John Jordon witnesses his father lost in an empty retirement, agonizing over whether his conclusion about Janet Leigh Lester's fate had been too easy.
The old man's sense of failure over time has led him to alcohol, and his relationship with his sons John and Jake has grown problematic. Thereby hangs not only a murder mystery, but the tale of how John Jordon, special investigator and dutiful son, revives the cold case of Janet Leigh Lester's disappearance and comes to the aid of a father from whom he's become estranged.
Essentially, Lister's Blood Work is a tale with a Southern touch that unearths old mysteries, reveals generational secrets and that, at its best, reveres the notion of the circle being unbroken between generations.
Lister is unbelievably prolific. The New York Times puts him on their list as a best-selling crime-mystery author. His insights into the criminal psyche are often spot-on. Not exactly what the Beatles' lyrics had in mind in Paperback Writer. Lister's already made it there, in spades.