Best of the Emerald Coast 2009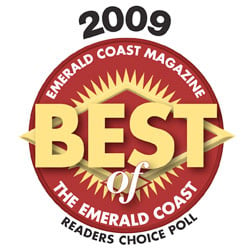 Walt Disney once said, "Do what you do so well that they will want to see it again and bring their friends." Perhaps the winners of this year's Best Of the Emerald Coast Awards have taken a cue from the father of hospitality, because exceptional service is what our readers seem to appreciate most in the businesses and services they patronize.
Some winners are year-after-year favorites, such as Bonefish Grill and Hugs & Hissyfits. Others are welcome newcomers. All will be honored at the annual Best Of the Emerald Coast Awards ceremony, taking place at Destin Commons on Saturday, Oct. 17, from 6 to 9:30 p.m. The event, which is open to the public, also features products or services from many of the "Best Of" category winners. Tickets are $25 in advance or $35 at the door, and proceeds benefit the Junior League of the Emerald Coast. To purchase tickets, visit any Beach Community Bank.
And now, the winners of the 2009 Best Of the Emerald Coast …
Food & Beverage
Best Appetizer | Bonefish Grill
Once again, Bonefish Grill tops the list of favorite appetizers with its Bang Bang Shrimp and Bacon Wrapped Atlantic Sea Scallops. These dishes are perfect as a first course, or order several and share them with the table.
Best Asian Restaurant | P.F. Chang's China Bistro
Each dish on this restaurant's extensive menu is prepared to order using only the freshest and highest-quality ingredients. Is it any wonder that P.F. Chang's China Bistro is once again a local top pick?
Best Bagel Shop | Not Just Bagels
With 22 straight-from-the oven gourmet bagels, breads and pastries, you'll be in comfort-food heaven. All toppings and fillings are also made fresh every day. And for lunch, enjoy the decadent sandwiches on freshly baked rye, focaccia, sourdough, sun-dried tomato or whole wheat bread.
Best Bakery | Panera Bread
With a recipe of success that calls for the "skill of an artisan, the heat of the oven and a few fine ingredients," it's hard to beat the large selection of fresh-baked breads at Panera Bread. The bakery shines as an Emerald Coast favorite.
Best Barbecue | Jim 'n Nick's Bar-B-Q
A 25-year tradition of "patience, passion and pride" makes Jim 'n Nick's stand out among the crowd. The restaurants refuse to cut corners, instead smoking meats for 14 hours in hickory. The result? Dishes such as slow-smoked baby back and spare ribs, hand-pulled pork and sliced angus beef brisket that are hard to beat.
Best Breakfast | Another Broken Egg Café
What do you get when you combine a wide variety of delicious breakfast and brunch foods, affordable prices, and a warm and inviting atmosphere? An egg-ceptional breakfast experience, and one that earns Another Broken Egg Café another year in the Best Breakfast spot.
Best Brunch | Big City American Bistro
Want a sophisticated brunch without the hassle of cooking? There's something for everyone at Big City American Bistro, especially for that special meal between breakfast and lunch. Try the freshly prepared quiche, veggies and strawberry fondue with the option of bottomless champagne.
Best Buffet | Golden Corral
This family-style chain restaurant offers the biggest and best buffet in town, with selections of meat, pasta, pizza, fresh vegetables, a salad bar and a meat-carving station. Be sure to save room for the large selection of baked goods and desserts, made fresh every day by the staff.
Best Cajun | Louisiana Lagniappe
Just as the name suggests, you can expect to find "a little something extra" at Louisiana Lagniappe. If the long list of Cajun favorites, such as Lobster Tail & Shrimp Etouffee and Cajun Seafood Gumbo, doesn't grab your attention, the stunning sunsets overlooking the Destin Harbor surely will.
Best Casual Dining | Zoës Kitchen
Zoës Kitchen founder Zoë Cassimus' philosophy was that using simple, close-to-the-garden ingredients promoted good health. It was the foundation of all her recipes, which now make up the menu of this casual establishment. Whether you choose the grilled turkey-and-Swiss Gruben or the ever-popular Greek Chicken Marinara, you will always feel at home at Zoës.
Best Catering | Sarah K's Gourmet
Ever since this takeout gourmet shop opened, it has received honors on the "Best Of" list. And it is no surprise. Owner Sarah K. Schreifer makes gourmet easy with a nice selection of chef-crafted, ready-to-heat cuisine — which includes her World Famous Lump Crab Cakes — made from only the finest ingredients.
Best Chef | Danny Trace
As executive chef of Commander's Palace in Destin, Danny Trace has captured the essence of New Orleans Creole and American cuisines, all modeled after the flagship restaurant of the same name in New Orleans. His command of the kitchen has clearly taken Destin by storm.
Best Coffee | Starbucks Coffee
What is everyone's favorite place to grab a cup of joe? Starbucks, of course. As the country's leading coffee roaster, retailer and coffee brand, the coffeehouse will never lack for patrons — and will likely always find a place on our "Best Of" list.
Best Dessert | Tommy Bahama's Tropical Café
This tropical fine-dining restaurant lights up with signature dishes, but be sure to leave room for desserts. Some favorites include Tommy Bahama's Pina Colada Cake, Barbados Brownie and the sinfully good Blackbeard's Butterscotch.
Best Fine Dining | Seagar's Prime Steaks and Seafood
Seagar's offers the total fine-dining experience, including captain service, tableside preparation of select menu items, and an intimate lounge with live piano entertainment. This five-star establishment boasts a wine list with more than 800 labels that garners raves from critics throughout the region.
Best French Restaurant | Bistro Bijoux
Located in The Village of Baytowne Wharf at the Sandestin Resort, Bistro Bijoux offers a menu that is French in nature but with a twist of coastal cuisine and a bit of New Orleans flair. Chef Jack McGuckin favors simple dishes with local, seasonal ingredients, which have won over the hearts of thousands.
Best Grocery Store | Publix Super Markets
Perhaps it is the friendly service or abundance of fresh fruits that keeps people coming back to Publix. After 80 years, more than 900 locations, and another year on the "Best Of" list, the chain is obviously doing something right.
Best Gourmet/Food Shop | Fresh Market
The name says it all. Fresh food, seasonal selections and an abundance of hard-to-find gourmet items make shopping at Fresh Market a complete culinary experience.
Best Hamburger | McGuire's Irish Pub
A longtime local favorite, McGuire's offers 25 different trimmings for its giant, custom-ground steak burger. While enjoying your burger at this turn-of-the-century-style New York Irish saloon, be sure to wet your whistle with some of McGuire's own brew.
Best Happy Hour | Cuvee Beach Bistro & Wine Bar
The perfect blend of flavorful wines, scrumptious food and impeccable service make Cuvee Beach Bistro & Wine Bar the best hangout for happy hour with friends.
Best Hot Dog | Dave's Dogs
In the mood for an absolutely delicious hot dog? Dave's Dogs has served more than a million hot dogs to locals and visitors to the Destin area. The secret for serving up the best dog in town? "It's all in the bun."
Best Ice Cream Shop | Cold Stone Creamery
Cold Stone Creamery has made ice cream a deliciously creative experience. Just choose a topping and watch the staff hand-mix your treat on a frozen slab of granite. It's the ultimate ice cream experience.
Best Italian Restaurant | Carrabba's Italian Grill
Carrabba's mixes warm Italian hospitality with family recipes that have been handed down for four generations. One taste and you'll know why this chain is the top choice for Best Italian Restaurant.
Best Locally Owned Restaurant | Callahan's Restaurant and Deli
From burgers to prime rib, Callahan's aims to please with generous portions of every dish. In addition to the fresh sandwiches, pastas and salads, the restaurant offers nightly dinner specials. Try the fried grouper tacos, and save room for cheesecake for dessert.
Best Margarita | Cantina Laredo
It's no surprise that an authentic Mexican restaurant would serve up the best margaritas in town. Cantina Laredo offers an impressive line, such as tequilas from triple-distilled and aged brands that, once again, make their margaritas unbeatable.
Best Martini | Bonefish Grill
It's not just appetizers that have customers raving about Bonefish Grill. The restaurant's martinis are also the rage. Winning selections include the Ocean Trust Martini, Lemongrass Martini, Espresso Martini, Chocolate Martini, and the always classy Cosmopolitan.
Best Mexican/Latin American Restaurant | Pepito's Mexican Restaurant
Pepito's serves up delicious and healthy Mexican dishes made with only the freshest ingredients. This attention to detail has earned this authentic Mexican restaurant a longtime spot on our "Best Of" list.
Best Mojito | Mitchell's Fish Market Seafood Restaurant & Bar
The key to Mitchell's fabulous Fish Market Mojito? Gently tearing mint leaves (rather than muddling) and using the stems, which hold most of the flavorful mint oil. Add Bacardi Limon Rum, fresh simple syrup and freshly squeezed lime juice and you've got the perfect Mitchell's mojito.
Best Outdoor Bar | Harry T's Boathouse
With a history as long as the neck of Stretch, the stuffed-and-mounted giraffe in the back room of the restaurant, Harry T's has sailed its way into the hearts of many. The boathouse is a favorite place for sipping suds in the coastal breeze.
Best Outdoor Dining | Dewey Destin Seafood
Watch pelicans perch on the dock and catch a warm breeze as you enjoy fresh seafood (as well as "land food") in this casual restaurant. The open-air setting makes Dewey Destin the top choice in outdoor dining.
Best Pizza | Fat Clemeza's
The menu at this brick-oven pizzeria is inspired by the flavors of Italy and the mild spices of New Orleans. All pizzas are made with homemade dough and pizza sauce, and each pizza is hand-tossed and fired to perfection in a wood-burning oven.
Best Romantic Restaurant | Commander's Palace
Commander's Palace has a long history of exquisite service and excellent food. When the restaurant owners opened another location at HarborWalk Village overlooking the Destin Harbor and Gulf of Mexico, the fine-dining establishment became the most romantic place in town.
Best Sandwich Shop | Jersey Mike's Subs
Piled-high sub sandwiches are served to order at Jersey Mike's. These favorite sandwiches among locals are made with fresh-baked bread and the best-quality ingredients around.
Best Seafood Market | Destin Ice Seafood Market & Deli
Everything you need for a cook-at-home meal is at Destin Ice, which earns top honors in the Seafood Market category. The market offers a wide selection of fresh fish and seafood, Buckhead meats, desserts, wines, cheese, spices, sauces and seasonings. Don't feel like cooking? Try one of Destin Ice's ready-to-eat selections.
Best Seafood Restaurant | Harbor Docks
What better place to enjoy great seafood than Harbor Docks, a restaurant brimming with fresh seafood served fried, sautéed or boiled? It's also the only place in town that brines and smokes its own tuna.
Best Service | Commander's Palace
Once again, Commander's Palace at HarborWalk Village earns rave reviews from readers, this time for its impeccable service. The staff is polite and unobtrusive, yet able to anticipate and fulfill your wishes for a truly extemporary dining experience.
Best Sports Bar | Johnny O 'Quigley's Restaurant & Sports Bar
It's hard not to be entertained at Johnny O'Quigley's. Not only is the food a winner, but the 48 television sets covering the walls showing almost any sport scores big with locals.
Best Steakhouse | Fleming's Prime Steakhouse & Wine Bar
For the finest prime steak, aged to perfection, there is just one place to look — Fleming's Prime Steakhouse & Wine Bar. Each steak is broiled at 1,600 degrees, which artfully seals in the juices, making each bite a pleasure.
Best Sushi | Harbor Docks
Think sushi can only be served at an Asian restaurant? Think again. Renowned sushi Chef Yoshie uses the fresh seafood at Harbor Docks restaurant to prepare an impressive assortment of sushi.
Best Wine List | Vin'tij Wine Boutique
Vin'tij Wine Boutique pours some of the finest wines from the most respected vineyards in the world. The restaurant also serves lunch and dinner with impeccable wine pairings from its extensive collection. Educational classes and events are also available.
Best Wine Shop | Chan's Wine World
With a dazzling array of more than 1,000 wines in stock to choose from and a casual atmosphere in which to browse, Chan's Wine World has become a favorite of many. Add regular wine tastings and education classes, and you get this year's Best Wine Shop winner.
Service Providers
Best Aesthetician | Kelli Pate
Licensed aesthetician and skin care specialist Kelli Pate provides a host of treatments for patients at the Destin Center for Cosmetic Dentistry. Offering top-quality facials and chemical peels to eyelash tinting and extensions, Kelli is a winning aesthetician in the Destin area.
Best Accounting Firm | Carr, Riggs & Ingram
Carr, Riggs & Ingram stands out among other certified public accounting firms by offering unparalleled intellectual and ethical strength and a passion to serve clients with the best financial decisions. That philosophy has earned the firm top honors among accounting firms in the Destin area.
Best Architect | Joe Dougherty
Joe Dougherty with Dougherty Architecture is a favorite architect of the Emerald Coast, lending his talents to exquisitely designed plans such as The Village of Baytowne Wharf at the Sandestin Golf and Beach Resort.
Best Automobile Dealership | Sam Taylor Buick Cadillac
Sam Taylor's full-service auto dealer has been providing quality vehicles to Okaloosa County and Northwest Florida for more than 35 years. Its attention to customer services has earned the dealership a return spot on our "Best Of" list.
Best Boat Sales and Service | Legendary Marine
This Marine Certified Dealership offers an array of services, from new and pre-owned boat sales to a parts and service department and boat service. The dealership's commitment to quality and customer satisfaction has made it a local favorite.
Best Boating Experience | Legendary Marine
When Legendary Marine opened, it focused on giving customers in the Gulf Coast the "Legendary Experience," in which customers could enjoy their time on the water without the usual worries of ownership. That premise has earned the marine a second honor in this year's "Best Of" contest — Best Boating Experience.
Best Builder/Contractor | McLendon Builders
Andrew McLendon was born and raised on the Emerald Coast and has been working in the construction business for more than 10 years. Taking pride in his work and exceeding clients' expectations, McLendon uses a 100 percent customer satisfaction approach in every job he does.
Best Chiropractor
Alan Payne, D.C.
Dr. Alan Payne and his team at Payne Chiropractic Life Center strive to give people of all ages optimal health through natural chiropractic care. This dedication to the well-being of his patients has landed Payne on our list of favorites once again.
Best Community Business Partner | Destin Commons
The award-winning Destin Commons open-air lifestyles center offers shopping, dining and entertainment and has won accolades across the region for its architectural uniqueness. But it also gives back to the community, supporting great organizations such as Sacred Heart Hospital on the Emerald Coast and the Okaloosa/Walton branch of Covenant Hospice.
Best Customer Service | Legacy Boating Club
Legacy caters to people who enjoy boating but prefer not to have the hassle of owning a boat, which means this team of experts handles everything from insurance bills to storage, maintenance, boat payments and more. This dedication to its customers has earned Legacy the title of Best Customer Service.

Best Dentist | Dennis Lichorwic, D.M.D.
Dennis Lichorwic, D.M.D., gives his patients something to smile about at Destin Center for Cosmetic Dentistry. His high-quality cosmetic dentistry earns him high marks among locals year after year.
Best Dry Cleaner | Bangkok Cleaners
The largest dry cleaner in Northwest Florida didn't get that way without being the best. Bangkok handles all your cleaning needs, from wedding gowns, suede and leather to military and band uniforms and drapery.
Best Electrician | MetroPower
The future is bright for MetroPower. The company's focus is on safety while providing high-quality electrical and mechanical service and construction to its customers. This mantra has earned MetroPower Best Electrician status.
Best Event Planner/Wedding | Monark Events
What do you get when you mix the energetic and amiable personalities of two women? Monark Events, event planners dedicated to spicing up your special day.
Best Eye Doctor | Houston Sparks, M.D. Walmart Vision Center
For the past nine years, Dr. Houston Sparks has offered his expertise in optometry, specializing in contact lens exams, but also offering eye exams and eye emergency care — all in the convenient Walmart shopping center.
Best Flooring (Carpet/Tile) | Destin Flooring America
Destin Flooring America is sure to please with a product line that features everything from hardwoods and carpets to ceramic and laminate. Highly trained experts are ready to help you find the perfect floor for your home or business.
Best Florist | Destin Floral Designs
What happens when artistic talent meets the beauty of nature? Just browse the portfolio of Destin Floral Designs and you'll see why Destin-area brides turn to the expertise of master floral designer Joy Segno and her son, Raphael Segno.
Best Gym/Health Club | Destin Health and Fitness
The Emerald Coast's first-ever upscale health and fitness center offers the ultimate workout experience in its state-of-the-art facility. No wonder it ranked No. 1 with our readers.
Best Hair Removal Clinic | American Laser Center
The nation's largest and most experienced provider of aesthetic services earns top billing in this category. American Laser Center provide laser hair removal, cellulite reduction and skin rejuvenation treatments for the safest, fastest results.
Best Hair Salon | AvantGarde Salon Spa
Owner Joseph Rogers leads a team of creative stylists, aestheticians, nail technicians and massage therapists dedicated to providing the most contemporary methods of hair and body products in a truly artistic ambiance.
Best Home Repair | Handyman Connection
Need a handyman? Why not call a professional? Handyman Connection guarantees first-class workmanship, along with dependable service and great customer service.
Best Interior Designer | Ashley Harkins
Ashley Harkins, a design specialist with Design Avenue, pulls from her 10-plus years of professional experience to create comfortable homes for her clients throughout Northwest Florida. Her friendly personality and eye for design earn praise from loyal customers.
Best Interior Design Firm/ASID | Sugar Beach Interiors
It's easy to see why many people refer to Sugar Beach Interiors as "a design art gallery." The company's team of professional licensed designers prides itself on its business integrity and commitment to interior design excellence, all stemming from a foundation of strong customer service.
Best Janitorial Service | Service Management
Once again, Service Management wins as Best Janitorial Service by offering a full range of janitorial services for businesses and homes, including office cleaning and construction cleanup.
Best Landscaping/Lawn Service | ValleyCrest
ValleyCrest calls it the business of nature, providing experienced landscaping and maintenance. The nation's largest integrated landscape company has built a 60-year reputation for combining knowledge and technical ability with outstanding customer service.
Best Law Firm | Conerly, Bowman & Dykes LLP
You made your ruling and found in favor of law firm Conerly, Bowman & Dykes, the full-service law firm with a combined 70 years of legal experience. The firm's attorneys maximize their clients' benefits with legal representation that is efficient, fair and honest.
Best Limo Service | 654-LIMO
Arrive in style in one of Florida's premier limousine rental vehicles. Enjoy a luxurious chauffeured ride in a stretch Hummer, Navigator or Escalade from 654-LIMO, and see why the company is tops in limo service.
Best Massage | Neil Sean – AvantGarde
Indulge in a soothing, sensual and personalized massage experience from Neil Sean, a second-time Best Of the Emerald Coast winner. Neil offers a variety of massages including Swedish, stone, deep tissue, elemental nature, pregnancy, and couples massage.
Best Medical Group/Provider | Sacred Heart Hospital on the Emerald Coast
This state-of-the-art medical center continues to accomplish its mission to improve the health of the community with a wide range of medical and surgical services, including intensive care, general and orthopedic surgery, cardiology, cancer care, comprehensive radiology and laboratory services, rehabilitation, 24-hour emergency care, women's health and maternity care.
Best Pest Control | Bryan Pest Control
If there's one thing that three generations of this family-owned pest-control management service has learned, it is how to do business right. Fast, reliable service earns Bryan Pest Control another year as Best Pest Control.
Best Pet Care | Bark Avenue
As the name implies, Bark Avenue is anything but ordinary. The pooch parlor offers the ultimate in dog luxury and style with an assortment of elegant and unusual dog products. Is it any surprise it has won over a "ruff" and cuddly crowd?
Best Photographer | Marla and Shane
The dynamic photography duo of Marla and Shane are renowned for their ability to capture life's moments as they unfold. Just one look and you understand why so many people want to have their portraits with Marla and Shane.
Best Plastic Surgeon | Destin Plastic Surgery Center
CEO Dr. William R. Burden, Dr. Lawrence Scott Ennis and their support team work together to review your plastic surgery options and achieve your desired goal through vision, innovation and experience.
Best Pool Building/Service Company | Cox Pools
Swimming pools and spas are a major investment. Why not trust your project to the No. 1 builder of custom pools in Northwest Florida? Cox Pools is an award-winning pool company that provides personal pool design assistance, as well as a full line of pool maintenance accessories.
Best Rug Retailer | Oasis Rugs
Oasis Rugs offers the most extensive collection of rugs, featuring both traditional and contemporary styles from the world's most respected makers. Having a hard time deciding which rug is right for your space? The store's design specialists can help you make the perfect choice for your design scheme.
Best Spa | Serenity by the sea Spa
For a spa experience that exceeds all others, look to Serenity by the sea Spa. With an extensive menu of rejuvenating treatments, you're sure to find serenity among the spa's many offerings.
Best Vacation Rental Service Firm | ResortQuest
Looking for the best value and largest selection on condos and vacation homes? ResortQuest has a vacation rental to fit your lifestyle and budget. With unmatched customer service, ResortQuest earns top ratings from customers.
Best Veterinarian | Airport Veterinary Clinic
Once again, Kelly Haeusler, D.V.M., and his dedicated staff at Airport Veterinary Clinic cinch the lead in this Best Veterinarian category. This full-service clinic has been top-ranked among locals for years.
Best Wedding Planner | It's a "Shore" Thing Wedding & Event Planning
Why deal with the hassle of planning your own wedding when you can leave the details to the professionals? From small, intimate affairs to large, festive galas, it's a "shore" thing when you turn your event over to these party planners.
Best Wedding/Reception Venue | Emerald Grande HarborWalk Village
This beautiful wedding venue offers breathtaking views of the Destin Harbor and the Gulf of Mexico. The Emerald Grande HarborWalk Village offers reception space both indoors and out, as well as in-house catering, audiovisual and production support, and an on-site florist.
Best New Business in 2008 | Beautiful Lights
Since opening their doors in December of 2008, Beautiful Lights has provided impeccable service. They meet their residential and commercial clients on-site to customize perfectly beautiful lighting for all.
Shopping
Best Antique Store | Smith's Antiques Mall and Interiors Market
Words can't adequately describe the abundance and grace of this 25,000-square-foot showroom chockfull of antiques and interior wares from 90 different dealers located throughout the country. Smith's Antiques Mall and Interiors Market is a most-stop for antique lovers everywhere.
Best Bath and Body Shop | Lux Apothetique
Along with designer clothing and the latest fashions, Lux Apothetique carries skin care lines such as Dermologica, Kiehl's, Mario Badescu, Bliss, and the all-natural line, Jurlique. Visit the facial room for a skin diagnosis from the on-site aesthetician.
Best Beachwear Retailer | Sporty Lady of Destin
Want to find the best swimwear and sportswear on the beach? Check out Sporty Lady of Destin. This premier swimwear retailer has been winning customers over for more than 30 years.
Best Children's Clothing Store | Hugs & Hissyfits
You're sure to have a hissyfit when you browse this shop's selection of adorable boutique clothing for little boys and girls. Hugs & Hissyfits has received this "Best Of" honor every year since 2004.
Best Consignment Shop | Designer Consigners of Destin
Designer Consigners of Destin is the go-to shop for gently used, designer-brand furniture and home accents at a fraction of the price. The friendly staff can also assist with decorating advice, earning it rave reviews from customers.
Best Eyeglass Store | The Eye Gallery
For the most distinctive fashions in sunglass and prescription eyewear, look no farther than The Eye Gallery. The store's artful collection and superior customer service have won the loyalty of their customers.
Best Furniture Store | Sandcastle Designs
A palate of diverse design influences awaits you at Sandcastle Designs, with more than 600 furniture and manufacturers representing every design taste and budget. See why locals say Sandcastle Designs is their favorite one-stop shop.
Best Gift Shop | P.S. Gifts
The staff at P.S. Gifts helps their customers find the perfect gifts for any occasion. They specialize in gift baskets, but also offer free gift wrapping, and will deliver your gift with a smile.
Best Intimate Apparel | Victoria's Secret
The world's most glamorous lingerie still wins the hearts of Destin-area women (and men). With more than 1,000 stores across the country, this intimate apparel shop is the place for chic women's clothing, swimwear and, of course, lingerie.
Best Jewelry Store | Destin Jewelers
Live happily ever after with sparking jewelry creations from Destin Jewelers. Featuring designers such as Gregg Ruth, Pianegonda, Mattioli, Simon G. and Philip Stein, this award-winning jewelry store wins rave reviews from customers.
Best Locally Owned Retailer | Sporty Lady of Destin
When a company has been in business for more than 30 years, you know it's doing something right. This family-owned and managed swimwear and sportswear retailer strives to give its customers a vast selection of styles in a wide variety of sizes.
Best Men's Clothing | Jos. A. Bank
Jos. A. Bank is the expert in men's apparel, offering business dress, business casual, sportswear styles and formal wear. Voted tops by Destin-area men who care what they wear.
Best Sporting Goods Store | Bass Pro Shops
Bass Pro Shops fills its two-story, 50,000-square-foot sports center with an exhaustive selection of gear and gadgets to suit every outdoorsman. Why wouldn't it be voted No. 1 among avid sportsmen?
Best Toy Store | Learning Express
Parents know that the best toys for kids are both educational and developmental. Learning Express always has the perfect toy. Buying a gift? The shop's expert staff can help you make the best selection for any youngster.
Best Wedding Shop | Simply Elegant Bridal
For the largest selection of bridal and bridesmaid gowns, look no farther than Simply Elegant Bridal. This wedding boutique also offers the best selection of tuxedoes for the groom and groomsmen.
Best Women's Accessories | Private Gallery
What began as a home-based business with shows held in customer's homes has grown to a successful chain of 13 stores in five states. The secret to the company's success? Making shopping for accessories a fun shopping experience for all ages and all price ranges.
Best Women's Clothing | Today's
Stay in tune with the latest trends at Today's, located in the Shoppes of Paradise Key. This women's clothing store has something for everyone, which has earned it top honors among Northwest Floridians.
Best Women's Shoes | Aldo Shoes
The beauty of Aldo Shoes is that it never loses sight of its vision — to make people feel good through the products and service its retailers provide every day. Browse Aldo's selection of men's and women's shoes and you'll understand why the store is ranked No. 1.
Entertainment
Best Art Gallery | Zoo Gallery
This favorite shop for locals and visitors alike offers an eclectic mix of art and craft items, including framed art, pottery, jewelry, furniture, accessories and apparel. This casual gallery is always a winner in the "Best Of" competition.
Best Golf Course | Regatta Bay Golf & Country Club
This breathtaking course winds its way through nature preserves and Choctawhatchee Bay, making it a favorite location to enjoy an extraordinary golfing experience.
Best Local Attraction | Big Kahuna's
Big Kahuna's is more than a water park — it's an adventure park, offering something for every member of the family. It's the perfect way to cool off when temperatures heat up.
Best Musician/Vocalist/Band
Christy Campbell
Singer Christy Campbell has been sharing her talents at venues such as Destin's Lucky Snapper, Hammerheads, Harry T's and the Santa Rosa Golf and Beach Club. Her renditions of songs by Norah Jones, Joni Mitchell and Sheryl Crow have made her a local musical favorite.
Best Place To Be Seen | HarborWalk Village
This Gulf-front development offers an impressive list of shops and restaurants, as well as Destin's only full-service resort. Locals love to come here and see and be seen.
Best Place To Go Dancing | Nightown
This nightclub features a 14,000-square-foot dance floor with a 180-square-foot video wall and eight 18-inch woofers. Do you even have to ask why Nightown was voted the best place to go dancing?
Best Place To Take The Kids | Destin Commons
This award-winning open-air lifestyles center not only offers exceptional shopping and dining, it also has a kids club created specifically for you and your family. The unique and educational programs make Destin Commons the perfect place to take the kids.
Best Place To Watch A Sunset | HarborWalk Village
Located on the Destin Harbor amid a diverse group of shops, restaurants and a resort, HarborWalk Village promises a view of the sunset you won't soon forget.
Best Radio Personality | Woofy, 99 Rock
Ask anyone who loves classic rock and they'll probably tell you that 99 Rock DJ Woofy is like your best drinking buddy. As a second-time winner, this rock jock has won the hearts of classic rock lovers all along the Emerald Coast.
Best Resort | Sandestin Golf and Beach Resort
Sandestin Golf and Beach Resort is the perfect backdrop for a luxurious stay on Northwest Florida's Gulf Coast. Located on 2,400 acres of premier property, the resort offers the best in recreation by both sea and surf.
Best Splurge For Her | Carlyle & Co.
In case you haven't heard, diamonds are a girl's best friend. The master jewelers at Carlyle & Co. make choosing the right design easy. "For love. For life. For now. Forever."
Best Splurge For Him | Bass Pro Shops
This massive sports and outdoor warehouse offers absolutely everything a man could want. Can't decide how to splurge on the perfect gift for him among the vast selection? Buy a gift certificate.