Beauty Beyond Compare
Gem cutter creates symmetries from stone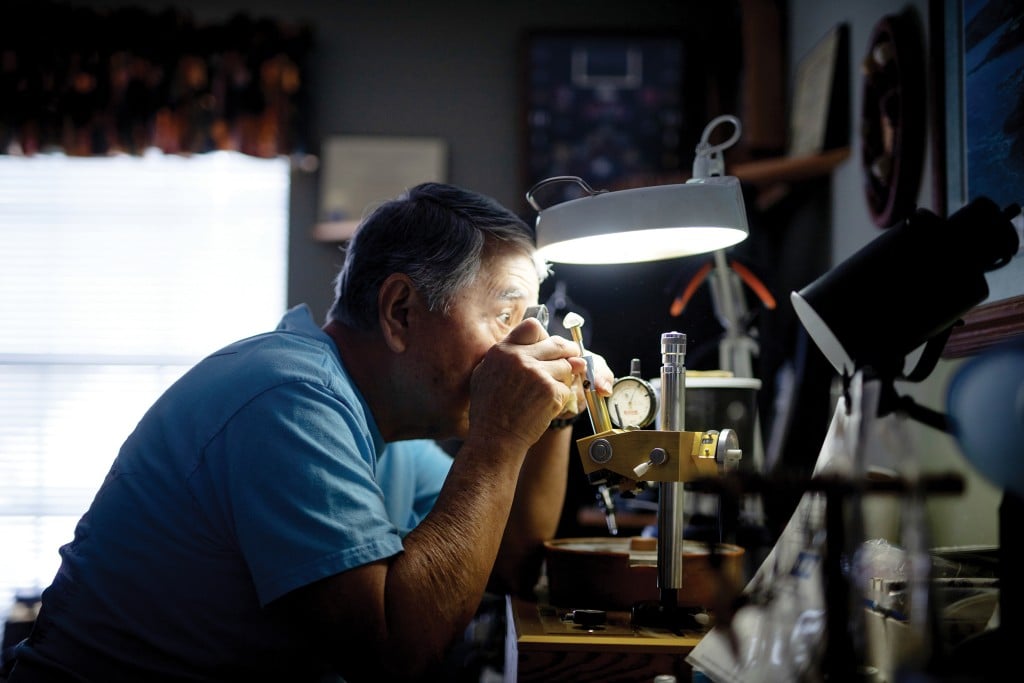 Once upon a time, the quintessential gemstone, the "Jewel Beyond Compare," was said to be found in the head of a serpent, or more enchanting still, a dragon! Such a gem might confer the power of invisibility, might cure any ill or even grant immortality.
"Nah, I don't believe that kind of stuff, but I love transforming raw chunks of stone into these neat, ideal symmetries: facetted stones!" said Rick Moriyama. "There's all the colors, as clear as a frozen sky, an assembly of nano-mirrors, all at angles to each other."
With a name as recognizable on the West Coast as O'Hara is on the East Coast, it doesn't take a linguist to infer something about Moriyama's family roots. A second-generation American, his home state is Hawaii.
He grew up on Oahu and graduated with a degree in zoology from the University of Hawaii. Next, he headed east to the West Coast and earned a master's degree in systems management at the University of Southern California.
Starting in 1975, there followed a 26-year career as an Air Force service officer.
After Moriyama retired in 2001, he did as so many ex-service people around the Panhandle do, working as a civilian military contractor with weekends off for fishing and golf. Finally, in 2010, he thought he had retired again.
But that just didn't work out. He attended by random chance a gem show in Pascagoula, Mississippi, and was smitten by the display of iridescent gems cut from "sunstone."
Before the year was out, Moriyama enrolled at William Holland, a well-known jewelry workshop in the mountains of North Carolina.
Moriyama's "apprenticeship" there introduced him to the lapidary secrets of grinding and polishing dome-shaped cabochon gems, a traditional but low-tech skill. More to his liking were the precision gem-cutting wheels.
He experimented with the manual skills of faceting. He gained an understanding of the mineral hardness scale (MOH), whereby everything is compared to diamond, which rates a 10. He became aware of a mineral's molecular crystal structure, too. It's nice to know whether a sample will tend to cleave along a plane or shatter when worked with.
Each gemstone provides at least one cutting pattern: square cuts, emerald cuts or baguettes. Cutting each facet exactly to the pattern and grinding each facet, each nano-mirror, so that it meshes exactly with every other minute polygonal facet dictated by the pattern requires intensely focused precision.
Sunstone, ruby, aquamarine or just plain quartz — all crystals, hard or soft, submit to the pattern. Cutting a perfect stone is like playing mumbly peg between one's fingers: No mistakes allowed. Compared to Sleeping Beauty visions of dwarves digging pre-cut jewels from the walls of a cave, Moriyama's work might seem tedious to those of the "Just Do It" ethos. But to those touched by the mysterious ambiance of jewels, dragons included, it's a romance.
A reader at this point might be excused for asking what hitherto unexpressed facet of Moriyama's inner landscape suddenly led him to become a gemstone man.
"No," he shakes his head, "there were no artists or craftsmen in my family. Me, I took no art classes. I have less than no interest in interior decorating. Nope, I don't think it's genetic."
Moriyama regards creating lapidary sparklers as a hobby, but with regional jewelers, he enjoys a reputation as a rare and handy man to know if someone brings you a chipped gem to fix. His approach to lapidary has endeared him to his rock hound friends at the Playground Gem and Mineral Society in Fort Walton Beach, where for three years he served as club president.
Moriyama's affinity for things that glitter led him to earn the distinction of master faceter in the U.S. Faceting Guild. Achieving that stature starts with the guild's annual gem-cutting contest. Postulants can attempt apprentice, novice, pre-master or master level faceting challenges.
"I skipped the novice level, but it took two tries to cut my master's gem," Moriyama said. "They gave everybody raw smoky quartz. The pattern was a pretty intricate round cut. I've cut precious stones like ruby and sapphire since, but it was a sparkly, 10-millimeter smoky quartz stone that qualified me as a master!"
Don't think that Moriyama's habit is to be cooped up all the time, staring through a loupe in a rock lab. Not at all. Being a holistic sort with an R.V. and a wife who's ready to travel, he takes to the road like a dyed-in-the-wool rock bum. Hitting the road in search of his own raw material is more fun than buying it from a catalog or middleman.
Moriyama gathers raw material on field trips to sources close in, like North Carolina, and as distant as Idaho or Washington state. In 2017, he and compatriots from the Gem and Mineral Society trekked to Montana via the Black Hills.
Reflecting on the driving commitment required to be a master faceter, one wonders if Moriyama's infatuation and pursuits relate in a contemporary, metaphysical way to the core of traditional, medieval gemstone lore with its magical ideal of crystalline beauty — or whatever aspect of that beauty ignites so much of humankind's enduring affinity for that glittering Jewel Beyond Compare.