Beachy Murder Mystery
Deborah Rine delivers intrigue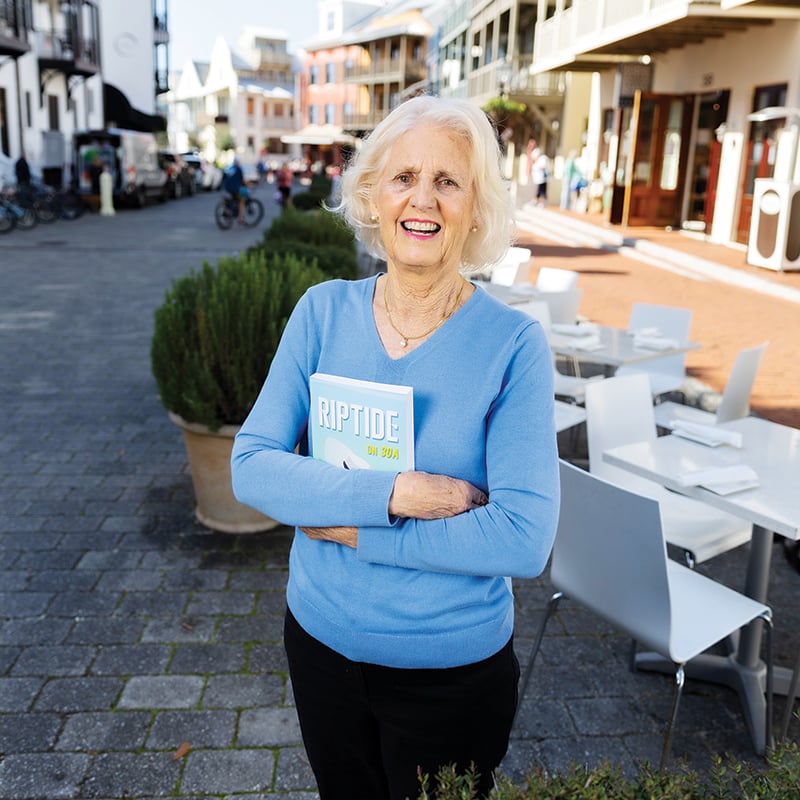 Deborah Rine's sixth Emerald Coast Mystery book, Riptide on 30A, is a quick, undemanding read for the sugar-sand beach ladies, its opening lines a brilliant but serendipitous foreshadowing:
"Claire giggled as she stepped over Hobbs. He was dead to the world."
Claire and Hobbs Scranton are flying home from their honeymoon — spent doing photo-ops with elephants in Thailand — to their chic digs on trendy Lemon Cove Drive.
Yes, Claire's two-week-old marriage to Hobbs is happily putting the quietus to her long days of widowhood. But by the time Claire and Hobbs land at Destin-Fort Walton Beach Airport, Hobbs too is dead!
Initially, Claire is thrown into a state of shock by the calamity, which carries within its own incongruity: being the belle of the whole horrible ball — attended by a contingent of law dogs from sheriffs to FBI.
From Claire's jogging, cycling or zumba-ing acquaintances comes the oft-repeated astonishment, "But Hobbs was so fit and healthy!" Even after the Fort Walton medical examiner's report reveals that Hobbs has been poisoned!
Claire's shock doesn't last long. In tallying up her husband's personal effects, she discovers a hidden portfolio of passports under a portfolio of aliases and, on top of that, finds that Hobbs's occupation as a successful 30A landscaper conceals a mysterious past. It is a barrage of revelations that Claire struggles to reconcile with the man she's just married.
Predictably, engaging her people skills as a real estate agent, and perhaps to distract herself from the loss of another husband, Claire goes into Nancy Drew mode. Her keen sleuthing skills inevitably bring her to the attention of very bad, unknown people — forcing her to go on the lam, replete with narrow escapes and hiding in her own luxurious home and the Rose Room suite in the home of a friend away in Italy.
She endures the Rose Room's grinding anonymity, aided by an edgy, computer-savvy half sister and the comforting attentions of Hobbs's boyhood friend. Her Italophilic friend's house features a collection of theater makeup, and the pair's surreptitious excursions for food and wine follow a strict protocol of wigs, putty noses and square, oversized sunglasses to blend in on 30A.
Nothing can deter Claire Scranton, determined to not only solve the mystery of her husband's murder but find out who he really was. The more she investigates, the more shocks she encounters. Yet, clue by clue, she gradually lays bare the outlines of a deadly international struggle for a terrifying artifact.
Not wishing to play spoiler, the writer here retires, but it's safe to reveal that it's a world where everything, of course, turns out hunky-dory in the end!
Author Deborah Rine comes originally from San Francisco but grew up in Illinois and has covered a lot of terrain since then. Early on, she studied in France. With her first husband, a French business executive, she domiciled in Italy and then Belgium.
Later, as a French instructor, she lived outside Chicago, enrolling there in a $99 writing course that made writing actually seem an attractive vocation and which today has evolved into her writing stories slanted toward the reading tastes of the birds who live on 30A, or wish they did.
She now resides in Freeport.
"In my 30A stories, I try to mention all the places readers might recognize," Rine said, then mimics, "'Oh, I've eaten there,' or 'Oh, my BFFs and I do that, too!'"
Despite Riptide's endemic but enterprising place-name dropping, plus breaks in narrative flow resulting from detailed descriptions of characters' wardrobes, the story has a familiar arc that makes it a windfall for those seeking a leisurely reading experience at Bud & Alley's or a shiny aluminum sushi bar.