A Tattooist with a Tony Address
The Atomic Frog makes indelible impressions on people at Destin Commons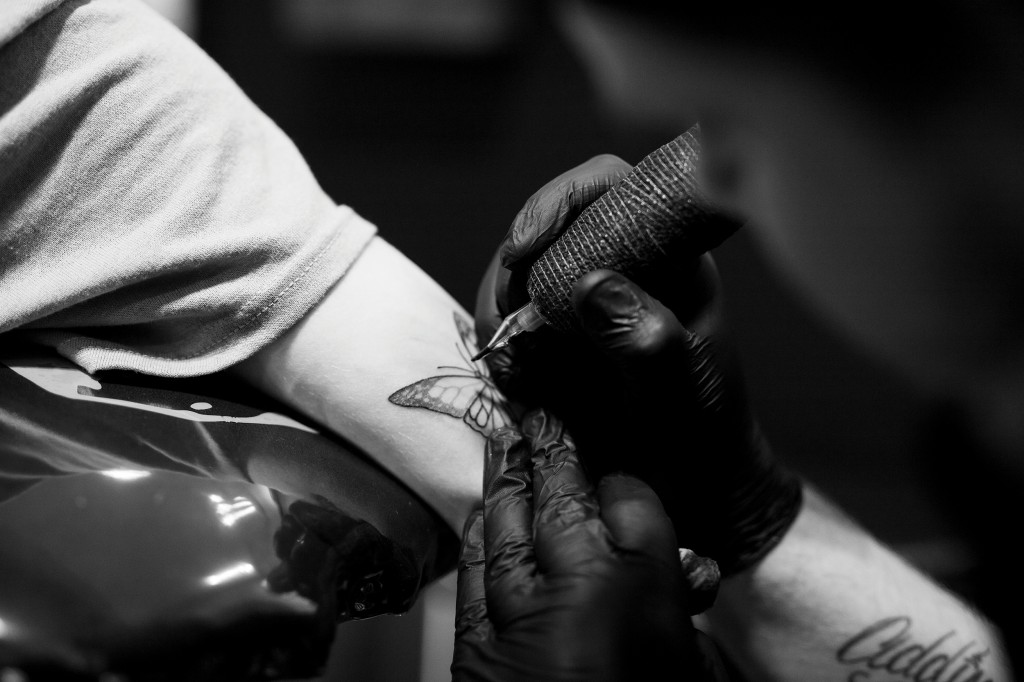 Maybe a preacher in your experience equated a tattoo to a ticket to hell. If so, you can appreciate the hypnotic fascination that a tattoo parlor can cast — fascination with that walk on the wild side, with drunken sailors, Victorian courtesans, the savage Maori.
But all of that was long ago in a golden age. By contrast, Rachel Kelly once worked in the modern-day field of radiation therapy.
"I found out that I'm too much of an empath for that work!" she said. "Those cancer patients! It burnt me out! Finally, my husband and I discussed how I should do something where I could be my own boss, something that people would walk away from smiling every time."
So from earnest medical work, Kelly jumped into tattoo parlor ownership. While not a tattooist herself, she knew that an inkster can't do his work at home. Like musicians, they travel to make a living and know well the value of a good venue. With an entrepreneurial eye to gentrification, Kelly moved her newly acquired tattoo digs, named Atomic Frog, from behind a fish market in Destin to a studio-shop in the heart of yuppy-class Destin Commons.
Kelly is as nice a lady as you might meet at the Commons. There, her stable of artists has decorated her left side like an inker's marquee with four fat tats, one in the style of each of her inksters.
Cody Hartzell has been tattooing for 14 years. He has Hoosier blood and describes his main stylistic jam as American Traditional; it uses only red, white and blue inks. He's got the chops to ink a preacher on the arm of a wild-ass biker. At his workstation, he points to an ingenious rotary rack holding at least two dozen polychrome bottles of ink. "That's my ink-spinner," he enthused. "Makes it easier to find a color than in a flat-rack. Since it came out, those things have sold to tattoo places all over the country. The guy who invented it lives up in Crestview."

"Xander" has been tattooing for nine years. The product of a military brat upbringing, Xander has an electric repertoire ranging from freshly harvested human hearts to elbow-to-shoulder portraits of somebody's sweetheart and maybe a flower-like Asian mandala.

Zach Williams favors a New School style that lands somewhere between cartoonists Robert Crumb and Walt Disney. His tattoos are like combining in one hallucination Crumb's bizarre exaggerations and an intense color-saturated figure from a classic Disney animation.

Katie Myers, an Inked magazine cover girl, is the latest addition to the Frog. Her version of the Japanese-inspired anime style, while still recognizable as such, comes from a darker palette and imagery than the Kitsune cartoons viewed by kids on television.
Taking the Frog's services from decoration to ornamentation was a quantum leap. But for those with a desire to accessorize, Gregory Toefield, nicknamed "Boobie," is ready with a chair like one you would find in a dentist's office and a set of surgical tools that would do most operating rooms proud.
He will pierce one's skin and insert a ring or some other trinket that looks cool nearly anywhere on your body. Boobie's mother died when he was young, and he was taken in by a woman who owned the first Black tattoo parlor in New Orleans. She raised him as her own son, gave him his pet name and from the age of 13 taught him body piercing. Today, Boobie's CV includes piercings done in New Orleans for Angelina Jolie, Lil Wayne and Tina Marie.
The Frog's current tattooing apprentice, Melissa Gaines, is an Air Force vet. She minds the front of the shop in the evenings and for the past year has specialized in henna tattooing. She stains skin with images that last from a week to ten days.
Except for electrification, tattooing hasn't changed since at least the Stone Age. It's a simple process whereby indelible marks are made by driving pigment into the dermal layer with thousands of pricks with needle-like points. The body of Otzi, a 5,000-year-old Bronze Age hunter preserved in an Alpine glacier, was found to have tattoos in 57 places on his body.
Though Otzi is an old guy, body art like his still has its advocates and detractors. Researchers at the University of Alabama found that "tattooing stimulates and strengthens immune response," while the American Journal of Clinical Pathology reports that people with tattoos appear to die earlier than those without. Pew Research reports that tattoo emporiums are the sixth fastest-growing retail business in America.
A Google search surfaces an item that contends that the Bible strongly forbids tattoos, but they won't keep you out of heaven. Still, that probably won't change the mind of anybody's preacher.