Art Teacher Turned Advocate
Katlyn Arnold Paints for the Sisterhood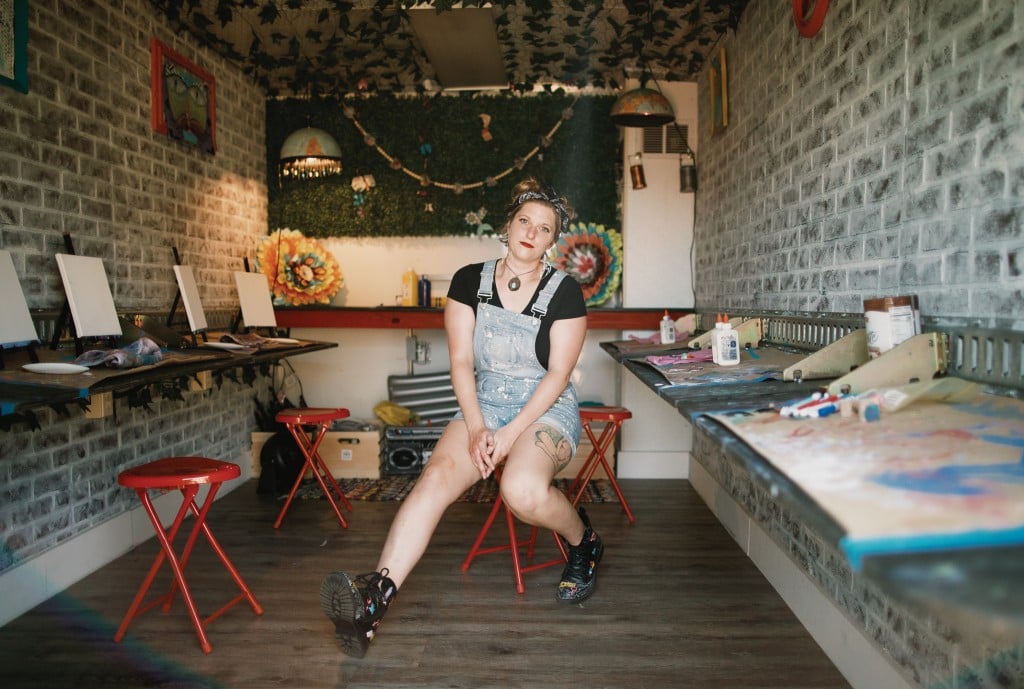 Artist Katlyn Arnold is from DeFuniak Springs — semi-quaint, Our Town, DeFuniak Springs!
Not that the artist is herself either quaint or sedate, far from it. She meets me near her father's welding shop. There, she's working on an 8-by-40 shipping container into which she's already installed half-moon windows, a step toward converting it into her new studio.
Parked next to the nascent studio sits a "Creative Cruiser" — a 20-foot box truck converted into Arnold's classroom on wheels and decorated on the outside like a crafts booth from a carnival caravan. She shows me around, and we talk.
"What did I do in high school?" she repeats a question. "Well, I remember one thing was artsy, hands-on processes like papier-mache and ceramics. A close second was boys!"
Arnold graduated from Troy University and went straight to Walton Middle School where she designed and taught the school's first art course.
But, after three middle-school years, she blew off being "Hey, Miss Arnold!" and dove off the deep end to start her own art business.
"I think I might be a little ADHD!" Arnold conceded. "That's my professional self-diagnosis. I'm lucky to have a wide range of knowledge in different art forms. I love jumping from drawing to painting on windows or sometimes people."
As much promise as Arnold's creative artwork might display, her sense of enterprise is as over-the-top as it is intuitive. When the man says, "If it don't move, paint it," the man is being prissy compared to Arnold. So it's no great surprise to later discover that she will paint it even if it does move. As a consequence of Katlyn's dive off the deep end, she might just as well have thrown herself into a two-ring art circus with prospects of soon adding a third.
Uniquely Clever would be ring No. 1 — art classes, parties, camp events for kids and adults, and artwork for sale or executed upon by commission.
Whatever else goes on in the first ring, its most anticipated feature is its gypsy art studios. The original, a 38-foot retired school bus called "Imagination Machine," was a bigger classroom than the new "Creative Cruiser," but it was tough on gas and hard to maneuver when traveling to elementary schools and private parties and such. But in either vehicle — OMG! — to have a work-play adventure, doing art in some kind of Willy Wonka studio that rolls up out of nowhere and afterward disappears once more? How can Arnold's seductive admixture of art appreciation classes and social happenings not recall a page from DeFuniak's Chautauqua past?
Ring No. 2, Au Naturel, is where, for Arnold, art gets more serious. Self-expression is a main gig for prepubescents doing art elbow to smudged elbow in freewheeling gypsy-bus studios. For such kids, life is a bowl of cherries. On the other hand, Arnold's adult programs happily include a studio session called Paint and Sip — that is, BYOB seminars celebrating fine arts and wine simultaneously. Hemingway did say to write drunk and edit sober.
Arnold's taste in modern painting includes the sensual imagery of Georgia O'Keefe on one hand and the acrylic bas reliefs of Emerald Coast painter Justin Gaffrey on the other. She paints with acrylics but is simultaneously experimenting with oil paints. In 2021, her chalk work was a Merit Winner at the South Walton Street Art Festival.
Her products range from bright murals on trucks, walls and storefront windows, to moody drawings of stark, monochrome nudes, not to mention the occasional mature-viewer-only drawings. Her early fascination with a spectrum of media and techniques has lately evolved into experimenting with found art pieces — repurposed objects of everyday life, mixed with disparate materials like acrylics and clay.
Sometimes, painting things that move includes the human body. Arnold does it from face to toe. Things get busy around Halloween, so haunted by mini-me Draculas and green faced Fionas.
For one mom-to-be with a sense of humor, Arnold made a house call to paint a huge watermelon over her rather substantial baby bump.
"Don't know whether she wore it outside the house," Arnold said, "but she wanted me to take a picture of that watermelon to show her new baby when baby's old enough!"
And in ring No. 3, Arnold aims to start an organization for art-minded women.
"I want to teach the sisters the best way to stretch a canvas or how to use a circular saw," she said. "I want to teach the things you need to know to be self-sufficient at art work."
Feeling herself drowning in lonely struggles as a woman, Arnold realized she needed to get out of the house, make connections and help other women to rise. She slowly started meeting more people, including female entrepreneurs who talked about the struggles of running a small business, being a mom, being a woman, dealing with life's worldly issues.
She hopes that whoever views her art will find in it an uplifting power and a realization that they are not alone in life's challenges and amid suppressing influences.
That's seriously taking Katlyn Arnold in the direction of becoming an art polymath. Meanwhile, paint party, anyone?