A Taste For … Chips & Summer Salsa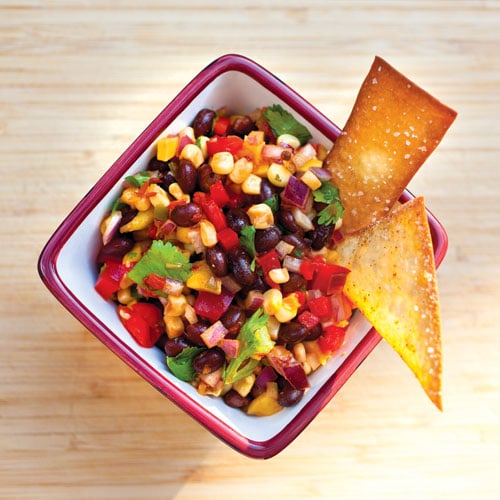 We like to cool off our favorite summer salsa (just a bit) by adding some tasty seasonal fruit. Though this recipe features the trendy mango, it works well with pineapple, peaches or pears. For the chips, look for the wonton wrappers in your produce department. Ready in 10 minutes, they are crunchy, healthy and the perfect scoop for the sweet-heat salsa.
Spicy sweet black bean and corn salsaHeat oil in a pan over medium-high heat. Add the garlic and stir until fragrant, about 30 seconds. Make sure the corn and beans are dry, then toss them in and stir. While they are heating through (about 8 minutes), combine the mango, peppers, onion, sauce, lime juice and spices in a medium mixing bowl. Add in the heated corn and beans along with the cilantro and toss everything together. Cover and put it in the refrigerator to let it cool and mascerate for at least an hour.
Crunchy baked cayenne wonton chipsHeat the oven to 350°. Slice a square stack of wonton wrappers in half with a chef's knife. Cut straight down the middle for rectangle chips or corner-to-corner for triangles. Spray a cookie sheet with the olive oil. Arrange the sliced wrappers in a single layer on the sheet, being careful to not overlap. Once the sheet is full, spray the wrappers with olive oil. Sprinkle the kosher salt from a foot or so up and, as evenly as possible, season with the pepper. Bake them in the oven for 7 minutes or until golden brown. Let them cool on a rack until crunchy. Skip the pepper if you don't want spicy chips.

» salsa ingredients
1 tablespoon olive oil
2 cloves garlic, minced
1 ½ cups frozen corn, thawed
1 can (16 oz.) black beans, drained
1 cup diced mango
1 ½ cups red bell pepper, diced
1 cup red onion, diced
2 chipotle peppers, diced
1 tablespoon adobo sauce
1 jalapeño, diced
⅓ cup fresh-squeezed lime juice
1 teaspoon ground cumin
1 pinch kosher salt
1 cup chopped cilantro
» chips ingredients
1 package wonton wrappers
a few pinches of kosher salt
spray olive oil
1 teaspoon cayenne pepper
Quick TIP from the CHEFWonton wrappers are thin, so don't let the chips bake past the 8-minute mark or they'll burn.