A Happening Place with Great Energy
Grand Boulevard's Town Center marks 15 years as a diverse center of activity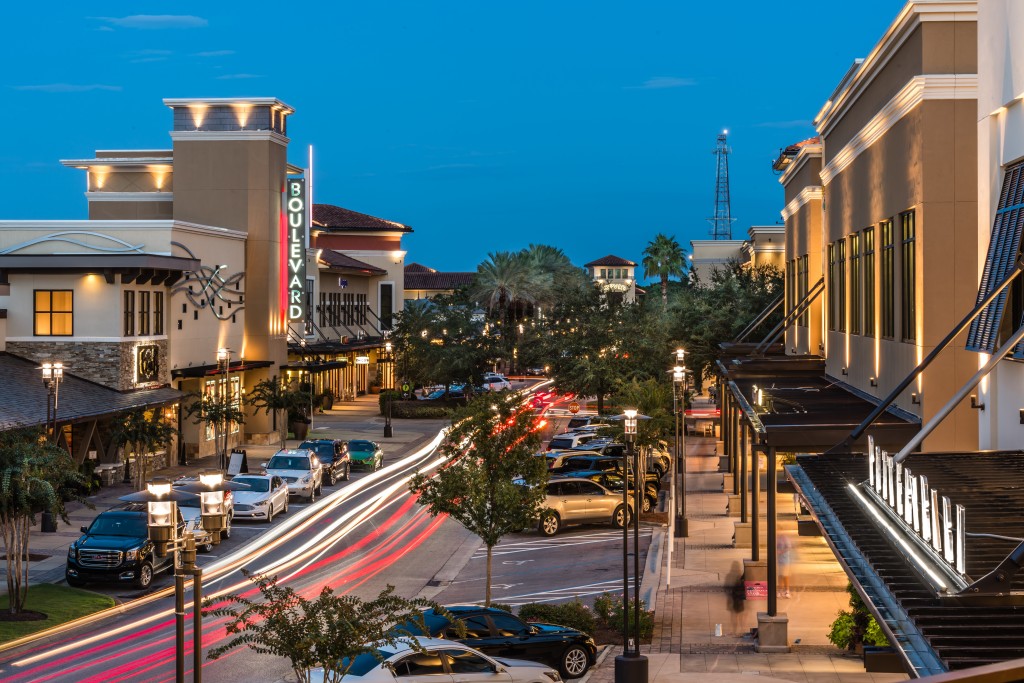 Grand Boulevard at Sandestin is a destination, and when you arrive, it's exactly where you want to be.
Exclusive local boutiques and eateries along with nationally recognized brands line Grand Boulevard. The merging of nearby and nationwide sets the collection of retailers apart. The mixed-use property is home to more than 50 retail shops, 14 restaurants and eateries as well as three hotels, a cinema and more than 30 professional offices. Here, you can shop, dine, play and stay.
Since its beginnings in 2007, Grand Boulevard has been a place that vacationers and locals both frequent. For the parent ducking the sunlit beach to take kids to the movies, a business owner connecting with new clients over dinner or a solo shopper on a mission for the ideal gift, the destination works and works well.
At Grand Boulevard, the landscaping is immaculate, and parking is a breeze. It's apparent the Howard Group designed the property intending to emphasize ease and maximize appeal. The location itself is ideal, fronting Highway 98 and lying between Pensacola and Panama City Beach in continuously evolving South Walton.

From the start, Stacey Brady, director of marketing and communications, wanted customers to be a part of a carefully crafted experience. Prospective tenants are thoroughly vetted, gauging how they would contribute to Grand Boulevard's culture and energy.
Grand Boulevard has introduced more than two dozen first-to-market stores and restaurants including Anthropologie, Lilly Pulitzer and Pottery Barn. The Beaufort Bonnet Company arrived with its first flagship store ever. Entering its 15th year, Grand Boulevard is opening the highest number of new tenants at one time in its history.
"Our growth has been intentional, but it's also been very organic," Brady said. "What we hoped for has come to fruition; this is a happening place right now. People have found Grand Boulevard, and it really feels like there's great energy and it's thriving. Who doesn't want to be part of something like that?"
Brady is passionate about community involvement and was integral in starting cultural and community events and experiences under Grand Boulevard's Coastal Culture banner. The Foster Gallery operated by the Cultural Arts Alliance of Walton County and Emerald Coast Theatre Company, both dedicated to promoting cultural arts, are cornerstone tenants.
Throughout the year, Coastal Culture hosts seasonal celebrations such as Coastal White Christmas, Halloween on the BOOlevard, Festival of Trees, Theatre Thursdays with Shakespeare in the Park and more. Grand Boulevard is renowned for award-winning annual events including the South Walton Beaches Wine & Food Festival, 30A Songwriter's Festival, ArtsQuest Fine Arts Festival and Best of the Emerald Coast. Each event has a charitable component — which is at the heart of one of Grand Boulevard's key core values — being a good community steward.
"Whether it's people coming to a live theatre performance, going to a restaurant for dinner or shopping before or after a weekend event, there is definitely a positive impact on the bottom line, but first and foremost we're looking at giving our customers another compelling reason to come and enhance that experience," Brady said. "We've created something multifaceted and unparalleled, which translates into good business and happy people."
Grand Boulevard
495 Grand Boulevard, Miramar Beach
(850) 837-3099 | Grandboulevard.com