A Conversation with the Conductor
Demetrius Fuller Gives His Take on Sinfonia Gulf Coast's 17th Season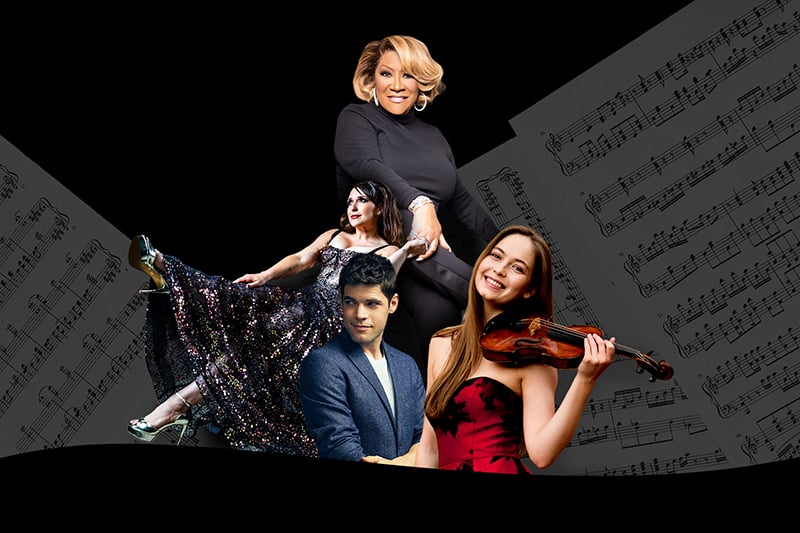 Curating a season that "sings" is an artform and Sinfonia Music & Artistic Director Demetrius Fuller is pitch perfect for the 17th year. With celebrity appearances, classical connections and innovative debuts, this year's offerings redefine the symphony experience and offer something for everyone. We sat down with maestro Fuller to get his take on Season 17's winter offerings.
Holiday Pops is a tradition, but you always put a twist on it. What can we expect on Dec. 9?
DF: Yes, this year, we "doowopify" our Holiday Pops with the Doo Wop Project. Doo Wop is just a great art form. It is as much an American musical staple as jazz, and rock and roll. They will perform everybody's favorite holiday tunes but will also take pop songs and a handful of popular tunes and "doowopify" them. Plus, the full orchestra will play favorites like Stille Nacht and more, so it will be a great seasonal concert.
January 21 audiences can enjoy a Southwest U.S. premier with Get Happy: A Judy Garland Centennial Celebration.
DF: Who doesn't love the legend, Judy Garland? This is a great production because it showcases the string section of the orchestra and a jazz band along with classically trained vocalist, Broadway veteran and recording artist Morgan James. You will feel as though you are seeing Judy Garland singing live with the orchestra. There's a multimedia component that showcases vintage footage of The Judy Garland Show with tons of outtakes with Dean Martin, Sammy Davis Jr. and Frank Sinatra that make an entertaining trip down memory lane.
February 24 and 26 you celebrate the Season of Love with Crescendo! 2023. What's in store for this year's event extravaganza?
DF: This is our biggest "fun-raiser" of the year and has become known as the must-not-miss event of the social season. We kick off the event with a seated lunch at Bijoux Restaurant + Spirits January 26. The two-day celebration begins on Friday with a series of intimate Vintner Dinners showcasing celebrity winemakers and chefs. On Sunday, the Hilton Sandestin Beach Golf Resort & Spa will transform into a chic, ebony and ivory-themed fête we're calling Crescendo! noir (et blanc). The Main Event on Sunday afternoon is a festive affair that features world-class vintners and spirit purveyors, delicious bites, a seated lunch, an amazing silent and live auction, party games, and, of course, live entertainment!
At the heart of Sinfonia's mission is music education. Tell us more.
DF: Our mission states that we "entertain, educate, inspire the community" and we aim to do that with everything we do. Education is the centerpiece of Sinfonia. It was founded not only for its entertainment value, but for the fact that Northwest Florida needed an organization that could be the proponent for arts education in schools, specifically music education.
---
Sinfonia Gulf Coast
Purchase tickets online at SinfoniaGulfCoast.org or call (850) 460-8800.
---