21st Annual Seaside School Half Marathon + 5K is a Success!
$600,000 raised to benefit The Seaside School, Inc.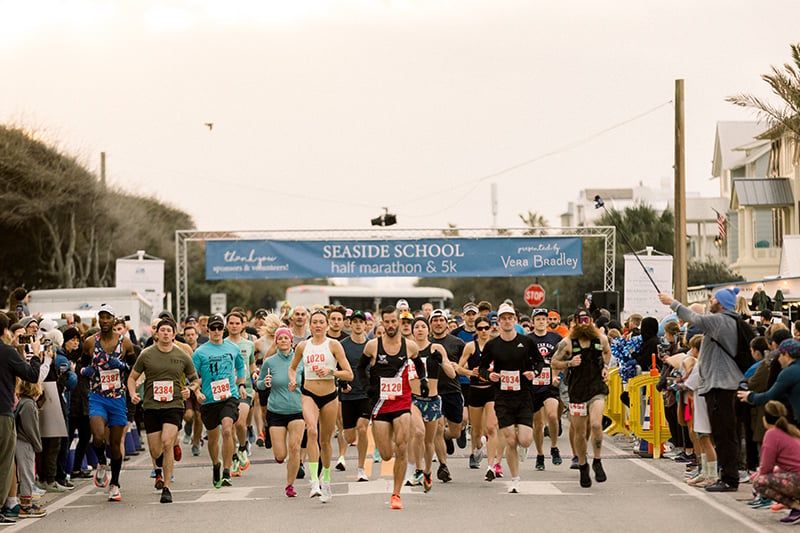 On a breathtakingly beautiful February day in Seaside, Florida, thousands of runners gathered on February 19th, 2023 to participate in the 21st Annual Seaside School Half Marathon & 5K. This triumphant event not only brought together racers from all over the country, but also created an incredible opportunity to support The Seaside School Inc.
The Seaside School Foundation proudly reports that more than $600,000 was raised to benefit The Seaside School, Inc., through the Seaside School Race Weekend efforts. 100% of the funds raised from Race Weekend benefit the Seaside School Foundation, which supports the ongoing operational needs, endowment, and capital projects for the Seaside Neighborhood School and Seacoast Collegiate High School. The Seaside School Inc., one of the first and now oldest operating public charter school in Florida and recently ranked #1 combination public charter school in Florida, is a tuition-free, public charter school serving students across Walton County in grades 5 through 12.
"The money raised during Race Weekend is crucial for the operation and success of our school," said Patrick McCarthy, President of the Seaside School Foundation. "The students that we serve in 5th through 12th grades rely heavily on this annual fundraising event, and without the race and the support of the community, we would not be able to provide our students with the unique learning experience they receive at our school."
The charity race weekend kicked off on Friday, February 17th with an evening under the stars at the annual race pre-party, Taste of the Race, hosted by Tom Glavine, Major League Baseball Hall of Famer and former Atlanta Braves' pitcher and the Corchis Family, owners of Amici 30A Italian Kitchen and Amigo's 30A Mexican Kitchen restaurants. Nearly 700 party-goers attended the Seaside party and 18 local chefs competed for top culinary awards. The Shrimp Shack, Team Dawson Group, won the coveted Chef's Choice Award. The People's Choice Award went to Jackacudas, Chef Orion Cordoves, and Judge's Choice was awarded to Chunk Gulley, Chef Tyler.
The celebration continued on Race Day as half marathon male champion Derek Bovard, 37, Freeport, FL, sprinted his way into first place, finishing the half marathon in 1:15:46.19. The women's half marathon winner, Katie Sherron, 41, of Tallahassee, FL, finished strong with a time of 1:19:24.6. Drew Beroset, 10, of Pensacola, FL, won the male division of the 5K race with a time of 17:01.72 and Caroline Couch, 15, Tallahassee, FL , was the women's 5K winner with a time of 19:23.56.
The 2023 finish line after-party in Seaside featured live music by The Seaside School Performance Band, complimentary beer by Grayton Beer Company, and post-race food catered by Great Southern Cafe. This fun atmosphere pulled in thousands of family members and friends of runners to celebrate their achievements.
"Our community of runners, supporters, volunteers, students and staff look forward to Race Weekend every year, and we are so grateful to be part of such a philanthropic community," said Teresa Horton, Executive Director of the Seaside Schools Foundation. "The participants of Race Weekend also provide a welcome boost to our local restaurants, boutiques, and accommodations during what's typically a slower time of year. Race Weekend truly benefits our entire community."
For more information on the Seaside School and Race Weekend, visit SeasideSchools.net.