20 Years in the Making
A look back on the last two decades in the Emerald Coast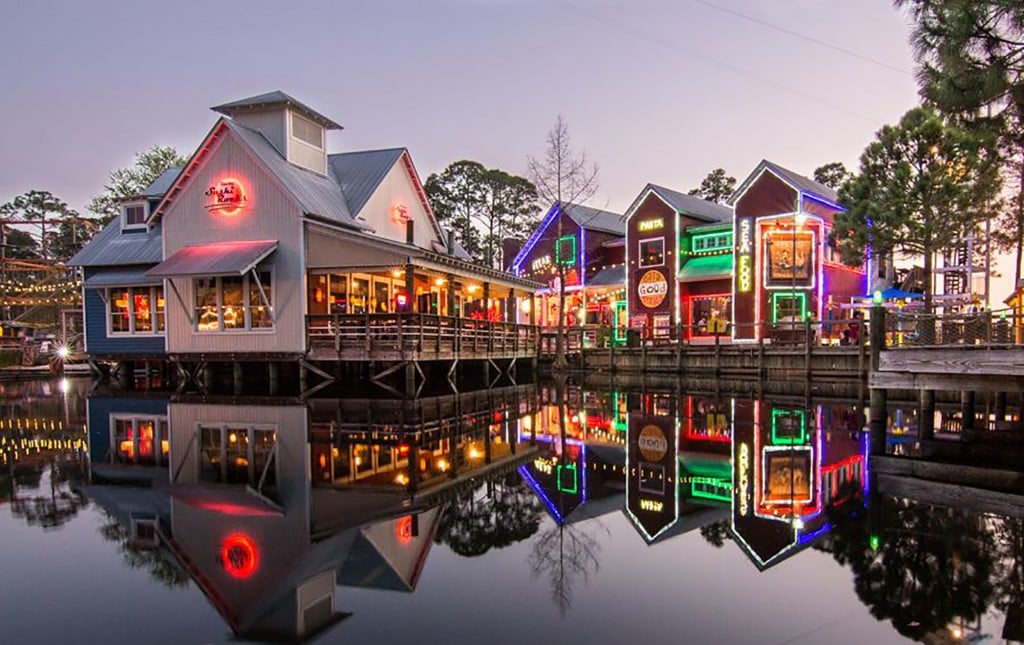 Developments and cultural events over 20 years shape the identity of an area.
What are now community staples once were glimmers of new developments. Moments in our collective memories are often the glue that galvanizes communities together.
Here's a collection of milestones throughout the past 20 years that played a part in transforming the Emerald Coast into the quality place where we love to live, work and play today.
2000
Raven Golf Club Opens
Named "Best New Course in Florida" by Florida Golf News in 2000, Raven Golf Club in Sandestin maintained its reputation throughout the years with accolades from various golf magazines. The Raven is located on the Sandestin Golf and Beach Resort property.
2001
Emerald Coast Citizens Fundraise for 9/11 Victims
Various fundraising events across the Emerald Coast hoped to mend the heart of America after the attacks on the World Trade Center. Children running Kool-Aid stands, grand benefit dinners hosted by Emerald Coast chefs, local firefighters taking to the streets with donation buckets and other community efforts raised money during a time of national heartbreak.
2002
The Village of Baytowne Wharf Opens
Dubbed the "most active time in the resort's history," Sandestin Golf and Beach Resort launched the first installment of several phases of The Village of Baytowne Wharf. Eventually, the highly anticipated development filled 28 acres of bayside property with "quaint shops, charming eateries and lively entertainment" to become the first "mixed use lifestyle center" in the area.
2003
Sacred Heart Hospital on the Emerald Coast
President Roger Hall carried in the first patient, 6-year-old Savanna Hall, who arrived at the emergency room just as the dedication ceremony was coming to a close. The then 50-bed hospital started with 175 associates and 60 medical staff physicians. Today Sacred Heart employs 626 associates, more than 88 physicians and an additional 265 medical staff physicians and has grown to a 76-bed community hospital.
Howard Group Opens Grand Boulevard at Sandestin
This shop, dine, play and stay town center located on Northwest Florida's beaches opened in phases beginning in 2003 anchored by Publix. In 2006, the Courtyard by Marriott and Residence Inn opened followed by the Town Center in 2007. The Boulevard 10 Cinema opened in 2013 as Walton County's only movie theater. Coastal Culture launched in 2014 making the mixed-use center a popular annual event venue.
2004
The Year of Hurricanes
Florida endured stormy weather in 2004 to say the least. Hurricane Charley (Cat. 4), Frances (Cat. 4), Ivan (Cat. 3) and Jeanne (Cat 3) bombarded the coasts of Florida, with Hurricanes Ivan and Frances hitting the Emerald Coast most directly. Together, these hurricanes caused over $40 billion in damage.
2005
Destin Charity Wine Auction Foundation Forms
Few events in the Emerald Coast allow its guests to enjoy a lavish night of dinner and wine tasting while serving as a fundraiser for children-focused charities. The Destin Charity Wine Auction Foundation is an annual spring event held in concert with the South Walton Beaches Wine & Food Festival at Grand Boulevard. To date, it has raised more than
$22 million for 16 local children's charities.
2006
Charlie Crist Wins Gubernatorial Election
Following Jeb Bush's final term as Florida governor, former Florida Attorney General and Republican nominee Charlie Crist won against Jim Davis, the Democratic nominee.
2008
Pier Park Opens
Pier Park opened in 2008 and now features more than 120 stores as well as dining and entertainment options. It also boasts the 1,500-foot Russell-Fields City Pier, one of the area's most popular tourist attractions fantastic for reeling in fish and breathtaking sunrise and sunset views.
2010
30A Songwriter Festival Debuts
The Cultural Arts Alliance put on the first annual 30A Songwriter Festival, which featured local musical artists from around the Walton County area and the lyrical brains behind country and pop's top hits. The festival continues to showcase and celebrate the music along 30A and is a great source of tourism for the area.
Deepwater Horizon Oil Spill Gunks Up Tourism
An explosion from a BP oil rig about 41 miles off the Alabama coast sends roughly 200 million gallons to circulate in the Gulf of Mexico for over four months. The Emerald Coast faced immediate environmental and economic impact from this catastrophe. Much of the area has recovered, but researchers are concerned remnants of oil in underwater sediments may have larger environmental consequences in the future. Triumph Gulf Coast will oversee BP's estimated $2 billion payment to the state over the next several years.
Hands Across the Sand Forms
Founded by Seaside restauranteur Dave Rauschkolb, Hands Across the Sand grew from a one-day peaceful protest into an international movement. People came together to join hands, forming symbolic barriers against spilled oil and to stand against the impacts of other forms of extreme energy. Many years later, it has grown into a coalition of organizations, activists and citizens around the world to bring the message of clean energy to local and world leaders.
2011
Artist Shantell Martin Returns to 5th Annual DG Festival in Alys Beach
UK- born and NYC-based visual artist headlines the 5th annual Digital Graffiti Festival. Known as the event where "art, music and architecture intersect," Digital Graffiti launched in Alys Beach as the world's first art projection festival.
2012
Harley Davidson Dealership Opens
After seven years of planning, the official groundbreaking ceremony took place for a Harley Davidson dealership in Panama City Beach. The dealership expected to be open in time for the 2013 spring Thunder Beach Motorcycle Rally. Today, Thunder Beach Rally recently marked its 20-year anniversary.
2013
Viva Florida 500
In 2013, the state of Florida celebrated the 500th anniversary of the day Ponce de Leon landed on the soils of "la Florida" and claimed it for Spain. The state ran a yearlong campaign called "Viva Florida 500" where cities and communities across the state organized events to celebrate and remember Florida's historical influence on the creation of the United States.
2014
Centennial Celebration of Naval Air Station
Pensacola is home to the U.S. Navy's first and oldest naval air station. In 1913, the United States Navy commissioned the first Naval Air Station and began operation in 1914, which would come to host the renowned Blue Angels flight demonstrations. On September 20, 2014, the city celebrated the Naval Air Station's 100 years of operation with a gala.
2015
Jeb for President
Former Florida Governor Jeb Bush announces his candidacy for the Republican nominee for U.S. president. His campaign fizzled out fairly quickly, and he officially suspended his candidacy in February the following year.
2017
Salute to Rosie O'Grady's
Generations of people who had worked as members of the saloon's "The Good Times Gang" turned out to celebrate 50 years of Rosie O'Grady's. The saloon remains an anchor of Pensacola's Seville Quarter entertainment complex, and it continues to rock with its Dueling Piano Show.
2018
'The Truman Show' 20th Anniversary
Seaside, Florida, celebrated the 20th anniversary of "The Truman Show" with news segments featuring the Seaside residents recalling the fun chaos filming brought the town.
Hurricane Michael Makes Historic Landfall on Panhandle
Homes and structures all across the Emerald Coast took a beating from category 5 Hurricane Michael. While many areas suffered from devastating property loss, iconic Florida cities became unrecognizable through this storm.
2019
Studer Family Children's Hospital Sees its First Patients
Former CEO of Sacred Heart Hospital Susan Davis developed Pensacola's newest medical endeavor to ensure better care for children in the area. With state-of-the-art technology and a focus on providing care for children and their families, Studer Family Children's Hospital is designed to bring comfort to Pensacola's smallest patients.
2020
Emerald Coast Magazine Marks 20 Years
Emerald Coast Magazine was the first professionally produced consumer lifestyle magazine in the area. It also was the first publication in the market to launch a reader poll award program. Best of the Emerald Coast marked its 20th anniversary in November 2019 and has become a major annual fundraiser for the Emerald Coast Junior League. What hasn't changed over the years is the magazine's mission: to strive to capture the essence of the Emerald Coast one compelling story at a time.