13 Up-to-Date News Bites For You to Chew On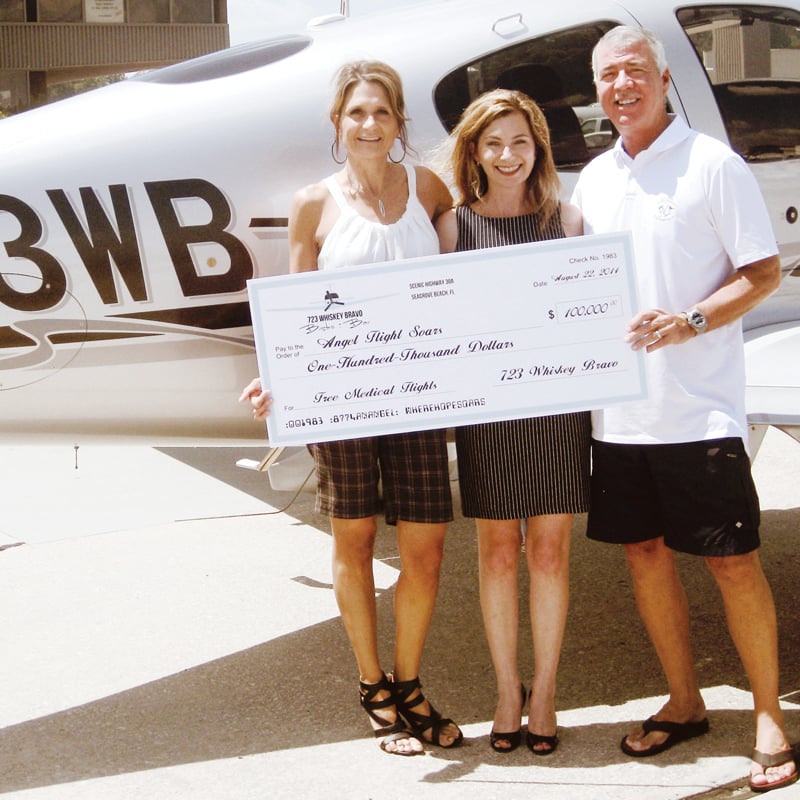 NEW NEWS …
T

he Emerald Coast Children's Advocacy Center has broken ground at 336 College Ave. in DeFuniak Springs as part of a $3 million capital campaign to construct a 15,000-square-foot center to serve Walton County children. The Pierce family donated $1 million toward the campaign.

T

he Niceville location of Coastal Skin Surgery and Dermatology has undergone a complete renovation and expansion. The space is now much larger and contains new state-of-the-art medical equipment. Joining Dr. Elizabeth Clark and Dr. Brittain Kulow, who have previously worked part time at this location, will be Niceville native Dr. Layne M. Fielder.
SunQuest Cruises has received a TripAdvisor Certificate of Excellence award. The accolade, which honors hospitality excellence, is given only to establishments that consistently achieve outstanding traveler reviews on TripAdvisor and is extended to qualifying businesses worldwide. Establishments awarded the Certificate of Excellence represent the upper echelon of businesses listed on the website.
CAUSE FOR CELEBRATION …
The 2014 30A Charity Golf Classic raised $27,706 for Alaqua Animal Refuge. The second annual event was held at Santa Rosa Golf & Beach Club and was presented by The Aesthetic Clinique. The 30A Sticker Donation Box partnership between 30A.com, Dune Allen Realty Vacation Rentals and Alaqua Animal Refuge has raised $95,934 for the local charity since its inception, and $35,147 in the past 12 months alone. Although 30A.com gives away its famous round Gulf-blue decals for free in local businesses, donation boxes have been set up in many locations to encourage contributions to Walton County's premier "no-kill" shelter.
KUDOS …
Skylar Ford, a sixth-grader from Pensacola who attends the Boys & Girls Clubs of the Emerald Coast, was named a finalist in Boys & Girls Clubs of America's nationwide reading contest, Make Good Reads Happen, for bringing "A Bad Case of Stripes" by David Shannon to life using her imagination and creativity.
Tricia Carlisle-Northcutt, a Realtor from Santa Rosa Beach, has been named a finalist in the National Association of Realtors' Good Neighbor Awards. The awards recognize Realtors who have made a positive impact on their community through volunteer work and community service. Carlisle-Northcutt founded the Children's Volunteer Health Network in 2005, and the program quickly blossomed. It has grown from three volunteer providers to a health care referral program that now includes 90 volunteer providers, a mobile dental bus that visits 10 area schools for checkups and preventive care, and a three-chair dental clinic where full-time staff perform more invasive restorative treatments.


Carlisle-Northcutt and Children's Volunteer Health Network

South Walton Beaches Wine and Food Festival was awarded a Flagler Award in the special events category by Visit Florida at the 2014 Governor's Conference on Tourism at the Boca Raton Resort & Club. The award is the second won by the Northwest Florida festival this year. South Walton Beaches Wine and Food Festival previously won an Award of Distinction from the Florida Public Relations Association on April 16 at the annual Image Awards ceremony held in Pensacola.
NEW FACES…
The Emerald Coast Convention & Visitors Bureau welcomes Shantelle Dedicke as marketing manager. Dedicke was hired to manage the bureau's advertising, marketing, social media, website and public relations initiatives.
The Okaloosa Arts Alliance announces its new board of directors for 2014–2015. The executive board of directors are: president – Keri Woods of Pyramid Inc.; vice president – Ken Hair of Children in Crisis; treasurer – Susan Kneller, chair of the Okaloosa Arts Alliance Grants Committee; and secretary – Becky Belcher of the Arts & Design Society. The board of directors are Nellie Bogar of the Youth Village; Demetrius Fuller of Sinfonia Gulf Coast; Ursel Behnken of the German Club; Delores Merrill of the Mattie Kelly Arts Center and NWFL Symphony Guild; Chris Manson of The Beachcomber; Jean Starkey of Stage Crafters; Gayle Vann, events committee chair; Bill Head, volunteer committee chair; Ann Abell, The Painting Vine; James K. Baughman Sr., author; Pat Federinko, artist; and Bill Johnston of the Emerald Coast Pipes & Drums.

Howard Group welcomes Leigh Moore to the company's community affairs division. Moore works with local, state and federal governmental agencies, nonprofit organizations and private companies as an advocate for responsible growth and development.
The Florida League of Cities has appointed Pensacola City Councilman Charles Bare to serve as vice chairman of its 2014–2015 Transportation and Intergovernmental Relations Legislative Policy Committee.
Cherryl Marcey has joined the management team of Vue on 30A to lead weddings and events.
30A announced that Lauren Sage Reinlie is replacing Mike Ragsdale as editor of 30A's network of websites and mobile platforms.