12 Interesting People Under 40 You Should Know
Meet an emerging new generation of Emerald Coast movers and shakers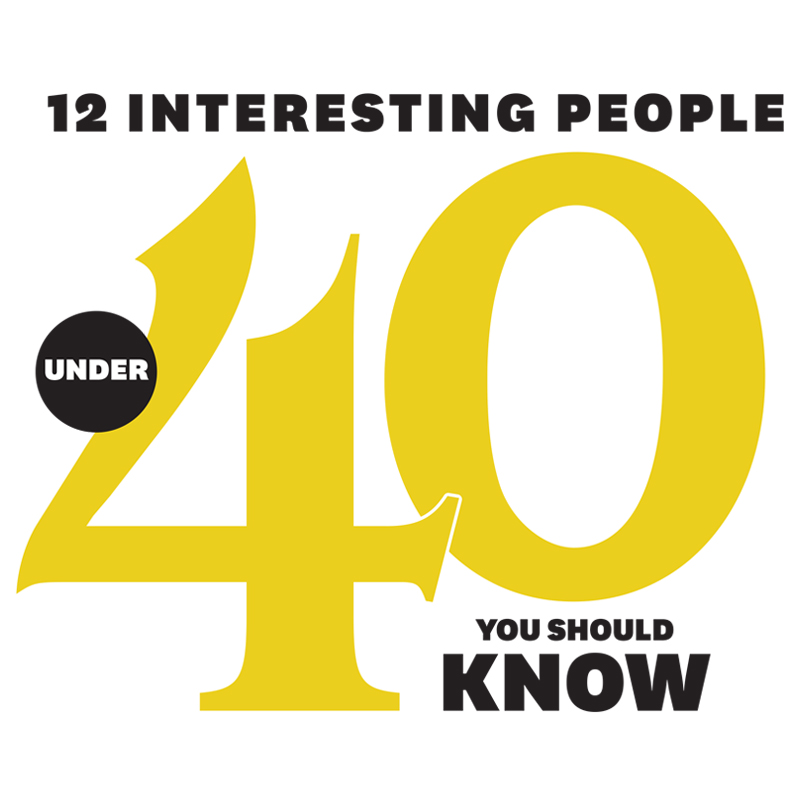 From financial advisers to farmers, they're young, ambitious and making an economic impact on the many and varied communities of Northwest Florida. You may not yet know their names. But you will.
EC Magazine introduces you to 12 impressive people under the age of 40 who live and work all along the Emerald Coast. Every day they are making a difference in the business world and in their communities — and prepping themselves to become the leaders of tomorrow. Their impact is already being felt from the halls of higher education to hulls of vacation rental boats.
We think you will be interested in their theories of success, their outlook on life and their thoughts about how to improve the outlook for business in Northwest Florida.
Some are CEOs of their own companies, some work for others. Many spend their spare time doing charity work, serving on community boards and the Chamber of Commerce, or using their business to help others. Whatever they do for a living, I think you will agree that these Emerald Coasters
represent the best of the best, serving as a credit to their communities and the entire region.
Nathan Boyles
30, Crestview
Attorney, Wine Maker, Entrepreneur, Okaloosa County Commissioner
Owner, Nathan D. Boyles P.A. law firm; Owner, Main Street Land Title Company; Owner, Yellow River Winery and Wine Bar
Business Philosophy Fake it until you make it.
In my line of work … no two days are alike. I've been known to show up for court with my hands still stained blue from processing a load of fresh local blueberries the night before.
Leadership Lesson Be positive, dream big and don't take yourself too seriously. Otherwise, you'll begin to think you are more important than you really are, and that's how you end up on the front page of the newspaper in an orange jumpsuit (or at least that's what my mom tells me.)
Heather & Chris Thomas
36 and 39, Destin
Owners, Destin Vacation Boat Rentals
Business Philosophy
Be passionate about what you do.
Definition of Success
For us, success is finding something that you genuinely love to do and learning how to make a living doing it.
A Lesson Learned
Heather: That it's OK to take risks. I spent a lot of time putting our goals and dreams on hold, because I was afraid of failure.
What does the future hold?
I believe the journey is more important than the destination. Life presents us with so many unique opportunities and adventures, and right now I'm just looking forward to seeing what God has in store for us in the future.
Sabrina McLaughlin
33, Navarre
Higher Education Marketing and Communication Arts Faculty, Navarre
Executive Director, Marketing & Creative Services, University of West Florida; Adjunct Faculty, Communication Arts
Definition of Success
Doing what you love and doing it well. As long as you are living by your own definition, that's all that matters.
Mentors Made a Difference
If I were to sum up what so many wonderful mentors have taught me, I would have to say that it is the steadfast truth that your integrity is not a commodity. Your integrity is a precious gift that cannot be replaced, bartered or bought back.
A Lesson Learned
I have always said that I have learned way more from the things that I have failed at versus anything that put an award on my wall. The most important lesson, however, is reflected by one of my favorite quotes from Maya Angelou: "When someone shows you who they are, believe them the first time."
Jeremy Johnson
31, Gulf Breeze
Real Estate Sales & Community Association Management
Broker Associate and Community Association Manager, Island Realty Group of Pensacola Beach
My mentor is …
Quint Studer, founder of Studer Group and owner of Pensacola Blue Wahoos. I respect his willingness to take risks for the betterment of a community that he believes in and his unwavering commitment to do the right thing.
Hardest Lesson Learned
Being successful in a tough economic market takes out-of-the-box solutions. You must continually develop your professional skill set and push yourself out of your comfort zone, as this is the only way to grow. If you're not thinking ahead of the curve, you're falling behind.
What advice would you give your 16-year-old self?
The best years of your life are yet to come. Stay focused, work hard, have fun and the rest will fall into place.
Jennifer Conoley
30, Panama City
Economic Development Representative
Gulf Power Company
Definition of Success
Success is setting and achieving goals, all while overcoming life's obstacles and challenges.
Hardest Lesson Learned
Don't be afraid to speak up for what you believe is right.
What advice would you give your 16-year-old self?
Stop worrying so much! Life has a wonderful way of working itself out — especially when you're motivated and focused on what's important to you.
Brian & Jenna Leigh Burger
31, Fort Walton Beach
Restaurateurs
Owners, Tijuana Flats in Fort Walton Beach and Pensacola
Definition of Success Setting ambitious goals and then achieving them by leaps and bounds.
Hardest Lesson Learned
Brian: Method and repetition cannot create customer service, only inspiration can. Inspire your people to love their customers, and they will amaze you.
Hope for the Future
Jenna Leigh: We should be focused on the retention of young professionals in this community, particularly our military personnel. I feel that creating a hip, trendy and beach-focused community that competes with other municipalities for business and pleasure is the key.
Fun
Jenna Leigh: We both enjoy the beach, boating, our dogs and camping. Brian is an avid surfer, novice fisherman and brews his own beer. I am a total book nerd. I love to ride my road bike and create new recipes.
Jessica Proffitt
27, Destin
Public Relations and Marketing Professional
President, Proffitt PR
Definition of Success
Learning, earning and yearning. My success is derived from and directly correlates with the success and growth of my clients' businesses.
Hardest Lesson
As a young adult, by nature it is easy to be naïve and make quick decisions. I've learned to remove myself from a situation and analyze it from afar before coming to a conclusion.
I get my inspiration from …
My parents. They're my biggest fans and have instilled me with the drive and determination to be the next president of the United States.
Luke Langford
31, Freeport
Farmer
Owner, Cypress Cattle & Produce Co.
Definition of Success
Personally, it's preserving our family's farm and ensuring a comfortable living for myself and my family. Professionally, success means providing more and better local produce and meat, and establishing a business model that shows family farms and young farmers can thrive within the community.
Hardest Lesson
The wholesale side of produce is rough-and-tumble. I found out fast that if you don't market, you don't make it. Bumper crops don't matter if you can't move them, and you can't store this stuff. It has to move now. If it doesn't, all you have are bills.
I get my inspiration from … reminding myself that my family's farm is irreplaceable. My family has been there 80 years, and our family's legacy is written into every acre. That's something that money can't buy. Every day I work is a tribute to my parents, grandparents and great-relatives. I take that seriously. It's a bottomless well of inspiration to keep fighting on.
Valeria Lento Palmertree
28, Pensacola
Director of Communications, Visit Pensacola
Business Philosophy
Be transparent. Be kind. Do well.
Definition of Success
In the words of Samuel Beckett, "Ever tried? Ever failed? No matter. Try again. Fail again. Fail better." Success isn't about not making mistakes, but rather about learning from them. It's best defined in that moment when, following a fall, one decides whether to get back up again.
A Lesson Learned
No question is a stupid question. I think we have a natural tendency to hold back our curiosity for the fear of sounding uninformed. But the less you ask, the less you know.
Jonathan Tallman
25, Niceville
Financial Advisor
Owner, The Tallman Group LLC
Business Philosophy
Always put the client's needs first.
Definition of Success
Having a passion for what you do and helping people while you do it.
A Lesson Learned
Value your relationships because life is short.
Career Choice
I've always been a goal-oriented person. This career allows me to assist others in creating and meeting their goals for the future. So, it was a perfect fit.
Hope for the Future
Educate small businesses on how to plan for their future and leave a legacy for future generations.