1 Sport You Can Enjoy Year-Round on The Emerald Coast
Those who play find big rewards for small investment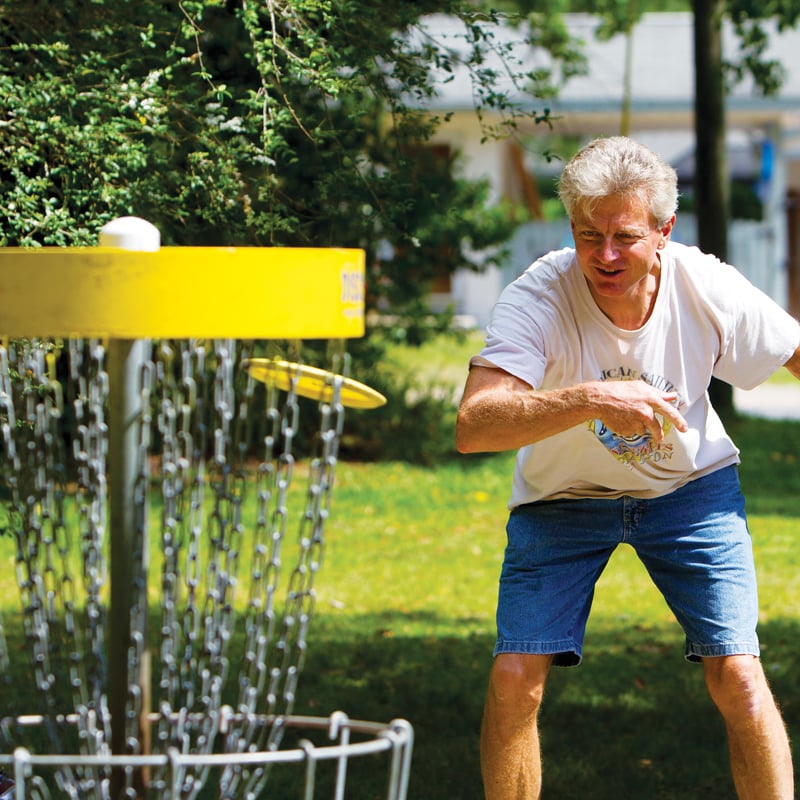 One of the bonuses built in to living on the Emerald Coast is the ability to enjoy outdoor sports during all 12 months of the year. But is there a sport that can involve the whole family — mothers and fathers, sons and daughters, and even grandparents?
Yes, indeed, which is why Disc Golf continues to gain popularity with each passing year.
At least 200 people a day use the course at Ferry Park in Fort Walton Beach, according to Jeff Peters, the city's recreation director. "Some days there's more than that," Peters said. "During the summer when school is out we regularly have people out there from 7:30 in the morning to 7:30 at night. And golfers are very good about taking care of the course by cleaning it up on their own." And this is on a course that has been around for less than three years.
 "I think it's because anybody can play together," said Ronda Key, who co-owns Key Chains Bike & Disc in Fort Walton Beach. "It's a family fun thing, and it can be competitive. My mom (Helen Key) just started it to get out of the house and hang out with us, and now she's a doubles partner with my niece (Sydney Key)."
Key is in her 40s and started playing Disc Golf as a way to come back from a serious shoulder injury she suffered playing co-ed softball. Now she's out on the course six or seven days a week.
Disc Golf has been around since the mid-1970s, and the game's basic premise parallels traditional golf. You tee off, and the object is to land your flying disc in a target, which usually involves a metal "basket" mounted on a pole.
Course distances are shorter than traditional links. In the case of Ferry Park, going from tee to target usually means 240 to 390 feet, instead of longer distances measured in hundreds of yards.
"I think the biggest thing that has exploded the sport is the baskets being added in recent years," said Steve Hollis, a local 50-something realtor with an office on Okaloosa Island. "The targets used to be just some tape on some trees."
He started with the sport in the late 1980s and recently came back to it as a way to improve his fitness. He lost 29 pounds, he said, without changing his diet. He also plays almost every day.
"And there's been a big improvement in the plastic," Hollis added. "When Wham-O first started making Frisbees in the 1950s, they were just big, round discs. Now they've gone into aerodynamics, with weighted rims that are used for different purposes."
David Tye looks on while Barry Dovin takes his turn.
Eric Walker mixes business and pleasure when it comes to the sport. An everyday player in his 40s, Walker sells disc golf items at the local Ace Hardware stores in Okaloosa County. He has been an organizer of a February "Ice Bowl" tournament at Ferry Park that raised about $2,500 per event for local charities.
"I had somebody tell me recently that the sport has grown 60 to 65 percent in recent years," Walker said. "The climate of the economy has helped out. For a minimal investment of $25 you can buy all three discs — a driver, mid-range and a putter. And you play as much as you want and play for free."
---
Want more information?
There are disc golf courses that can be found from Panama City to Freeport, Fort Walton Beach, Gulf Breeze, Milton and Pensacola. To learn more about the sport, check out the following websites: