The Top Skincare Products and Treatments Professionals Love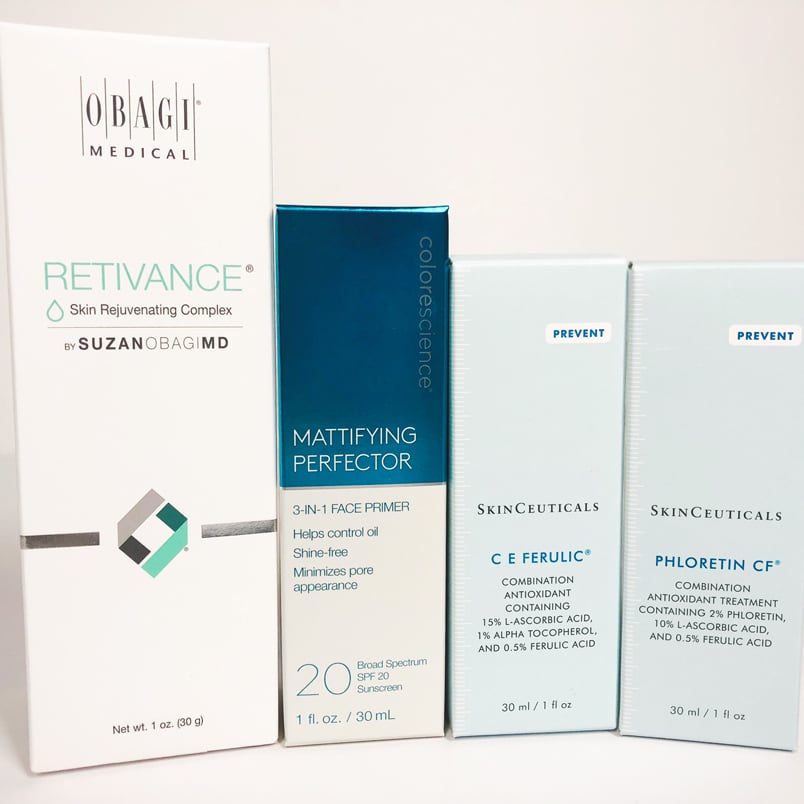 We asked the Estheticians at Destin Plastic Surgery for their favorite skincare products and treatments.
See what recommendations and tips they had to share.
Melissa St. John: Phloretin CF and CE Ferulic — both are broad-spectrum antioxidants that give skin the prettiest most radiant, dewy glow.
I also love Colorescience Even Up. Not only does it protect the skin, but it also keeps skin cool while heated.
It helps with lightening hyperpigmentation. It contains no chemicals, so it won't burn or irritate skin.
It's SPF 50 and water resistant for 40 minutes. The tinted aspect gives a nice little pop of coverage.
Sally Surgnier: Vitamin C serums applied daily, in the morning. The treatment for naturally glowing skin would be the HydraFacial.
I love the Colorescience line for sun protection. The mattifying primer with SPF 30 is great for our humid summers.
It actually wicks oil away from the skin and blurs imperfections.
Trisha Sgobba: I would say the HydraFacial MD treatment is excellent for glowing skin.
It effectively and gently exfoliates to reveal brighter, healthier skin and infuses a cocktail of antioxidants and hyaluronic acid deep within the skin to plump and hydrate.
Additionally, everyone should own a retinoid product. It is one of the best collagen stimulating products and will keep your skin looking young and fresh due to its exfoliative properties.
Prescription retinoids/tretinoin have come with side effects that some people don't really care for, such as redness and dryness.Retinols that are over the counter are not as effective as prescription-strength products, but a new product that has recently come out by Dr. Susan Obagi, called Retivance, is a retinaldehyde, which converts much more effectively to retinoic acid, which is what your prescription strength Tretinoin cream is but without the sensitivity.
It has been a game changer for me. It also contains a peptide that inhibits an enzyme that breaks down your collagen along with anti-inflammatory ingredients. I love this product.
---
Experience is what sets Destin Plastic Surgery apart.
Destin Plastic Surgery offers a comprehensive selection of procedures, including breast augmentation with No Scar on the Breast®, liposuction, and facelift surgery.
It is also the first practice in the region to offer digital imaging with Vectra® 3D technology, which lets you see the potential new you in 3-D — before surgery.
Destin Plastic Surgery also houses its own Skincare Clinic, the Destin Surgery Center and the Destin Vein Center.