Putting Your Best Face Forward
Learn more about surgical and non-surgical facial rejuvenation.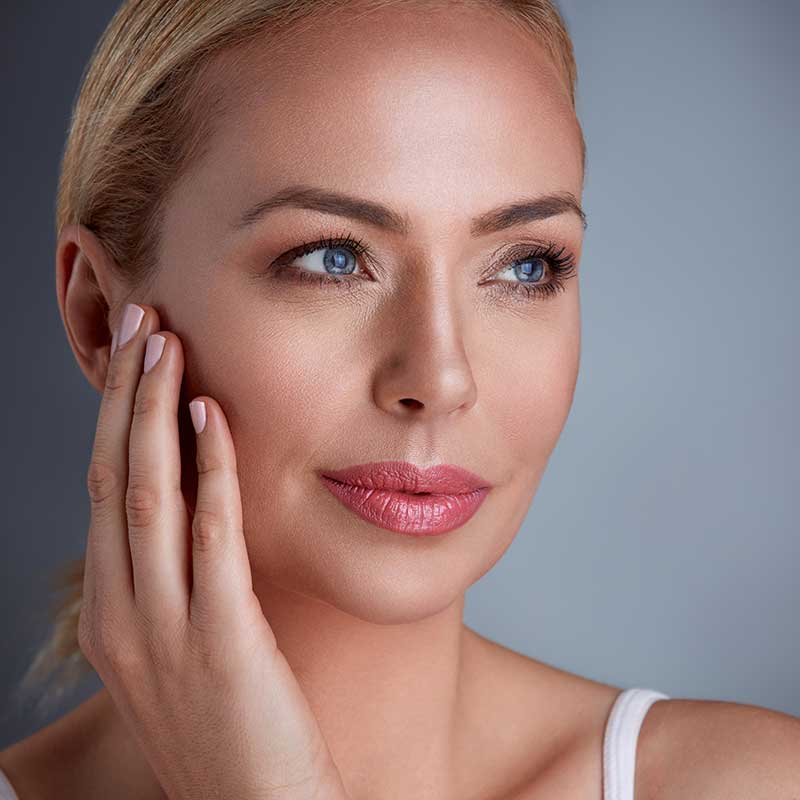 Facial rejuvenation — and maintenance — starts with good skin care.
Many people would be well advised to consult a qualified and experienced esthetician like those on staff at Destin Plastic Surgery to learn about regimens and practices they can employ to enhance their facial appearance.
Facial rejuvenation may also involve surgical and non-surgical treatments and procedures.
Surgical Treatment of The Aging Face
The most common request for facial rejuvenation involves the area around the eyes. "When a person looks in the mirror, and has a tired, stern appearance that does not match how he or she feels, they frequently consult me," says Dr. William Burden, the CEO and founder of Destin Plastic Surgery.
Patients who complain about looking tired are often bothered by bags beneath the eyes, which may develop at an early age. Patients often comment that they have come to look like their parents. Lower eyelid surgery can help remedy this problem.
It is very important to have this procedure performed in the right sequence. In addition to removing the bag beneath the eye, the cheek pads should be elevated to give the eye a youthful, rejuvenated appearance.
An endoscopic browlift (an advanced procedure performed by Dr. Burden) will restore the brow's youthful arch, alleviate the heaviness of the upper eyelids, and improve the frown lines between the brows.
This very powerful procedure involves small incisions position.
This very powerful procedure involves small incisions behind the hairline, which heal well and only rarely can be detected after healing. No hair is removed from the scalp.
Dr. Burden also hears from lots of patients concerned about the appearance of their necks.
Women often place their hands beneath their jaw, push back the skin and ask, "Can you do this for me?" The answer is yes.
The surgical procedure to improve the appearance of the lower face and neck is a facelift. Again, the proper sequence is important.
position. The muscles of the neck should be tightened as they were before they separated. Inelastic skin should be removed.
In combination, these actions make for a youthful appearance without the stigma of a stretched, pulled look.
Non-surgical Facial Rejuvenation
Botox and fillers have become the most popular treatments for non-surgical rejuvenation.
Botox can be used to diminish the severity of the furrows between the brows, the wrinkles of the forehead, and the crow's feet that appear with the smile lines.
Destin Plastic Surgery's Bill Edelman, otherwise known as Botox Bill, has achieved spectacular results using Botox to treat these areas.
Quite often fillers are all that is needed to help address the wrinkles of the face.
The most common area is around the lips and the nasolabial folds.
By softening these wrinkles and enhancing the appearance of the lips, a youthful appearance can be achieved.
Restoring volume to the upper face and the cheek area will also provide a youthful look. Many products have now been developed that enable rejuvenation of the face without surgery.
Destin Plastic Surgery is a leader in non-surgical treatments.
Dr. Burden holds the distinction of being the only certified speaker for the Allergan Corporation in Northwest Florida and is frequently called upon to train people and discuss non-surgical treatments.
Meet the Estheticians
Melissa St. John – Esthetician
What are some go-to strategies for great skin care?
A skin care regimen that includes sunscreen, antioxidants, retinoids and growth factors are the keys to obtaining healthy, rejuvenated skin. Drinking a lot of water, eating clean and living a healthy lifestyle are also extremely imperative.
How can skin be rejuvenated through proper skin care?
Sunscreen protects the skin from UVA and UVB rays, which are precursors to premature aging and skin cancer.
Retinoids expedite the cellular turnover of all dead, surface skin cells and build collagen at the dermis of the skin while suppressing oil activity. Retinoids also prevent new impurities.
Antioxidants help to protect and strengthen the skin, as well as fight against skin cancer and premature aging. Growth factors build collagen and elasticity and are important for maintaining the epidermal health of the skin.
Sally Surgnier – RN, Esthetician 
How can skin be rejuvenated through proper skin care?
I believe the skin needs regular exfoliation. This can be achieved through chemical peels and properly chosen products for home use.
What are some treatments/products that you offer for skin rejuvenation?
One of my favorite treatments that anyone can do is the HydraFacial. It cleanses, exfoliates and infuses the skin with protective antioxidants.
I also like the FDA-approved SkinPen treatment.
It does not use chemical or thermal heat, so it is a good choice for the summer months. There is no downtime, and the procedure allows your skin to create collagen naturally.
Trisha Sgobba – Esthetician
What's the best treatment or product for naturally glowing skin?
I would say the HydraFacial MD treatment is excellent for glowing skin. It e effectively and gently exfoliates to reveal brighter, healthier skin and infuses a cocktail of antioxidants and hyaluronic acid deep within the skin to plump and hydrate.
What sets Destin Plastic Surgery apart?
I have worked at Destin Plastic Surgery for 12 years now, and it is the first time I have worked somewhere where, as an employee or a patient, you know that you are not just a number.
Everyone truly cares about each person that walks through that door.
There are no pushy sales tactics or gimmicky fads to increase profits, just amazing surgeries, services and products that are proven time and time again with the results we see every day.
Dr. Burden has worked very hard to make sure it stays that way.