Men and Plastic Surgery: Get Back in the Game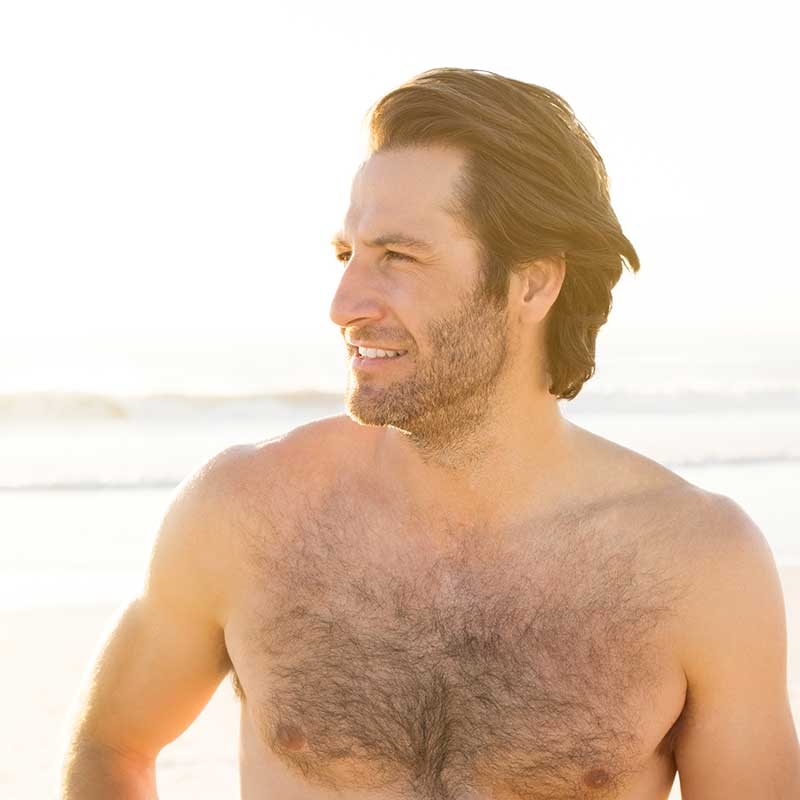 "I wanna get back in the game!" That's a common desire expressed by male patients who visit Destin Plastic Surgery. Men have a different perspective on the utility of plastic surgery.
They view plastic surgery as repair, whereas women tend to approach plastic surgery as maintenance.
Although men account for only 8 percent of plastic surgery procedures performed in the United States, that percentage has been slowly increasing and is expected to grow to 20 percent by 2025. The trend, clearly, is that men want to take better care of themselves. In a society that is living longer and healthier, men are starting to look at options that will enable them to look better and better fit in their clothes.
Liposuction is the most popular procedure for men. Let's face it: Who wants a dad bod?  Many men exercise and eat right, but that "more than an inch" pinch and those love handles just won't fade away. Sometimes an injury or stress leads to weight gain. And, once fat is added on, it can seem permanent.
"Often I hear, 'My dad has the same shape I do. I have inherited the family love handles,'" says Dr. William R. Burden of Destin Plastic Surgery. "The patient in front of me has a reasonable diet and exercise routine. He has an otherwise good physique, but the love handles are out of proportion to the rest of his body."
That, says Dr. Burden, is when liposuction shines.
"The men return for their post-liposuction appointments with a big smile on their face," Dr. Burden finds. "They often remark, 'I should have done this sooner, Doc! I haven't worn this waist size for years!' Their spouses are very enthusiastic, too. They often remark on how much better their husband feels and on how his confidence increased as a result of the surgery."
Hair grafting is also trending up. Many men lament the loss of their full head of hair. Some loss is acceptable, but when areas become thin or bald, that's not OK. Hair transplantation has become very popular at Destin Plastic Surgery. Men are starting to see benefits of filling in the temple and forehead areas. Who wants a bald dome?
Newer techniques and technology have made hair transplantation more precise and more predictable.
"I expect the number of hair restoration procedures to continue to rise as more very satisfied patients tell their buddies how easy the process was," Dr. Burden says. "The results can be quite dramatic!"
Up to 30 percent of men have some form of gynecomastia, otherwise known as man boobs.  There are several causes: genetic; weight gain; and hormones — both natural and from "juicing" while bodybuilding.
"We have definitely seen an increase in men undergoing procedures to remove the excess tissue from their chest," Dr. Burden reports. "I think partly due to increased awareness that something can be done about it, and because of men taking performance-enhancing products without proper medical supervision. After the surgery, the men report more confidence and they like the way their shirts fit."
With Father's Day upon us, maybe this is the year you choose to give Dad a gift of improved confidence and a renewed feeling of youthfulness. A consultation with Dr. Burden, a board-certified plastic surgeon, is the place to start.
Contact him at Destin Plastic Surgery, Monday through Friday, to arrange for a consultation and digital imaging that will illuminate life-changing possibilities.
The most common procedures performed on men are liposuction, rhinoplasty (nose), eyelid surgery, gynescomastia (removal of breast tissue), and ear shaping, according to the American Society of Aesthetic Plastic Surgery and the American Society of Plastic Surgeons.
BOTOX: It's Not Just for Women
Most people tend to associate BOTOX Cosmetic with women, but as NFL Hall of Famer and Florida State University standout Deion Sanders attests, the product's benefits apply equally well to men.
Sanders is among a growing number of men who has received BOTOX Cosmetic injections as a way to combat unwanted facial lines. BOTOX Cosmetic is FDA-approved and is the only product that temporarily improves both moderate to severe crow's feet and also frown lines between the brows in adults. It is a prescription medicine that is injected into muscles.
At Destin Plastic Surgery, men and women taking advantage of BOTOX Cosmetic are in extraordinarily good hands. The practice's injector, Bill Edelman, is a certified physician's assistant who works under the supervision of Dr. William Burden. He is among the most experienced providers of BOTOX Cosmetic in the United States. Indeed, patients travel from around the country to have "BOTOX Bill" administer their treatments.
Men, like women, want to look as young as they feel. Treatments including BOTOX Cosmetic help minimize forehead wrinkles, vertical "worry lines" between the eyes and crow's feet around the outer edge of the eyes. BOTOX can also be used to treat men who suffer with hyperhidrosis, a condition that results in heavy sweating. It is addressed by injecting BOTOX in the area of the sweat glands.
For more information about BOTOX Cosmetic, call Destin Plastic Surgery at (850) 654-1194 or contact the practice online to request a free skincare consultation.