Exceptional People and Exceptional Care at the Destin Plastic Surgery Center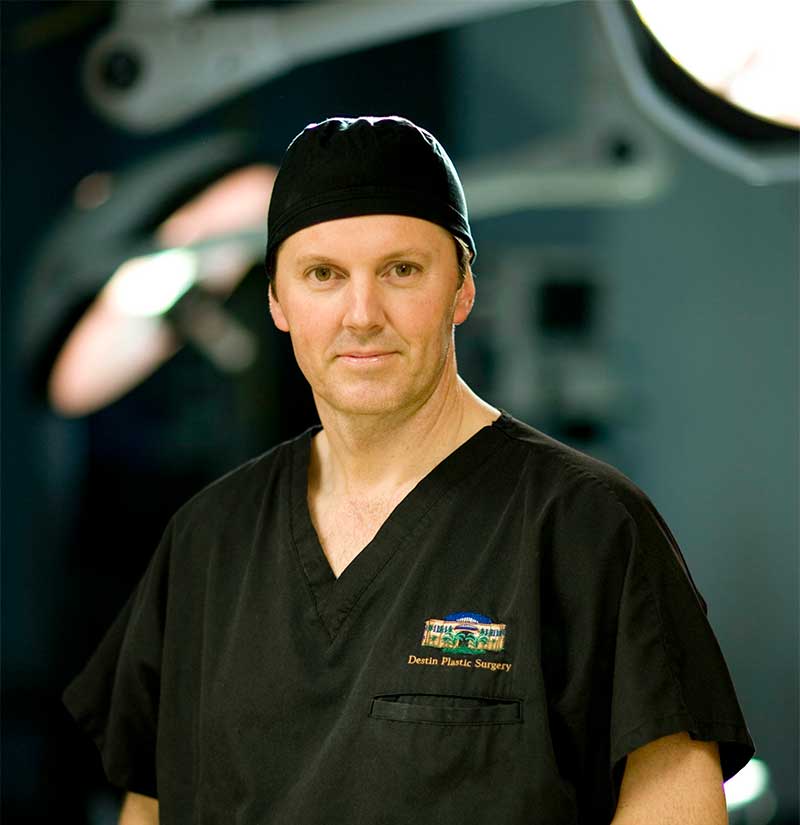 Destin Plastic Surgery is the first practice in the region to offer digital imaging with Vectra® 3D technology. Dr. Burden currently uses 3-D imaging technology to further improve accuracy and communication with patients. With this new, state-of-the-art technology, you see the potential new you in 3-D — before surgery.
Destin Plastic Surgery houses its own Skincare Clinic, the Destin Surgery Center, and the Destin Vein Center.
Experience and natural looking results — this is why people travel from around the world to Destin Plastic Surgery. Plastic surgery patients from Pensacola, Tallahassee, Mobile and other communities around the region routinely choose Destin Surgery Center for aesthetic procedures, but it is also a top choice for medical procedures due to its reputation as one of the best surgery centers in this part of the country.
If you've never visited Destin Surgery Center, you probably have an image of a "typical" surgery center in your head, one that can be described with adjectives like "cold" and "clinical." But Destin Surgery Center is different.
The building itself was designed by our very own Dr. William Burden, and while most people wouldn't use the word "enjoyable" to describe surgery, we believe your experience here will be pleasant as surgery can possibly be.
Destin Surgery Center is fully accredited by AAAHC (Accreditation Association for Ambulatory Health Care) and ranked as one of the Best Hospitals by U.S. News and World Report. Over 16,000 procedures have been performed at this facility. Although each patient and procedure is different, our experienced medical staff has a wealth of collective experience that has prepared them for just about anything.
Dr. William R. Burden: Destin Plastic Surgery
William R. Burden, M.D., FACS, of Destin Plastic Surgery is a vastly experienced practitioner and generous philanthropist whose support for community causes in exemplary.
Dr. Burden is board-certified and a Fellow of the American Society of Plastic Surgeons. He is the founder and CEO of Destin Plastic Surgery and also founded the Destin Surgery Center, which is housed in the same building.
Both he and physician assistant Bill Edelman have been recognized by the Allergan Corporation for their experience with Botox and Juvéderm injections for non-surgical facial rejuvenation. They have achieved Black Diamond status, reserved for the top 10 percent of practices nationwide.
Dr. Burden is the only plastic surgeon in the area who is a member of the Speaker's Bureau for the Allergan Corporation. He frequently teaches other physicians regarding cosmetic facial procedures.
Dr. Burden is a best-selling author who has written on facial surgery and breast surgery, and has presented studies nationally and internationally on breast surgery. He regularly instructs fellow surgeons in advanced endoscopic techniques; surgeons from throughout the United States and Europe have visited his facility to observe his techniques.
His book, "Breast Augmentation With No Scar On The Breast," made him an Amazon best-selling author.
Dr. Burden specializes in cosmetic surgery and was the first plastic surgeon in Northwest Florida to earn certification in cosmetic surgery of the face, breasts and body. He has recertified in that specialty with the American Board of Plastic Surgeons.
"To be an excellent cosmetic surgeon, you must be an excellent reconstructive surgeon," Dr. Burden stresses. Many plastic surgeons enter practice with minimal cosmetic surgery experience.
During his first 10 years in Northwest Florida, Dr. Burden performed some of the first microvascular procedures for reconstruction of breasts, replantation of severed fingers and reconstructive surgeries of the head and neck. Dr. Burden has translated his extensive reconstructive experience to cosmetic expertise.
Dr. Burden has refined cosmetic techniques of his own including, first endoscopic "No Scar on the Face" browlift and the "No Scar on the Breast" enhancement procedures in Northwest Florida.
He has now performed thousands of these technologically advanced procedures.Patients remark that their results appear natural because they don't have a pulled or stretched appearance.
They appreciate that Dr. Burden has taken the extra time required to fully understand anatomy and to apply what he has learned to his practice.
That approach is a product of his philosophical outlook. To understand the normal in beauty, he has found you have to understand departures from normal. Then, by redefining the anatomy, a skilled physician creates results that don't appear unnatural.
After all, people don't want to look like they've had work. To learn more about Dr. Burden, visit ThePlasticDoc.com.