Everyone's a Winner!
Top Best of Emerald Coast vote getters raise glasses in celebration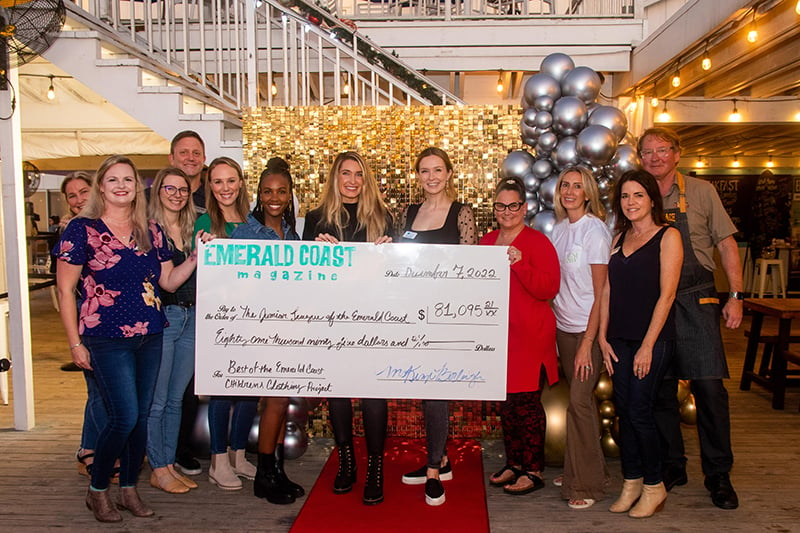 The Emerald Coast is home to myriad businesses catering to tourists and locals alike. All work hard to earn and maintain great reputations by delivering outstanding products and services to their customers.
Each year, Emerald Coast Magazine conducts a reader's poll that serves to identify the best of the best in dozens of categories. On Dec. 7, top vote getters for 2022 gathered at a winner's party, held at Jim Shirley's North Beach Social restaurant and Choctawhatchee Bay-front gathering space on U.S. 331.
Musician and Best of the Emerald Coast award recipient Eric Chance Stone supplied entertainment and had it right when he exclaimed, "We're all winners here tonight."
North Beach Social succeeds in providing a welcoming environment that is both accessible and exceptional. Combined with an idyllic late fall evening, it made for a setting that was, well, the best!
On arrival, guests checked in at a reception area that was flanked by a large, ceremonial check written to the Junior League of the Emerald Coast. A whopping $81,095.21 in funds raised from a Best of the Emerald coast showcase event held at Grand Boulevard in October will be dedicated by the League to its Child Clothing Project. Hundreds of Walton and Okaloosa County elementary school students will benefit.
A few party-goers chose to show their holiday spirit with sparkling green or red dresses, one attendee even donning a flashing holiday light necklace. That holiday spirit was enhanced by delicious spirits from Distillery 98, Palm Folly, and Bacardi.
Immediately after checking in, guests were invited to sample Distillery 98's Dune Laker vodka — very smooth — poured from an eco-friendly and beach-ready cardboard bottle, the first of its kind.
At the next stop, Palm Folly, a women-driven business, served seltzer in fresh, vibrant flavors, dispensed with tap handles decorated with women in bikinis — very beachy. The real-fruit pineapple and mango seltzer conjured up images of sugar sand and frothy waves with its sweet and fragrant bubbles.
One popular drink of the evening required a bit of exertion. There, at the Bacardi booth, were — wait a second — stationary bicycles? These were no ordinary bikes, but rather bikes that used pedal power to prepare holiday daiquiris. Something about working out to prepare your drink makes it taste so much better.
"You get to keep the cup!" exclaimed an older woman with two purses and a blue floral frock as she departed the Bacardi booth with a holiday mule and free metal mug. Others were as excited by complimentary clear cups with flashing lights in their bases.
After all of the delicious drinks, I certainly wanted some food to soak up the mix of spirits partying in me, and I gravitated to a giant paella wok.
There, Mr. Shirley and members of his North Beach Social team dished up bowls of fresh shrimp paella — a seafood jambalaya with a bit of heat and a lot of flavor! The chefs informed me that this local favorite is usually available only on Sundays at the restaurant. I'll be back.
Debbie Flynn, general manager of North Beach Social, said that diners at the restaurant are likely to catch sight of dolphins, rays, other marine life and bald eagles.
"As well as being the place where you want to hang out, we are not only dog-friendly, kid-friendly and family-friendly, but we are also boat-friendly, Jet Ski-friendly, and even paddleboard-friendly!" Flynn said.
"This place represents a celebration of the locals; we are open to everyone," said Shirley's daughter, Madison Shirley. "We have food selections for everyone, drink selections for everyone, and an atmosphere for everyone. And that's really what the Best of the Emerald Coast awards are about: showcasing businesses that are for everyone."
Personally, I can't wait to check out all of our winners in their natural environment, serving the community and showing why they win over Best of the Emerald Coast voters.
As my first stop, I may freshen my look for the New Year with Adrienne Brackett at her Pure & Couture Salon in Destin.
"January 13th is our business anniversary and we have a second salon celebrating its anniversary in May," said Brackett. "We are so thankful to represent the Best of the Emerald Coast. We care so much about what we do, serving our clients with the latest styles and trends."
Her husband, a gentleman whose head is populated by mere vestiges of the hair that used to be, was asked if Brackett serves as his stylist.
"I let her test on me, that's why it's like this!" he joked.
All kidding aside, I am prepared to visit Adrienne and many other Best of the Emerald Coast winners with confidence.
See you all in 2023!
---
View the winners of the 2022 Best of Emerald Coast read's poll and view the recap of the 2022 Best of Emerald Coast event held at Grand Boulevard Town Center.
---
---