Best of the Emerald Coast Event Transitions to Best of the Emerald Coast Winner's Soirée
Brought to you by Emerald Coast Magazine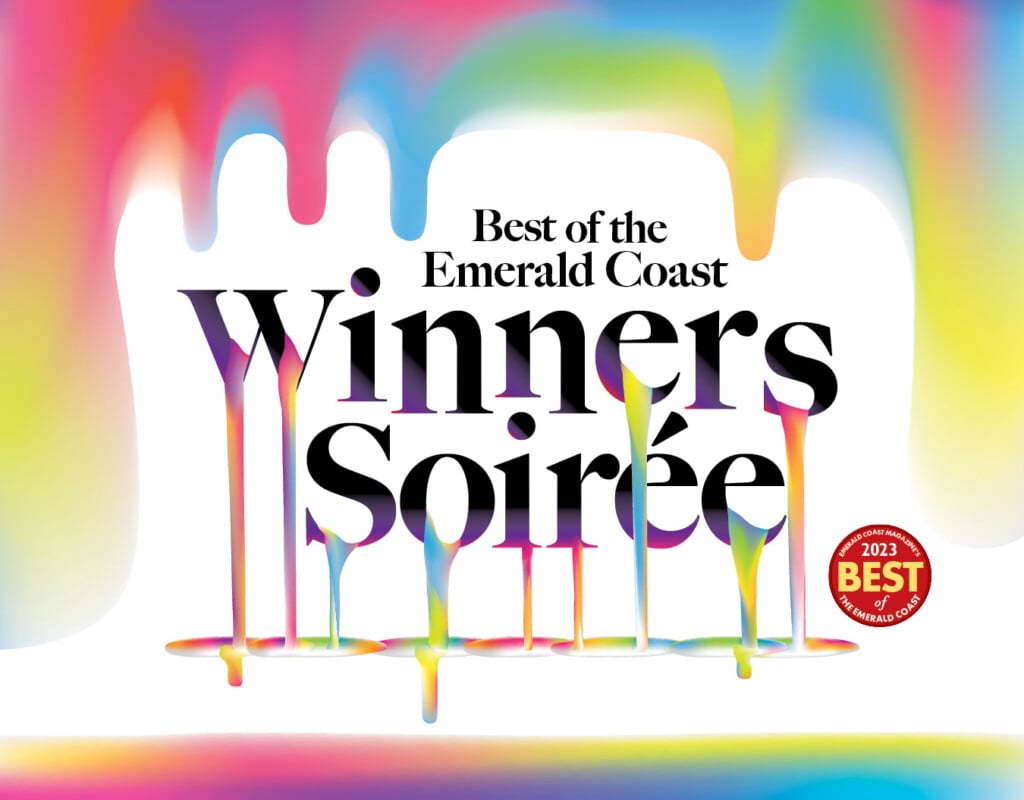 Miramar Beach, Florida, (Sept. 11, 2023) — To celebrate and honor the Best of the Emerald Coast's 25th year and the businesses and service providers who make the occasion possible, the 2023 event is transitioning to the Best of the Emerald Coast Winner's Soirée taking place on Thursday, Oct. 12, at Grand Boulevard at Sandestin in Miramar Beach from 6-9 p.m.
In previous years the event was presented in festival style. This year, the format will be an intimate evening inviting the over 150 winners and the public to celebrate and be celebrated by indulging all five senses through visual art, live music, curated cuisine and creative libations.
"To honor 25 years and our winners we want them to come and receive, to be spoiled, to be celebrated and to indulge, because that's what they deserve for making the Emerald Coast a wonderful place to live and visit," said McKenzie Burleigh, associate publisher of Emerald Coast Magazine.
Aligning with the theme of stimulating the senses and coinciding with a new initiative brought forth by the Cultural Arts Alliance of Walton County and pioneered by Grand Boulevard, a moveable mural will be constructed by Luke & Blues and made beautiful by five local artists who will be featured in the October–November issue of Emerald Coast Magazine.
Luke & Blues, winner of Best of the Emerald Coast's Best Builder/Contractor award, will compose the backdrop for the following artists to present their works of art, each addressing the fives sense on their own panel: Daniela de Castro Sucre, Maxine Orange, Sarah Page, Lindsay Tobias and Morgan Summers.
The mural will be on display at Grand Boulevard from Sept. 12–Oct. 8, before appearing at the Winner's Soirée. Now through Oct. 8, the public can enter for a chance to win two VIP event tickets by taking a photo with the mural and tagging Grand Boulevard and Emerald Coast Magazine.
At the soirée, ears will be pleased and bodies will groove to the smooth sounds of Atlanta-based band Monochrome. Palates will be stimulated by the food offerings from Black Bear Bread Co., Harbor Docks, McGuire's Irish Pub, Marrow Private Chefs, Taco 30A, Cantina Laredo and Shunk Gulley Oyster Bar. Libations will be poured by Idyll Hounds, Distillery 98, Tipsy Mule Bar, Palm Folly, Timber Creek Distillery, Tarpon Cellars, Coastal Coffee Bar Co. and Cantina Loredo.
Each year, Best of the Emerald Coast benefits a deserving local charity. The 2023 charity is Emerald Coast Autism Center.
"For the first time, the beneficiary was chosen by our voters as the best nonprofit, and we are honored to have this event support Emerald Coast Autism Center," said Burleigh. "We are thrilled to have allocated a $51,470 media campaign to them to use to help share their mission and the important resources they provide."
Now until Dec. 31, the Dugas Family Foundation will be matching all donations made to ECAC. The community is encouraged to participate in giving by visiting: ecautismcenter.org/donate-now.html.
Purchase your tickets to the Best of the Emerald Coast Winner's Soirée at 850Tix by following this link.
The 2023 event sponsors include: Grand Boulevard Town Center, Florida Blue, Luke & Blue's, Hilton Sandestin Beach Golf Resort & Spa, Silver Sands Premium Outlets, Hawley 30-A Hat Bar, Harbor Docks, McGuire's Irish Pub Destin, Marrow Chef's, Black Bear Bread. Co, Shunk Gulley Oyster Bar, Taco 30A, Cantina Laredo, Idyll Hounds Brewing Company, Tarpon Cellars, Timbercreek Distillery, Palm Folly, Distillery 98, Lumi Pod, Proffitt PR, BeachyBlooms, Sunbelt Rentals, Bay Area Awards, Coastal Coffee Bar. Co, Tipsy Mule Bar, Moore Media and Epic Photo.
---
Press Contact:
Renee Johnson
Sales and Events Coordinator
rjohnson@rowlandpublishing.com