Army Veteran Heath Buckley is Soaring to New Heights
The longtime military aviator is using his talents to enrich the coastal community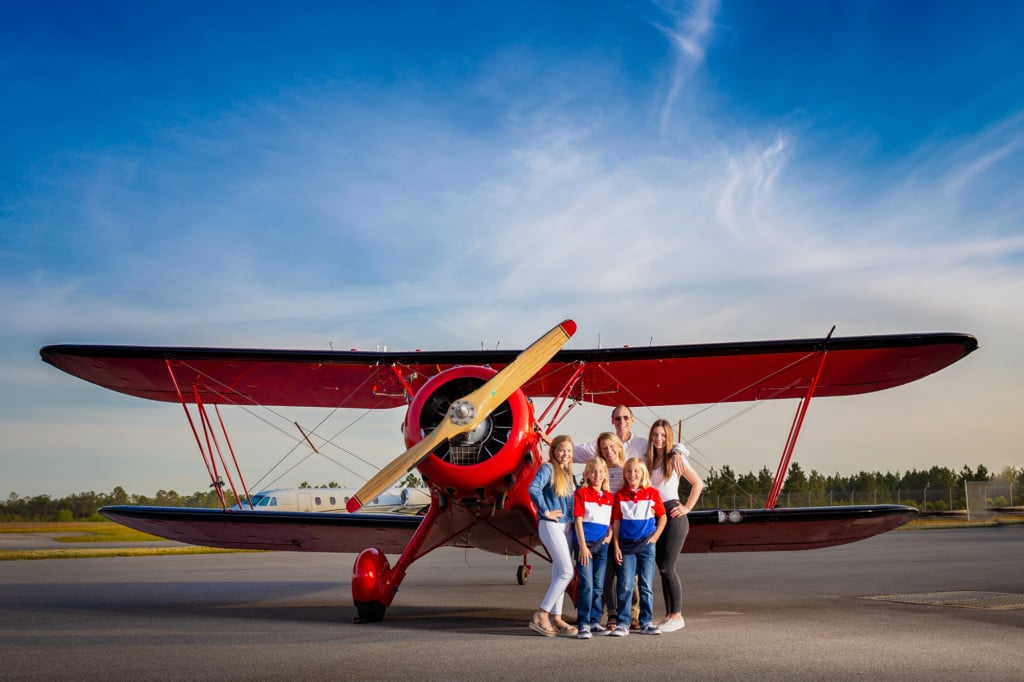 While parents may scold children for having their heads in the clouds, Heath Buckley encourages it. The father of four has found that the sky is not a limit, but a boundless source of possibilities.
Buckley recalls stowing away aboard his pilot father's weekend flights over the mountains of West Virginia. As soon as Buckley could man the yoke at age 13, his waypoint had been set: One day, he would be a military aviator.
"That was my dream, so I in no way expect any of my kids to follow in my footsteps," said Buckley. "But I will see to it that they all have their pilot certificate by the time they graduate high school. I want to send them off into the world knowing they've experienced what it's like to soar, be it for fun or to kick off a career."
Buckley prays that his children never experience what it's like to be denied their dreams. It's a soul-crushing prospect and one Buckley had to endure after a college flight physical revealed astigmatism, grounding his pilot ambitions.
Devastated, but no less determined to serve his country, Buckley spent the 1990s with the 75th Ranger Regiment. He completed graduate school and re-enlisted in the U.S. Army as an officer, all the while retrying the flight physical three or four times.
Finally, in 2003, when vision standards were relaxed to 20/40, Buckley was in.
He and wife Janice immediately packed up their 1-year-old daughter and moved from Alaska to Fort Rucker in Alabama so he could attend flight school.
Though his initial tour consisted of piloting Black Hawks along the Korean Demilitarized Zone, Buckley went on to specialize in flying surveillance and reconnaissance aircraft for the Department of Defense, a position he refers to as his "bread and butter and true passion."
(Even after retiring in 2015, Buckley was hired by the government to serve as a consultant for overseas recon missions. His 19th and final deployment was last fall.)
His journey, he shared, did not come without turbulence. While deployed in Colombia in 2008, Buckley learned that his middle daughter was diagnosed with leukemia. Three years of treatment paused Buckley's career.
"She's a healthy teenager now with all the spit and fire of one," Buckley laughed. "But it was a tough time. I resumed working after she became well, and then I found that I was missing things like my children's soccer games and I didn't like being limited to catching glimpses of their lives through FaceTime."
After 19 trips, Buckley said, it was time to hang it up. He gathered his kids and produced a map, telling them to pick a spot to settle. Buckley had been a part of the 7th Special Forces Group at Eglin Air Force Base for the better part of three years, and his "crew" had fallen in love with Northwest Florida.
Now based in Point Washington, Buckley has found that letting go of one dream simply frees up the runway for another.
"My wife and I had tossed around the idea of a sightseeing tour," said Buckley. "And I have always loved biplanes; I was a history major with a focus on early aviation. We came across a 1930s-design aircraft in Texas that actually featured two seats in the front cockpit for sightseeing."
Dubbed The Spirit of 30A, Buckley's biplane is a Ferrari-red Waco YMF-5 that carries passengers 500 "sea-salty" feet above the ground at 100 mph. His business, Coastal Biplane, currently offers five, 20-40 minute flights from Panama City west to Grayton Beach. The flights pass over longleaf pine forests, dune lakes and artificial reefs. Dolphins, turtles and the occasional shark have been spotted from above.
"This really is the purist form of flying," Buckley said. "Helicopters and other aircraft are great, but the biplane reflects the golden years of aviation — open cockpits and stick 'n' rudders. There is nothing between you and nature. Being one with the elements, the salt in your face —it's almost spiritual."
Romantic, even. Couples often opt for Coastal Biplane's special date night package, which includes touching down for dinner at renowned chef Jim Shirley's 30A restaurant, The Bay, for an enchanting finale.
Buckley couldn't be more thankful for mentors such as Shirley and his publicist, Madra McDonald, for easing his transition into the business and social media world. It may be, he jokes, scarier than spying on Colombian drug cartels.
Business dealings aside, crafting the ultimate flight experience comes naturally for the seasoned airman.
He doesn't talk as much as your typical tour guide, not wishing to intrude upon his guests' once-in-a-lifetime time aloft. Instead, he lets The Spirit possess you with the roar of its engine, acrobatic maneuvering and spectacular vistas.
Though he's hosted passengers of all ages, Buckley's favorite co-pilots, he said, will always be children. He is concerned that the world is suffering from a mass shortage of pilots: The millennials didn't engage in aviation, resulting in a lost generation.
"It's my mission and absolute passion to expose our youth to aviation," said Buckley. "Not just to piloting, but to be a maintainer, mechanic or managing air traffic. There are huge opportunities out there for them, so I'm devoted to implementing STEM aviation curriculum in South Walton schools."
With the assistance of several organizations, those plans are taking off. Buckley expects that aviation coursework will arrive by 2020.
"When I was in the military, I used to think I had the best job," Buckley said. "But now my office is 500 feet above the most beautiful coast in the country, and I get to engross both my children and other children in flight, so I still think I have the best job."